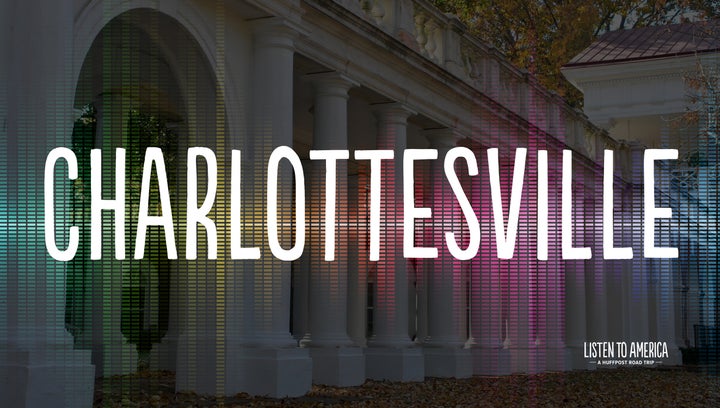 HuffPost is hitting the road this fall to interview people about their hopes, dreams, fears ― and what it means to be American today.
Spotify has curated playlists reflecting the local flavor of each stop on HuffPost's "Listen to America" tour using location-based data to find out what people are really listening to in 20-plus cities. Check back for more from Sept. 12 through Oct. 30.
The sprawling home of the University of Virginia feels at once distinctly of the South and also of another, ancient place. (Thomas Jefferson wanted the school to take architectural inspiration from the Greeks and Romans.) Today, scores of in-demand talent regularly stop by the historic city of Charlottesville to perform for audiences of college students and locals.
One of Charlottesville's most notable contributions to radio waves is the Dave Matthews Band, whose improvisational rock draws a cultish following about as fervent now as in the '90s. Other locals include pop group Parachute, Americana band The Hackensaw Boys, blues artist Corey Harris, goth group Bella Morte, Chapman Stick player Greg Howard and the late, old-school blues musician Luke Jordan.
More than other people in the U.S., Charlottesville residents like their John Mayer, Pharrell, Shakira, Pentatonix and ― a curve ball ― Sonny and Cher. Ben Howard also popped up as a favorite, along with the "Legends of the Fall" score. As always, a few Top 40 tracks round out this list of what people are listening to now. Hear it below:
Spotify playlists for the "Listen to America" campaign were created by looking at each location's most popular songs (streaming in the highest numbers at time of publication), distinctive songs (currently being streamed more in this city compared to all other cities in the world) and tracks from local artists. While many picks are data-driven, some songs are handpicked from data lists to assure the playlists reflect a variety of genres and decades, as well as a healthy gender balance.