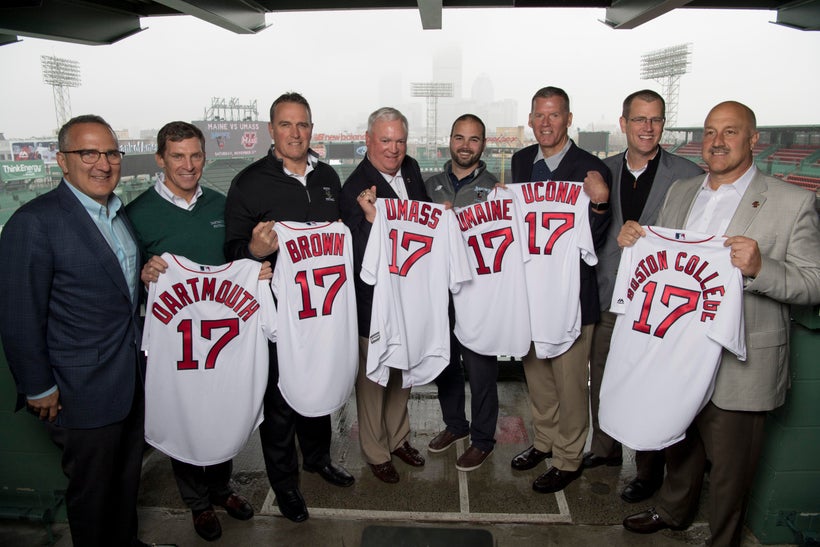 Typically, when you think Fenway Park, you think Red Sox baseball.
Now that the leaves are turning across New England, there's a slate of events on the fall calendar that just might convince you to think football when you think Fenway.
America's most beloved ballpark will host the Fenway Gridiron Series presented by Your Call Football. The trilogy of games – all featuring New England schools – consists of three Division I college football matchups starting November 10, when Brown hosts Dartmouth, followed by Maine vs. UMass on November 11 game pitting Boston College against the University of Connecticut on November 18. Both Brown vs. Dartmouth and BC vs. UConn will be televised nationally.
Ever since Fenway Sports group purchased the team in 2003, the front office has been focused on restoring Fenway's tradition of hosting a multitude of non-baseball events at the historic ballpark. As a result Fenway Park has hosted a wide range of events beyond the baseball diamond.
Starting with Bruce Springsteen 2003, Fenway has hosted more than 75 concerts in the last 14 years. Soccer, Irish Hurling, hockey, and even an International Ski Federation World Cup big air ski competition have taken place at the century old ballpark.
"From day one our ownership – led by John Henry, Tom Werner and Mike Gordon – has been committed to restoring the tradition of Fenway Park playing host to a broad spectrum of events and serving as a community gathering place, and have challenged us to bring the very best in competitive sports and entertainment to our fans," says Mark Lev, Managing Director of Fenway Sports Management.
Old timers in Boston can tell you they saw the Boston Patriots and the Boston College Eagles play football at Fenway back in the day.
For whatever reason, there was a gap of almost a half-century from the time the Pats moved to Sullivan Stadium and the Eagles moved to their stadium on their own campus to present day, when the iconic venue one again became a true multi-purpose facility.
"November's a great month for college football," says Lev. "We're outside of the baseball playoff window, so we can schedule events months or even years in advance," continued Lev. "And the weather is typically mild enough for fans to be able to sit outside and enjoy the game and without worrying about snow or bitter cold."
Naturally, Fenway was built for baseball but it served as a community resource from the start, hosting collegiate, political, and religious events in addition to games.
The concerts at Fenway "opened our eyes to alternative uses of the ballpark," Lev says.
"The events we offer during the off season provide opportunities for people to see the field in a completely different way, and that can be a lot of fun. These events have also helped us introduce the Fenway Park experience to a wide variety of audiences."
For Polartec Big Air at Fenway ski and snowboard competition two years ago, workers constructed a 150-foot high snow ramp in the middle of center field – larger than Fenway's iconic left field 'Green Monster '- with 30,000 pieces of steel plus an elevator to bring skiers to the top.
The AIG Fenway Hurling Classic and Irish Festival attracted more than 28,000 in 2015, helping to put the sport on the map in the U.S. The event was so successful; it prompted organizers to bring Ireland's ancient warrior sport back to Fenway this November 19.
This year, the day before Thanksgiving, Fenway will build on another Massachusetts' tradition by hosting two high school football games, with teams to be announced.
Between the three Division I games and the high school showdowns, the big events this fall at Fenway are definitely football.
"We're expecting more than 20,000 for Brown against Dartmouth and Maine against UMass," says Lev, "and we're expecting a crowd of more than 30,000 to see Boston College take on UConn."
Ticket sales were brisk after the games were announced back in May, and then slowed down, as would be expected during the summer, when most sports fans were turning their attention to baseball.
"Ticket sales have been terrific now that football is top of mind," says Lev.
Football, hockey, soccer, hurling, concerts—is there anything that Fenway Park can't host?
"Outside of concerts, it's tough to schedule major events during the MLB season," Lev says. "We've got scheduling issues, of course, and there's typically a short window available in order to ensure the field is ready for baseball.
"But if our operations team, which we feel is the best in the business, can successfully pull off an officially sanctioned FIS World Cup Big air Ski and snowboard event, I'd be hard pressed to say that anything is impossible here at Fenway Park."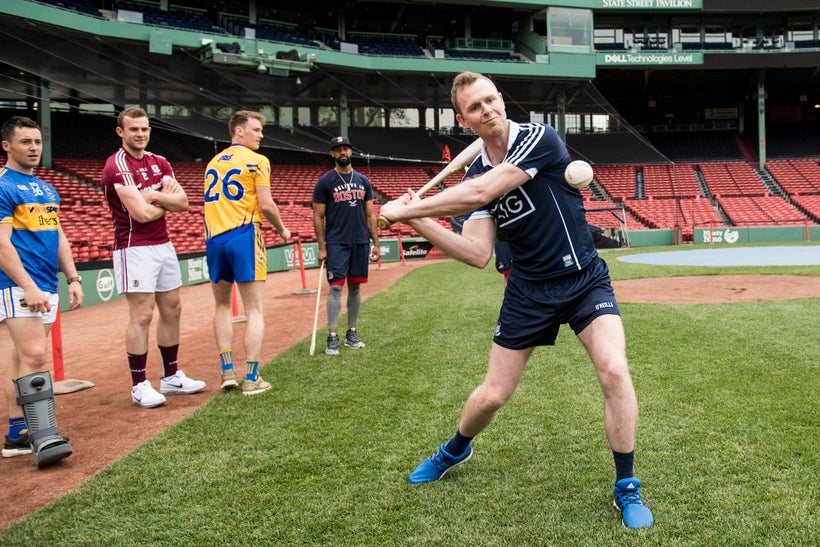 This post was published on the now-closed HuffPost Contributor platform. Contributors control their own work and posted freely to our site. If you need to flag this entry as abusive,
send us an email
.