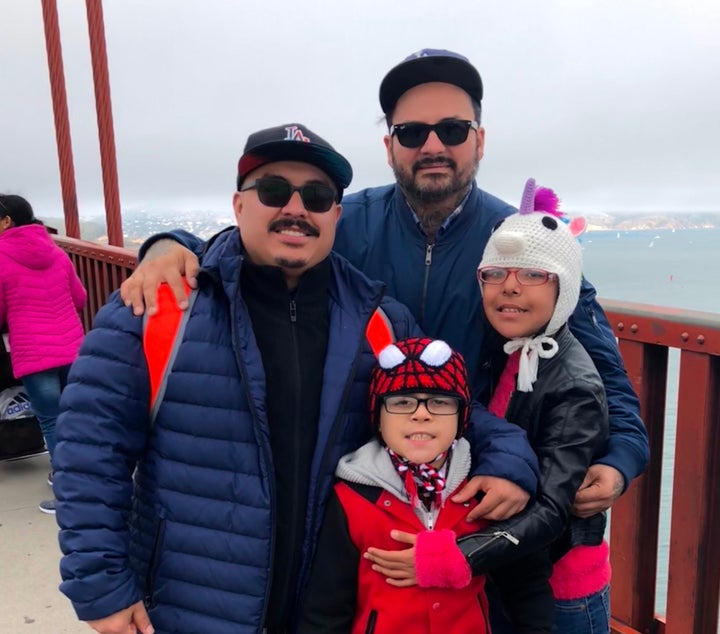 Every story has a beginning. It is sometimes difficult to know the exact moment that sets the story into action. In this "Let Love Define Family®" series installment for HuffPost Queer Voices, RaiseAChild's contributing writer, Eric Criswell, captures and shares the story of a beautiful family built from patience and love.
Frisley Juarez and Marcos Gómez were both apprehensive about what they might encounter at the bowling alley on a chilly day in April 2016. They had arrived earlier than anyone else to this event that would introduce prospective parents to eligible kids in the foster care system.
"We were very nervous," Frisley points out, "because we didn't know what to expect, other than we were possibly going to meet our potential kids."
Soon the social workers began to arrive and the first kids through the door were a sister and brother, Melodie and Michael, who were quiet, shy, but eager to begin bowling. Since Frisley and Marcos were the only couple there at the time, the four began to play.
"There was an instant connection with us, we really could feel it" explains Marcos. "The event was supposed to be very interactive with all the children and parents spending time together like musical chairs, but we found ourselves drawn to these two immediately."
At the end of the event they had to give an evaluation of which kids they would potentially be interested in fostering, and Melodie and Michael were on the top of their list.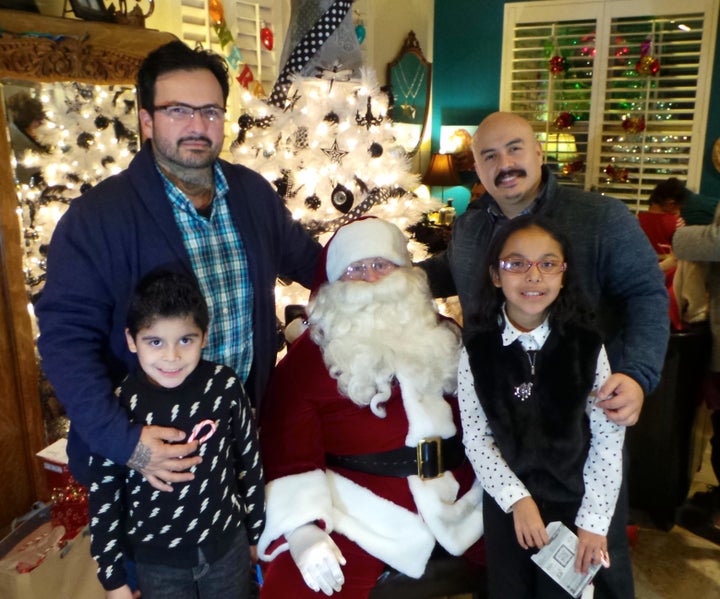 Frisley points out, "When we started down this path, we knew there were a few things we wanted. First, we made it clear that older children were for us, knowing that as these kids get older they become less desirable for stable homes; second, we had heard so many horror stories of siblings being ripped apart, we wanted to provide a family to keep siblings together."
Melodie, age 11, and Michael, age 9, checked all the boxes for what the couple had dreamed of, and from the moment they met in the bowling alley, they felt a connection and a desire to create a family with these kids.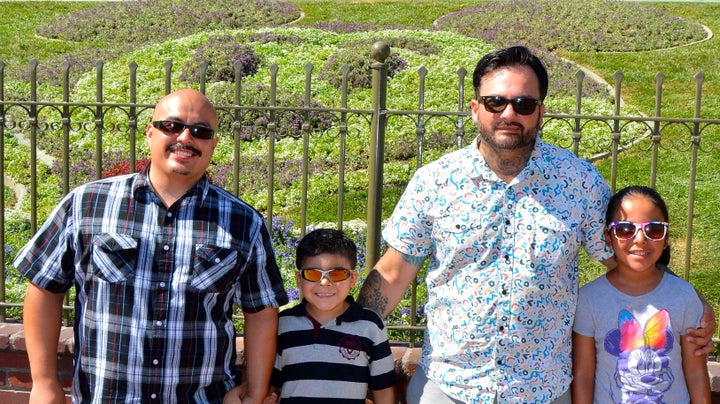 Although it seems like a magical moment that sparked the beginning of this family; it was years of hard work that lead to that serendipitous instant. Frisley and Marcos had met and began dating six years ago, working on their relationship and their careers. As they grew into their lives with each other it became clear that both had a desire to build a home and a family to share the love they had.
After purchasing a new home, the two felt it was time to begin their journey of building a family and they attended their first orientation class.
"The orientation class really is a jumping off point" Marcos states. "During the class, they really give you the good and the bad of the situation, there is no sugar coating. They tell you it is going to be a long process with the forms, the background checks, the home visits, and none of it is a guarantee."
"By the end of the class," Frisley continues, "about half the people leave without signing up. I guess it's a good way to weed people out once they know the truth about the process."
The couple was not daunted by what they learned. In fact, Frisley became a fierce advocate for his new family. "It's the one piece of advice I tell everyone," he says, "you have to be strong and persistent for you and your kids. No one else is going to do it. You have to be your own best advocate. Especially for the kids, who have been let down so many times in life, it's our responsibility to be there for them."
The only other thing you need to get through this process is patience, something both of them attested to. After the initial meeting of Melodie and Michael on that April day, it wasn't until July that they began their weekend hostings. Shortly after that, the brother and sister were placed in their new home by the Los Angeles County Department of Children and Family Services. On August 17, 2017, the adoption was official.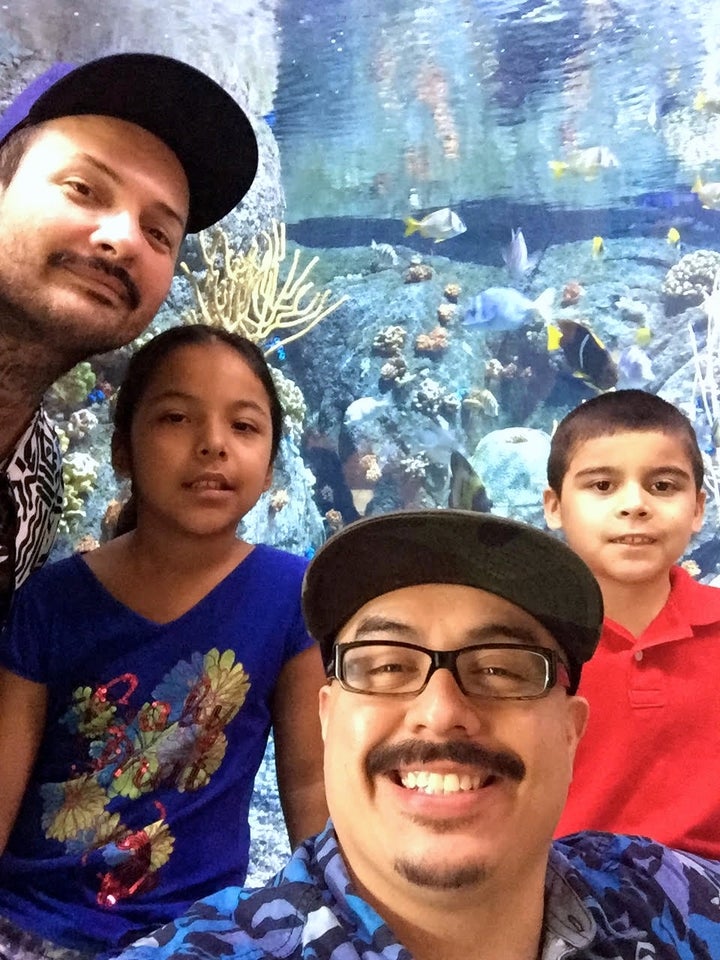 According to Frisley, "It really was a test in patience. Not only did the kids have to get used to a routine, which they never had before, but we also had to change ourselves with how we live and treat each other."
Marcos continues, "The other part of that test of patience is learning how to deal with pre-teens. I needed to realize that they don't see the world the same way I do, nor do they have the same experience and background that I come from. We both understood rather quickly that we just need two things to make this work, patience and love. That's all they need. That's all any of us really need in life."
Are you curious about the benefits of building a family through fostering or adoption? RaiseAChild is a national 501 (c) 3 nonprofit dedicated to building loving families for foster children®. RaiseAChild has engaged more than 3,600 prospective foster and adoptive parents as the nationwide leader in the recruitment and support of LGBT and all prospective parents interested in fostering and adoption. For more information, go to RaiseAChild.org or call (323) 417-1440.
If you will be in Southern California this weekend, please join us at a free, fun, and inspiring RaiseAChild "Let Love Define Family®" Info Event. Saturday, December 2nd at 11AM at All Saints Church in Pasadena, CA. Enjoy a special performance by actor/comedian Alec Mapa with complimentary food and beverages. We will answer all of your questions about the process, including all of the benefits of becoming a foster or adoptive parent. All are welcome.