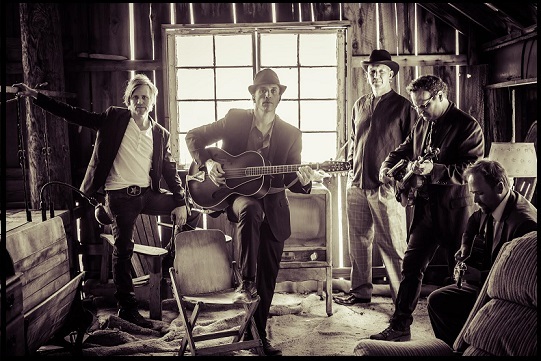 Tin Toy Cars players are Peter Fand, Aaron Guidry, Martin St-Pierre, Brian Burns and Andrew Chute.
Music Video Debut: Do Everything You Can Before You're Dead
Tin Toy Cars Website
Photo by Yann C. Arnaud.
I've been working on sounding like I know what I'm talking about as far as music is concerned. Tin Toy Cars - you're my experiment. Sorry! (But not really!)
Tin Toy Cars' music has some unexpected contrasts, with haunting instrumental melodies woven together with poetic verse. It's surprisingly sophisticated for something with so much back-porch charm. With the mandolin and fiddle in the foreground, it comes at the listener a bit like a folky string band at times. But then, the driving and gritty drums set it more into the indie-rock world. When you listen, you feel like you know this music. It's old in a way, but fresh and engaging. Maybe it's the old-timey instrumentation, or the surprisingly catchy turns of phrase that create hooks in the most unexpected places ("Not living to die, I'm dying to live"), but it leaves me wondering if we are the new "folks," and this is our new music.
(How'd I do? OMG, I kill myself!)
I spoke mostly with Peter Fand.
What have your lives been like the past month since you released your debut LP, Falling, Rust & Bones?
This has been an interesting and exciting time for us. The album came out on January 22nd, and we've been enjoying watching it establish its place in the world. It's funny how that is. You work so hard on something, and it feels so personal in a way, but then, it leaves your hands and is no longer yours. It now belongs to everyone who listens to it, and naturally, they will have their own experiences and opinions about it. So far the response has been great. It's currently being played on about 75 radio stations around the country and abroad, and we've been hearing from a lot of people who are enthusiastic about the music, which is great.
Meanwhile, we've just finished the video for the song "Do Everything You Can Before You're Dead," which was a very fun, albeit ambitious project. There's been a lot of buildup about these releases... first the CD and now the video, which have required a significant investment of time and creative energy. It's been cool seeing it come together, from inception to completion. It funny how a 5- 6 month project, in the end, leaves us with a finished product that only occupies about 4 ½ minutes of space. It's an impactful 4 ½ minutes though, and we we're all proud of the result.
What was your experience making your first video?
This was a pretty huge project that involved a lot of people and logistical coordination. It started with an idea that emerged as we were mixing the song, and quickly blew up into an ambitious production.
Because three of the people in Tin Toy Cars are cast members of Cirque du Soleil shows, we are surrounded daily by extraordinarily talented people, both in the artistic and technical realms. When we began talking about this project, we assembled the A Team from our Cirque du Soleil universe, and effectively created our own world-class production company. It was directed by Kate St-Pierre, and edited by Sam Welbourn. It was shot by Sam Welbourn and Brian Davis on a Red Dragon camera at 6k, and a Canon C100 Mark ii.
Additionally, we enlisted the support of a bunch of brilliant acrobats and other performers from eight shows on the Las Vegas strip.
And perhaps the coolest part of the project were the locations that we were able to shoot in. There were some awesome desert locations that highlight how stunning this part of the country is. The opening sequence was shot at Bunkhouse Saloon, which is a great venue here in Vegas. Another scene was shot on the strip, and at one point we were in a graveyard where they dug us a hole and buried me in a coffin in the ground. We even have a scene with Parachutes landing all around us, provided by Skydive Las Vegas.
What were your thoughts on putting a band together at this stage in your lives?
Being that our Cirque performance schedule has us doing the same show more than 470 times per year, we are all eager to be involved in new, creative music projects. We're also invested in this genre of music, the new incarnation of "Americana", which is a particularly cool style, in part because it doesn't discriminate by age, gender, or anything else. It's all about the music, and many of the style's great purveyors are elder statesmen of sorts, while the new breeds constantly push the envelope. It's a style that gives deference to what came before, while always looking ahead to see what might come next.
While the genre is a bit broad, and we clearly have a lot of other influences feeding our music, I think we fall pretty squarely into the Americana scene, at least on an audience demographic level. While I hope we'll be appreciated by music fans across the spectrum, I'd say our primary target is the AAA scene, which is comprised, generally speaking, of adults, with a somewhat sophisticated musical palette.
What was the first musical instrument you picked up as a child?
Well, when I was about 5, my Dad gave me his old guitar when he upgraded to a new one. He taught me a few chords, and it kinda knocked around the house a bit when I was a kid.
My real musical world cracked open when I was in 8th grade, and started playing bass. That was a revelation for me, and I continued as a bass player through college, and into my professional life.
Now, with Tin Toy Cars, I'm strictly a singing mandolin player. I discovered the mandolin several years ago, and it quickly took over my whole sphere of consciousness.
That festival was a really cool part of the Las Vegas scene before "Life Is Beautiful," emerged. This is the festival's first year back, and we're looking forward to being a part of it. It's particularly cool, because it gives strong recognition to local acts, which are often obscured when big festivals come to town. You asked about a surprise song. Well, I suppose we'll have to see about that. Perhaps we will...but of course, it would have to be a surprise.
What is the goal of Tin Toy Cars?
We're very excited by the evolution of a particular niche that we see in the music industry, which sort of revolves around these acoustic instruments...mandolin, violin, upright bass, banjo, dobro, etc. Right now there's a new renaissance for these sounds, which is great. There are a few key pioneers that are leading the charge....artists like The Punch Brothers, Sarah Jarozs, Infamous Stringdusters and more. We are paying attention, and feel we have something to contribute to the dialog.
And of course, our big picture goal is to be able to continue making inspired, creative music, for as long as possible, while continuing to pay our bills. This is our debut album, so we're in the process of growing our fan base, so that we can justify our tours, and continue making albums for years to come.
Peter, you have a home studio. What kind of tech do you have?
Yes, I guess I'd say I have a bit of an embarrassment of riches in that regard. When I was living in New York, I was a partner in a rather big recording studio; a two-story, five-room production facility. When I ran off with the circus and moved to Vegas, we dissolved that partnership, and I moved my studio here. Now I have a world-class recording studio in my living room. I'm a huge microphone collector, so I have lots of beautiful old vintage ribbons mics, and tube mics from another age of recording. Really cool stuff. And of course, I'm running Pro Tools on a powerhouse system, with a battery of Universal Audio toys.
Anything else you'd like to say?
Several TTC members are involved in the Southern Nevada Bluegrass Music Society, so if you are a picker, and find yourself in Las Vegas, look us up and come pick a tune.