People of faith are speaking out for America's transgender service members, letting trans individuals know that no matter what the president thinks on a certain day, trans people are still beautiful children of God. 
Although the policy has no immediate effect on the status of active duty trans men and women, Rev. Liam M. Hooper, a transgender community organizer and founder of a trans-queer ministry in North Carolina, said that Trump's words have the potential to cause both spiritual and physical harm to transgender Americans. 
"Trans and gender-diverse people exist under the condition of inescapable and continuous messaging that we are abominations, freaks, sinners, mentally 'sick,' pedophiles and perverts…the list goes on. The effect of linguistic macro-aggression and micro-aggression is cumulative," Hooper said. 
"When a public figure like the president uses harmful words... it gives added weight to daily barrage of negative messages. And, in this case, it has the potential to increase other forms of violence towards trans people…and may have the effect of creating a devastating change in policy. It certainly raises the daily lower level fear hum to something more like a roar for all trans and gender-expansive persons, but particular for those serving."
When a public figure like the president uses harmful words, such as, burden, distraction, and unnecessary it gives added weight to daily barrage of negative messages. And, in this case, it has the potential to increase other forms of violence towards trans people.

Rev. Liam M. Hooper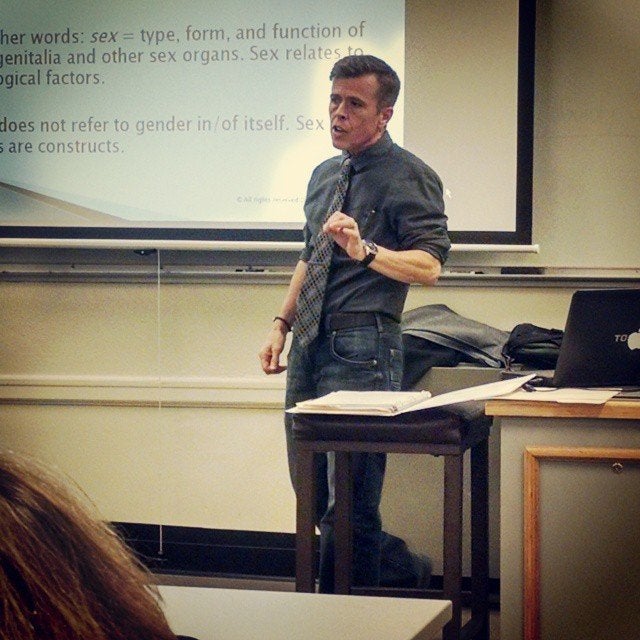 The announcement reportedly took the Defense Department's Joint Chiefs of Staff by surprise. General Joseph Dunford, chairman of the Joint Chiefs of Staff, wrote in a memo to the military that "no modifications to the current policy until the President's direction has been received by the Secretary of Defense and the Secretary has issued implementation guidelines."
"In the meantime, we will continue to treat all of our personnel with respect," Dunford said in the memo obtained by CNN. 
Hooper believes that the president's decision was an act of "deflection politics," distracting from a number of national crises in addition to anti-trans legislation that could have immediate impacts.  
The minister said he's more concerned about what's happening in Texas. Just this week, the state's Senate passed a bathroom bill that would restrict transgender individuals from using the restroom that matches their gender identity. The legislation, which would impact even public school students, is now headed to the House.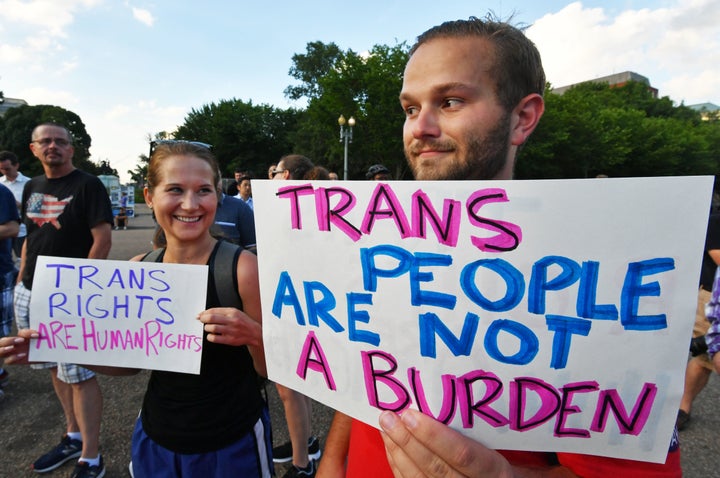 More Light Presbyterians, an advocacy group that works the full participation of queer people in the Presbyterian Church (USA), said in a statement that the announcement shouldn't be seen as a "general and chaotic attempt to appeal to a political base."
"These are intentional steps to undermine the safety and well being of our transgender siblings," the group said. "To that end, we encourage our communities to surround our transgender friends with love and support. An attack on any of us, is an attack on all of us."
Numerous faith leaders shared their support for trans men and women on Wednesday. 
David Brody of Christian Broadcasting Network's The Brody File tweeted Wednesday night that the president discussed a policy banning transgender people from serving in the military during a meeting with faith leaders this month.
Brody didn't specify when the discussion with faith leaders took place or the source of the information, but he may have been referring to a daylong meeting Trump held with evangelical advisors at the Eisenhower Executive Office Building next to the White House on July 10. A widely shared photo showed the faith advisors laying hands on the president in prayer afterward in the Oval Office.
HuffPost reached out to several of the faith leaders in attendance at the July 10 meeting and did not receive a response. 
Robert Jeffress, a Southern Baptist pastor who was present at the July 10 meeting, also praised the move in a statement on Wednesday, claiming the new policy would "make America safer and more secure."
"The militant liberal agenda has not only savaged the moral values of our country but has imperiled the defense of our nation by adding needless confusion, complication, and expense," Jeffress said in a statement sent to HuffPost. "Thank God for a President who is willing to say 'Enough is enough!'"
You are—each of you—individual, beautiful and beloved images of God.

Rev. Liam M. Hooper
Hooper said the most disturbing aspect of Trump's tweets about banning trans individuals in the military is not the immediate impact on policy, but how it incites fears and misunderstandings, and demoralizes an already marginalized group.
He had this message for trans people of all religious faiths who are serving in the military. 
"You are—each of you—individual, beautiful and beloved images of God…beings God imagined and anticipated in the creation of human beings. You, in all of your personhood, speak to a God who affirms that there are as many images of God as there are now, ever have been, or ever will be human beings," Hooper said. "You are beautiful. As you are. And you are loved."
BEFORE YOU GO
PHOTO GALLERY
Most Inspiring LGBT Religious Leaders