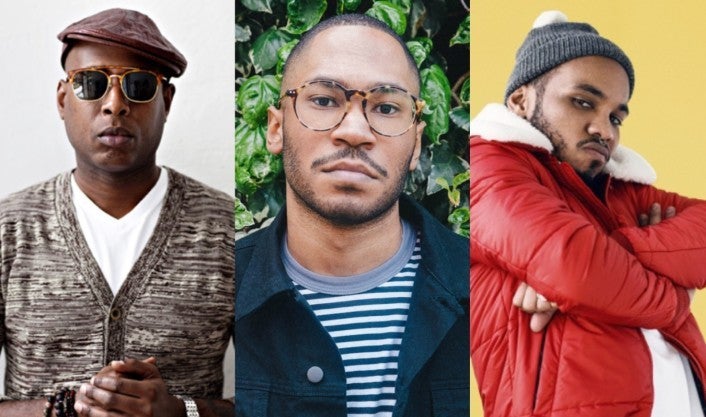 Classically combining Hip Hop, humanity and multimedia with a world-class collective of creatives, led by "old soul" Anderson .Paak and super-producer Kaytranada, Talib Kweli recently premiered his latest single and video, 'Traveling Light.'
The second collaboration between the legendary lyricist and California native singer, songwriter, producer and drummer, the track is one of the most delightful and soulful recordings created by the Brooklyn-based "touring artist."
"It's a musical celebration album," Kweli said in a recent interview with Rolling Out.
"At this point in my career, I'm known for hip-hop and I'm only bringing hip-hop to the table," said Kweli, founder of Javotti Media.
One of the 11-tracks on the "internationally known," socially aware and politically insightful creative's eighth studio album, 'Radio Silence,' Kweli's unsurpassed imagination is on full display with the song that premiered on Zane Lowe's show on Apple Music's Beats 1.
"The video is meant to be a day in my life highlighting how Brooklyn has changed but still remains the same in spirit," said the father of a 21-year-old son and 18-year-old daughter.
"The video is full of friends and family who have been on this life journey with me, with or without the music," he said in an interview with XXL, speaking on how the track and video were manifested.
Directed by Yassin 'Narcy' Alsalman, an Iraqi-Canadian Journalist, MC and Co-Founder of We Are The Medium — an artist collective and house of creatives, the 'Traveling Light' cinematic experience is truly a piece of art created by an impressive group of people of Internationality.
In production partnership with Montreal-based creative agency Metro Creative, Narcy worked alongside Filmmaker, Walid Kafi; Motion Graphics Artist and Filmmaker, Suhel Nafar; and aerial photo and video retailer, Brooklyn Drones to execute Kweli's vision for the song.
"My lyrics were already there so he wrote the hook around them," Kweli said, stating .Paak "chose this song" to contribute to believing he was "partial" to the Haitian-born and Montreal-raised producer's sound.
"As a musician, the vibe is more important than the bars," said Kweli, admitting that music lovers "don't like me because I'm conscious," but rather because "I'm dope."
Not one to be boxed in, the anthropologist, historian, activist and scholar is "pushing himself as an artist" as represented by the song, video and their production. Commemorating the 20 year anniversary of his first recordings with Rawkus Records, 'Fortified Live' and '2000 Seasons,' Kweli is deeply "entrenched in hip hop."
Moving into "legacy artistry," Kweli has purposefully positioned himself and Javotti Media (named after his paternal grandmother), to ascend into a global media powerhouse that releases music, films, books and memorable multimedia experiences.
'Traveling Light' is more than memorable.
A historical presentation and piece of art in the form of music and video, Kweli's collaborative creation will prove, in time, to be a transformative catalytic changer-maker of not only the music and entertainment industries, but serve as inspiration for current and future leaders across the globe to draw energy and inspiration.
This post was published on the now-closed HuffPost Contributor platform. Contributors control their own work and posted freely to our site. If you need to flag this entry as abusive,
send us an email
.