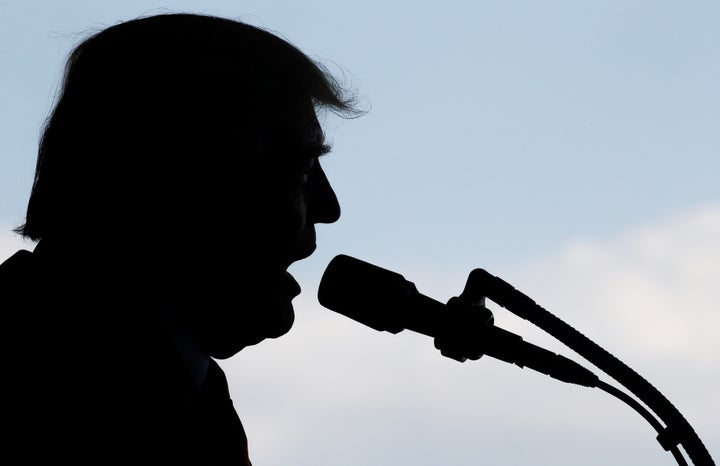 While citizen Trump demonstrated deal making skills in his family business, that experience appears to be non-transferable to running a country and may in fact have dire and irreversible consequences for billions of people around the world. Even if, as president, he is legally permitted to place the United States into harms way, he should be cautioned by the wise men and women of both parties and redirected back onto the proven path before it is too late.
Trump's first international trip as President could have catastrophic fallout, with dangers already on the horizon. On the Saudi leg of his trip, he bashed Iran as the source of international terrorism and regional instability and as bent on developing dangerous weapons; he embraced Sunni Muslims and threatened Shia Muslims, fueling the sectarian divide that threatens the region; he set aside any and all pretensions of America's support of human rights and came down squarely on the side of oppression (referring to the dictator Sisi as a great guy and a friend); he agreed to sell over $110 billion of American military equipment to the GCC that could eventually be tripled over the next ten years, solicited GCC investments in the United States and symbolically joined hands with Sisi of Egypt and King Salman over a glowing orb.
Let us just list some of the immediate fallout and leave it to the reader to develop the possible consequences of each. A threatened Iran will race to develop its missile program (something that it has every right to do under international law), will rapidly advance its nuclear capabilities to be in a breakout mode when restrictions are lifted under the JCPOA, will increase its efforts to develop a domestic arms industry, expand its support for Hezbollah, strengthen its relations with Hamas, back militias and surrogates that could damage US interests in Iraq, Syria, Lebanon and Yemen and drive the US out of the region. By putting America's prestige and power 100 percent behind Sunnis and against Shia Muslims, President Trump has complicated US policy toward Pakistan, Afghanistan, Lebanon, Syria, the GCC (in particular Bahrain and Kuwait, one with a 65 percent Shia population and the other with around 35 percent), and especially toward Iraq with a 65 percent Shia majority—all places where America will need Iranian cooperation but is unlikely to get it after Trump's tirade against Iran. By embracing the dictator Sisi, Trump has emboldened him to adopt draconian measures to limit personal freedoms. Sisi has already enacted a law that places harsh restrictions on all NGOs by making all their work subject to the approval of a new organization (an arm of Egyptian security), a law that he had earlier been apprehensive to sign after public opposition from Senators McCain and Graham. We can be assured of more restrictions to come before what will be a fraudulent Egyptian presidential election in 2018. In the GCC, the rulers are now totally free to do as they wish when it comes to the treatment of the general citizenry with NO admonitions from the Trump White House—an open season for human right violations all in the name of fighting terrorism, establishing stability and confronting Iran.
A 6-year old child knows enough to blame the strongman backer of a neighborhood bully for bullying. In the Middle East neighborhood, who is the backer of these Sunni dictators? The United States of America! Sunni citizens in countries embraced by Trump will point to the US as the source of their oppression. Shia will point to the US for siding with the Sunnis in a sectarian divide that goes back to just after Prophet Mohammad's death. America will have created hundreds of millions of enemies for centuries to come for no reason at all. There will be internal turmoil in many Arab countries. ISIS and Al-Qaeda and their affiliates will have unlimited recruits. The image of the United States will be irreparably damaged throughout the Muslim World.
Instead of using a diplomatic approach in Europe, Trump threatened America's allies because of their level of defense expenditures, would not confirm his support for the Paris Climate Agreement and, most critically, he would not affirm America's commitment to NATO's Article 5 (stipulating that allies must come to the aid of an ally under attack). The latter is the bedrock of post-WWII European security, the most meaningful barrier to Russian expansionism and an important pillar of security for the U.S. After Angela Merkel stated the obvious conclusion, that Europe will have to rely on Europe for its defense, President Trump threatened Germany anew in a tweet.
President Trump's words and deeds have endangered America's most important security alliance. If NATO breaks up, the U.S. could lose most of its European bases and the security and intelligence benefits that they provide. Russia would see this as the greatest gift it has received from the United States in the post-WWII era, providing inroads into Europe and consolidating its position in the Ukraine.
How did we get to be here in a span of four months? Donald Trump is still in campaign mode using campaign rhetoric. He still thinks like a man running a family business, a limited liability company under a system of laws that include statutes of limitations, where profits and losses are almost immediate and where his orders are unquestioned. He is still behaving like an aggressive dealmaker, exploring the vulnerabilities of the person across the table, bullying with an army of lawyers and getting the best deal he can. While this may have served him as a family businessman, it will not serve the United States. His warm embrace of dictators, his condemnation of Shia Muslims, his backing of Sunnis, his threats to allies and to adversaries, his unwillingness to confirm America's commitment to its most important treaty, all these have consequences that go far beyond profits or losses in the short term. They affect world order, the safety of billions of people, the standing of the U.S. in the world and the safety and prosperity of Americans for decades, and even centuries, to come. Sadly, those around him are ignorant or dare not present him with advice that he may not like to hear. Especially disturbing is General McMaster's performance as National Security Advisor. His public pronouncements are an amplification of Trump bytes. He may have been a great general but for a historian he shows little appreciation of Middle East history, diverse cultures and Western security arrangements of the post-WWII era.
It is time to act before irreversible developments put America and much of the world into an irreversible downward spiral. It is time for America's powerful—former presidents, current and former cabinet members, current and former members of congress—especially Republicans, to put personal and party interests aside, to present a common message to President Trump and counsel him (privately, discretely and without fanfare) to change course immediately, enlist more competent and principled advisors and attend to America's national needs. If power-brokers fail, they will surely be on the wrong side of history and relegated to its trash heap.