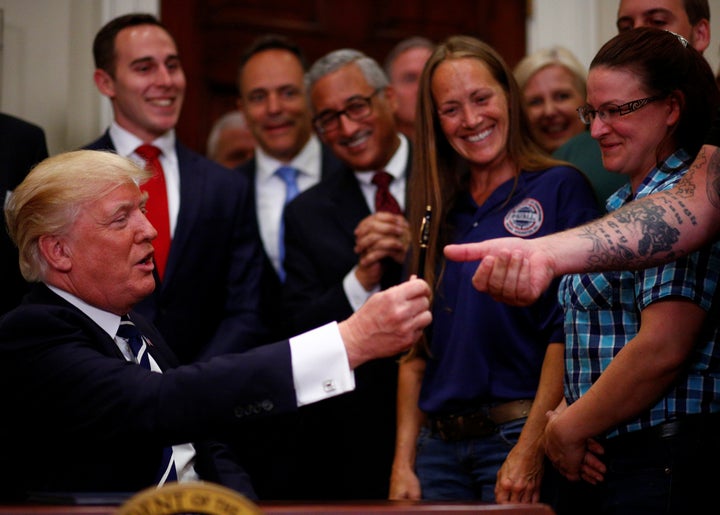 President Donald Trump's embrace of apprenticeships as an effective way to train workers for meaningful, middle-skill careers offered a break last week from the Trump administration's near-total indifference to serious policy development.
For once, Trump carried out a relatively normal policy announcement, complete with a relatively cogent speech. Likewise, Trump focused on a topic of both genuine relevance (how to improve job training) and bipartisan appeal (expanding the reach of private-sector apprenticeship programs).
What is more, the president managed to get the big things right with his executive order. In noting that a four-year college degree isn't for everyone, he spoke reasonably about the potential of paid, hands-on workplace experiences that train workers and link them to employers. In addition, Trump rightly underscored the need for industry — rather than the government — to play the largest role in structuring those experiences. While some are criticizing that emphasis, it's actually the right one.
The executive order is welcome not only because it seeks to build on — rather than trash — ApprenticeshipsUSA, a popular grant program that was previously championed by the Obama administration. Equally important, Trump's move to reorient and grow the program seems to reflect a constructive bid to enhance the effectiveness and reach of the nation's main apprenticeship program by nudging it into closer alignment with the private sector.
The executive order seeks to build on ApprenticeshipsUSA, a popular grant program that was previously championed by the Obama administration.
Industry influence is not always desirable, to be sure, especially given the Trump administration's excessive coziness with powerful interest groups in the oil, gas and financial sectors. But in the case of workforce training, a high degree of coordination with industry — ideally on everything from program design to curriculum, certifications and job placement — is now seen by most stakeholders as a crucial dividing line between programs that work and programs that don't. Such alignment ― and ideally co-development ― of programs with the private sector serves as a strong check on the biggest problem of American workforce training: training divorced from market demand. 
And so Trump's moves to encourage the establishment of more "industry-recognized" — as opposed to "government-registered" — apprenticeships are actually the most welcome element of the new executive order, after the doubling of the program's budget to $200 million. Trump-weary critics are wary of the order's plan to give more flexibility to "third parties" — including companies, trade associations and unions — to design new apprenticeship programs. However, the order's flexibility represents a needed reduction of overly rigid regulations, even as it responsibly tasks the secretary of labor to establish a new review process for maintaining the quality of both the existing government-registered and the new industry-certified apprenticeships. As such, the order represents a welcome encouragement to employers to embrace apprenticeships as an effective way to recruit and train workers.
Now of course, there are some problems here ― the usual Trump flimflammery. For one thing, last week's announcement follows Trump's endorsement of Salesforce CEO Marc Benioff's "moonshot" challenge to Trump to create 5 million apprenticeships in five years ― but the numbers don't add up. Specifically, Trump proposes to multiply the nation's 500,000 registered apprenticeships by a factor of 10 but appears committed to only doubling the program's $90 million budget. In similar fashion, the new expansion of apprenticeship comes against the backdrop of draconian cuts to the entire workforce development budget. In this regard, the president's budget proposal for 2018 calls for slashing the Labor Department's budget to $9.6 billion, a reduction of about 21 percent.
Development of programs with the private sector serves as a strong check on the biggest problem of American workforce training: training divorced from market demand.
And then, in the same vein, there is Trump's focus on apprenticeships to the exclusion of all else in the workforce development realm. While the creation of 5 million apprenticeships would be a worthy strike against the nation's alleged "skills gaps," apprenticeships won't solve the nation's other large labor market problems. Apprenticeships won't by themselves address the "hollowing out" of the middle of the market as technology substitutes for routine-based tasks, for example. 
Nor will expanding apprenticeships do much to address the problem of skill obsolescence in a changing economy, when many employers may prefer to return to the entry-level market rather than retrain their existing workforce. And neither, for that matter, will apprenticeships help much with addressing the increasing numbers of prime-age workers who choose not to participate in the labor force at all.
And yet, with that said, Trump's initiative to expand apprenticeships by allowing new actors to develop standards for a new crop of industry-recognized apprenticeships to complement the existing ones is — at least in concept — an incremental but genuine advance. For once, a reckless president has brought forth a constructive plan for supporting a beneficial development in the economy.