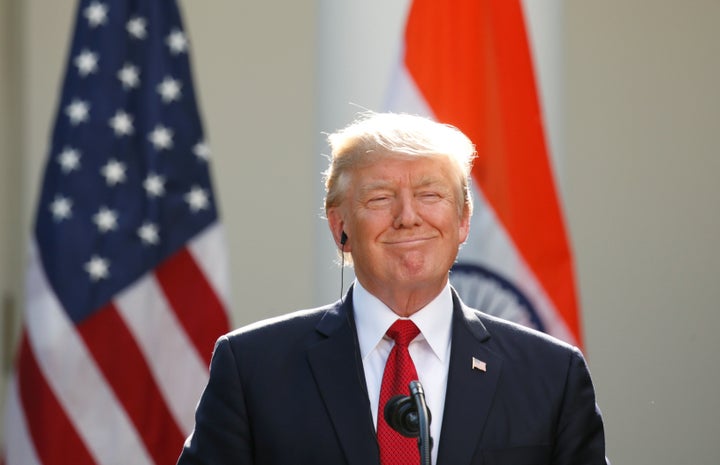 President Donald Trump has completed the first six months of his scandal-plagued and underachieving presidency on the defensive. The "Washington Post" reported late Thursday that he is building a case against the special counsel and exploring pardons. Meanwhile, recent polls show that Trump's overall favorability is at an all-time low, and up to now his loyal supporters have continued to back him, although a small minority of them is beginning to have doubts according to a Reuters/Ipsos poll.
In an interview with the "New York Times" Wednesday the president was in full attack mode, his default tactic when he feels pressure.  Attorney General Jeff Sessions was among the first members of Congress to support then candidate Donald Trump.  His support was rewarded with one of the most important cabinet posts, but Sessions recused himself from overseeing the Russian investigation, which was the right thing to do.  But not according to the president. "Sessions should have never recused himself, and if he was going to recuse himself, he should have told me before he took the job and I would have picked somebody else," Trump said.  He then added, "It's extremely unfair, and that's a mild word, to the president.  So he recuses himself, I then end up with a second man, who's a deputy."
Worse than that, Trump noted that Deputy Attorney General Rod Rosenstein is from Baltimore.  "So his deputy he (Sessions) hardly knew," Trump recalled.  "Rod Rosenstein, who is from Baltimore." There are very few Republicans in Baltimore, if any."  Then Trump points out that Rosenstein appointed Special Counsel Robert Mueller to look into Russian interference in the election.  Mueller had interviewed for FBI Director with the president the day before he was appointed to head the investigation.  In his New York Times interview Trump added, "I said, what the hell is this all about?  Talk about conflicts."  Then Trump made a threat relating to Mueller.  "There were many other conflicts that I haven't said, but I will at some point," he said.
President Trump accused former FBI Director James Comey of trying to use as leverage a secret dossier with sensational but uncorroborated allegations regarding the president.   "When he brought it to me, I said this is really made-up junk," Trump said of the allegations.  Comey had earlier told a Congressional hearing that he told the president of the dossier because he thought the media may be publishing it soon. Trump said Comey's testimony was "loaded up with lies."
Trump's interview reflects a man who is concerned that the special counsel has expanded his investigation into the financial dealings of Trump businesses.  U.S. banking regulators are reviewing hundreds of millions of dollars in loans the Trump organization received from Deutsche Bank, according to the New York Times.   Deutsche Bank recently paid more than $600 million in penalties to U.S. and British regulators for laundering money for Russian entities.
Bloomberg reported Thursday, quoting a person familiar with the investigation, that
FBI investigators and others are looking at Russian purchases of apartments in Trump buildings, Trump's involvement in a controversial SoHo development in New York with Russian associates, the 2013 Miss Universe pageant in Moscow and Trump's sale of a Florida mansion (at a huge profit) to a Russian oligarch.
Trump was asked by the New York Times, "If Mueller was looking at your finances, and at your family's finances, unrelated to Russia, is that a red line?"  Trump responded, "I think that's a violation. Look, this is about Russia." But then the reporters followed up asking if he would fire Mueller, Trump said, "I can't answer that question because I don't think it's going to happen."
Trump could not directly fire Mueller.  He would have to order Rosenstein to do it, the man who appointed the special counsel in the first place.  Rosenstein has testified to Congress he will not fire Mueller.  Meanwhile, Attorney General Jeff Sessions vowed at a news conference Thursday to stay on, "We are serving right now.  The work we are doing today is the kind of work that we intend to continue."
With a constitutional crisis involving the investigation into Trump finances looming over the horizon, the president's comments and actions betray a man with something to hide.  He is scared, he is vulnerable, he is angry.  The Washington Post reported late Thursday that Trump's lawyers are "actively building a case" against what they believe to be Mueller's conflicts of interest.  The paper also reports that Trump has asked about his power to pardon aides and family members. 
Sure, Trump can feel like the victim, he can feel that he is being treated unfairly, but he has brought it all upon himself.   Nothing will stop the special counsel.  And if Trump fires Mueller, another will be appointed.   If he pardons aides and family members from criminal charges, he will risk being removed from office.
The truth will be revealed, justice will be done.  That is the American way, Mr. Trump.
BEFORE YOU GO