Minutes after he was interviewed by two television journalists, the fire chief of Tryon, North Carolina, found them dead inside an SUV that had been crushed by a falling tree. 
The journalists, Mike McCormick and Aaron Smeltzer of WYFF News 4 in Greenville, South Carolina, were covering severe weather in the area on Monday when the tree fell across a highway and struck their vehicle.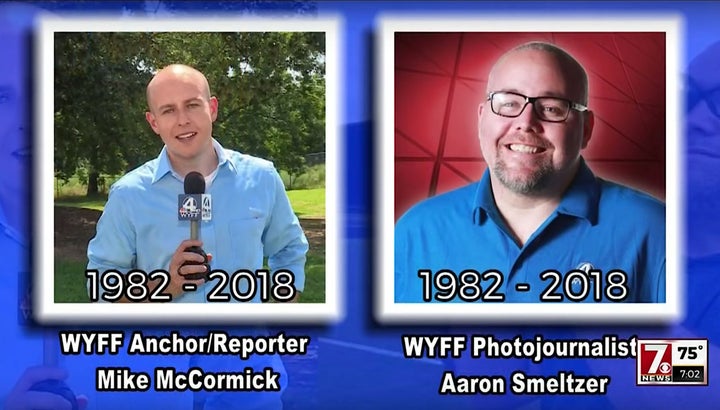 About 15 minutes after giving an interview to the two journalists, Tryon Fire Chief Geoffrey Tennant discovered them dead inside their SUV. It's likely the SUV was in motion when the accident occurred as the vehicle was still in gear with the engine running, he said in a news conference.
"I don't think it was a slide. I think it was just a matter of the tree root system had failed," Tennant said. He estimated that the tree was about 3 feet in diameter.
Tennant said that he and McCormick had ended their interview by telling each other to stay safe.
McCormick had been employed by WYFF since April 2007, when he joined the Spartanburg newsroom. In 2014, he became the anchor of the station's 6 p.m. and 11 p.m. broadcasts on Sundays, the news outlet said. Smeltzer joined WYFF's Spartanburg bureau as a photographer in February. 
North Carolina Gov. Roy Cooper issued a statement urging residents to be cautious in the severe weather conditions. He also expressed his condolences about the deaths of McCormick and Smeltzer.
"Two journalists working to keep the public informed about this storm have tragically lost their lives, and we mourn with their families, friends and colleagues," Cooper said.
WYFF anchors also voiced their grief over the journalists' deaths.
"Mike and Aaron were beloved members of our team, our family," Carol Goldsmith said on the station's 6 p.m. newscast.
"All of us here at WYFF 4 are grieving," Michael Cogdill added. "We are a family. And you, our extended family, we thank you for your comfort as we mourn and as we seek to comfort the families."