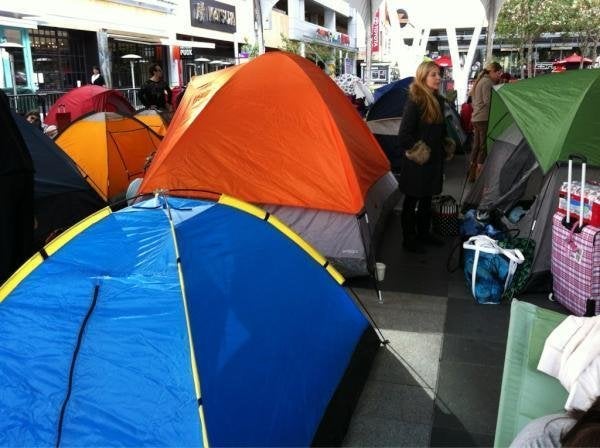 The red carpet extravaganza and premiere of Twilight's "Breaking Dawn Part 1" taking place in downtown Los Angeles Monday night has Twihards hitting the pavement and camping out - four nights ahead of time.
Thursday morning, over 700 fans lined up waiting for an individual wristband that will grant them access to their camping space for the weekend. While Occupiers down at Occupy LA are fighting for lawn space and bathrooms, it sounds like Summit Entertainment and L.A. Live Security have got it down. In fact, in terms of wrist band organization, scanning and security, Twilight's L.A. Live tent city sounds more like recent years of Coachella than a movie premiere.
And this actually is the best part about the most recent camp-out. There is a 'Twilight Breaking Dawn Red Carpet Premiere Camping - Rules & Regulations Page' detailing the codes of conduct for the anticipatory camp-out for the "Breaking Dawn Part 1" premiere. But, there's a catch -- those with wristbands are not even waiting to see the film at the premiere on Monday night, they're waiting to see the stars. According to Facebook, "Every individual who is granted access into Tent City will be entered into a database that matches them with their unique wristband number. The wristbands DO NOT enable access to the Movie Premiere."
Some of the best rules on the list include very specific instructions about tent size: "ONLY Standard Sized Pop Tents will be allowed (8'x8' [64 sq. ft.] or less. No oversized tents, staked tents."
Rules about fun include but are not limited to: "No amplified music".. "No horseplay".. "ABSOLUTELY no drugs or alcohol allowed on premises."
But Deadline reminds us not to knock it. Given the economy, this is a gift for the entertainment industry:
The pic already represents 72% of Fandango's weekly ticket sales. More than 1,000 showtimes are already sold out in advance on Fandango which says theater owners are scrambling to add more screenings to meet the fan demand. According to a Fandango survey, 48% of Breaking Dawn Part 1 ticket-buyers plan to see the pic on opening night.
If it's already like this four days out from "Breaking Dawn Part 1" premiere, we can only imagine what kind of numbers the final installment of the world's favorite saga will pull in. Producers of Kristen Stewart's upcoming "Snow White And The Huntsman" film must really be licking their lips.