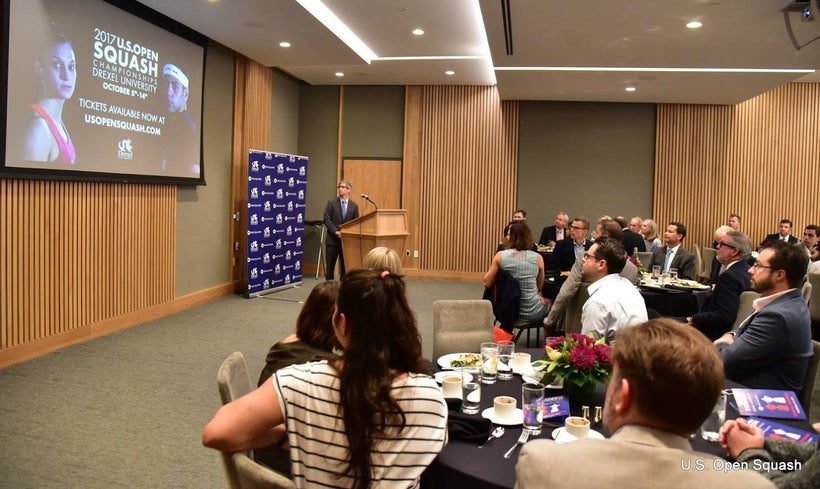 One of the most prestigious squash tournament in the United States has called Philadelphia home a few times in recent years. Last week's announcement that Study Hotels was named an official sponsor of the 2017 U.S. Open presented by Macquarie Investment Management, and the Arlen Specter Pennsylvania Championships, was a welcomed addition to the world-class sporting event.
The Study at University City is now a home-away-from-home for the world's best squash players.
"We're so pleased to partner with Study Hotels, they are a perfect fit for our community which values a calm, restful, sophisticated atmosphere," said Kevin Klipstein, President of U.S. Squash.
"Squash participation in the U.S. has doubled in the last five years, and having The Study in two key markets, Philadelphia and New Haven, where we host nearly the majority of our events, makes our partnership a natural one," Klipstein said.
In partnership with US Squash, the Study at University City Hotel is hosting guests from around the world through the end of this week. Located in West Philadelphia — at the crossroads of University of Pennsylvania and Drexel University — the 212-room (out of 16,000 hotel rooms in Philadelphia County), ten stories tall property is walking distance from the U.S. Open's main venue, Drexel's Daskalakis Athletic Center.
"Our Yale property has hosted many families and athletes attending events since its opening in 2009," said McGowan. "We're excited that our guests in Philadelphia will have a chance to witness world-class squash competition at the U.S. Open."
Inspired by visiting colleges and universities with his daughter more than a decade ago, McGowan now leads the lifestyle brand to accommodate the needs of university markets by offering high-quality, full-service lodging. The Study at Yale Hotel, McGowan's first property, boasts 124 deluxe guestrooms located in the heart of Yale University's vibrant arts campus.
Tapping into the architecture of Philadelphia and the skills of local craftspeople, Study Hotels' second property is an oasis for visiting guests, dignitaries and college families. Showcasing local artists and student's work on a rotating basis in the hotel's public spaces and guestrooms designed around contemporary residential living, McGowan has created an "environment that promotes intellectual stimulation, rest and reflection."
"University City is home to one of the world's great intellectual ecosystems in one of the most transit-accessible locations," said Drexel's President, John Fry, two years ago.
"What has been missing is an outstanding hotel for students and families, faculty, researchers, entrepreneurs and all visitors drawn to this unique place," said Fry, who completed his U.S. Squash Board of Directors chairmanship last year.
"We are very excited to partner with Hospitality 3 to bring the Study Hotels concept to our campus in West Philadelphia and to connect hotel operations to the community, through collaboration and civic engagement," Fry said.
"The survey results show that sport event continues to be a major economic driver," said Alan Kidd, President and CEO of the National Association of Sports Commissions.
Ranked in the top 15 Best Affordable U.S. Destinations by U.S. News, Philadelphia — the United States' first World Heritage City, is the #1 Most Sports-Crazed City in the U.S. according to Travel + Leisure, with events like the U.S. Open Squash Championships impacting the city's economy.
A world-class city of cultural, political and economic note, Pacific Area Travel Writers Association voted Philadelphia No. 1 for heritage and culture last year. According to the Philadelphia Convention & Visitors Bureau, the City's official tourism promotion agency, Philadelphia ranks 15th on the list as the most internationally-visited city in the nation.
The U.S. Open Squash Championships and Arlen Specter Pennsylvania Championships are also a part of GlobalPhilly 2017, an international exposition facilitated by the Global Philadelphia Association over 45 days.
Since 2011, squash and the U.S. Open have "become a part of the fabric of this university [Drexel] and we are proud to be partners with U.S. Squash to host an event that brings international prominence to Drexel," said Eric Zillmer, Drexel's Director of Athletics.The international display of supreme talent in squash, showcasing the top players from around the world, has become one of Philadelphia's signature sporting events that brings fanatical visitors from across the globe to witness elite competition.
To catch the remaining rounds of the 2017 U.S. Open Squash Championships presented by Macquarie Investment Management at Drexel University or book your accommodation, visit U.S. Squash and the Study at University City Hotel for details.
This post was published on the now-closed HuffPost Contributor platform. Contributors control their own work and posted freely to our site. If you need to flag this entry as abusive,
send us an email
.