Sometimes, you just need some hugs and kisses to make it all better.  
According to the clip's description, the pup whose name is Maddie was feeling a bit disoriented as the anesthesia wore off, so Moses took it upon himself to comfort her. 
Watch as the caring technician rocks a sleepy Maddie back and forth while kissing her. 
Bailey Deacon, BARCS director of communications, told The Huffington Post that Maddie, who'd been surrendered by her previous owners, met her new humans, Andrew Isbell and his family, earlier this month. However, the pup couldn't go home until she was at a specific weight and age, had completed her full vaccinations and got spayed.
The pooch underwent the spay procedure last Wednesday. 
Deacon said that contrary to what many may think, the dog was crying while coming off of anesthesia because she was confused -- not because she was in pain. When Moses saw that the pooch was crying, he took her out into the hall to try and make her feel better. 
Though this particular video ended up going viral, Deacon told HuffPost that Moses' gesture isn't rare and a volunteer just happened to catch this instance on camera. Moses regularly tries to make the animals feel at home. 
"It's just another one of the normal moments here," she said. "He actually sings to them too."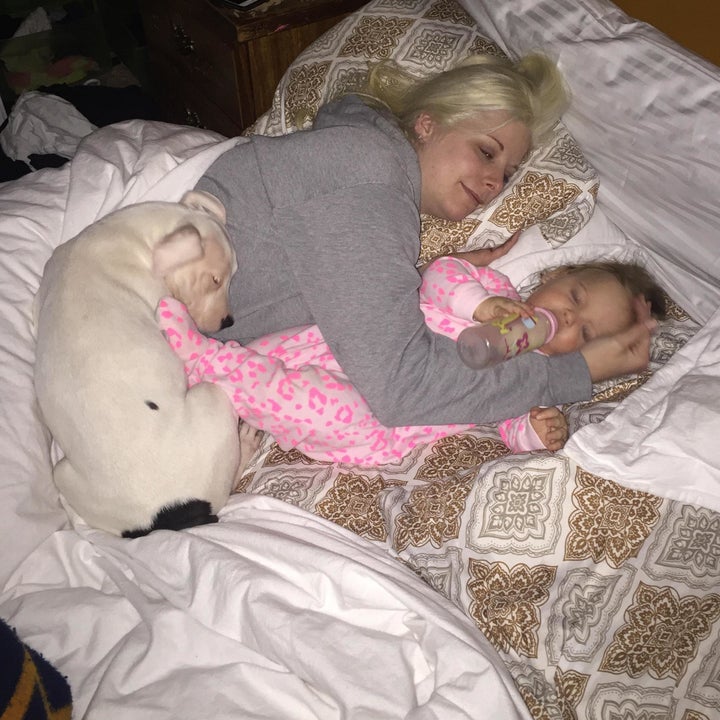 As for Maddie, she's been settling in nicely with her new family and even has quite a bit of snuggle time -- especially with her 11-month-old "sister" Jordan. 
"Bedtime is now officially a 'puppy pile,'" the shelter wrote on its Facebook post. 
To learn more about BARCS, check out their Facebook page here. 
BEFORE YOU GO
PHOTO GALLERY
#HPMyRescueDogRescuedMe