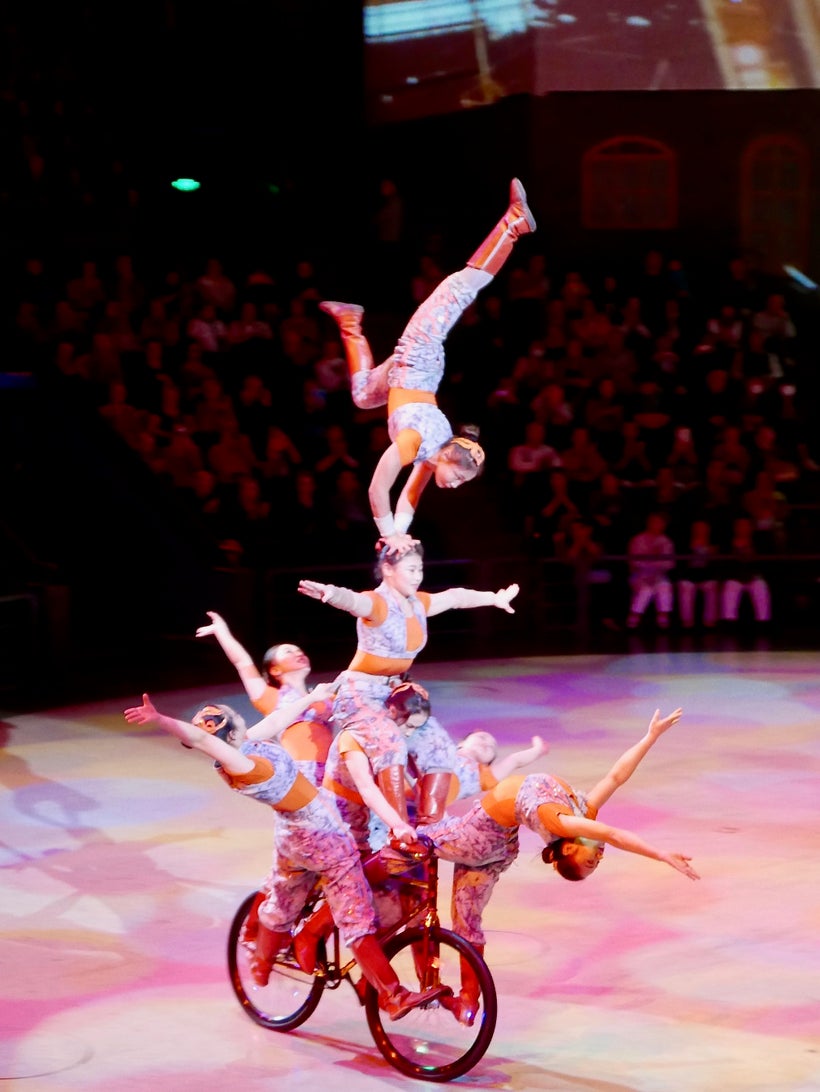 The Shanghai Acrobats of the People's Republic of China is a touring company that performs throughout the U.S. Keep an eye on your local cultural scene, and sooner or later you'll find them playing near you. If you get a chance, go. This show will tell you something about today's China.
What amounts to a road company of Shanghai Circus World in the huge Chinese city, this troupe is anything but a band of boring folk dancers. Instead, they present an evening of amazing athleticism and grace that might be wrapped in traditional garb, but is pulsing with the energy of a country is unapologetically roaring into future.
The show in Shanghai takes it even further. In a stadium-style theater built for the purpose, the acrobats balance, juggle, jump and fly amid laser lights and immersive sound worthy of the best Las Vegas productions. That, combined with a bizarre finale that puts acrobats inside a cage aboard zooming motorcycles, will leave even the most jaded traveler in awe.
In many ways, the acrobats' performance is a good metaphor for Shanghai itself.
I visited the city this past October, and was constantly reminded of how history and tradition color, or at least shade, the most modern city in this evolving superpower.
Take, for instance, The Bund. The miles-long walkway along the west bank of the Huangpu River fronts a road that is a living textbook of architecture. In the early 20th century, European, American and Japanese interests built commercial headquarters and hotels that were meant to represent not only their individual cultures, but also their standing in the world. The result is a side-by-side exhibit of 52 buildings in the Art Deco, Beaux-Art, Baroque Revival, Neo-Classical and other styles.
Turn your gaze directly across the river, and you'll see the city's modern landmarks, such as the Shanghai World Financial Center and the Space-Age/George Jetson-style Oriental Pearl TV Tower, soar skyward.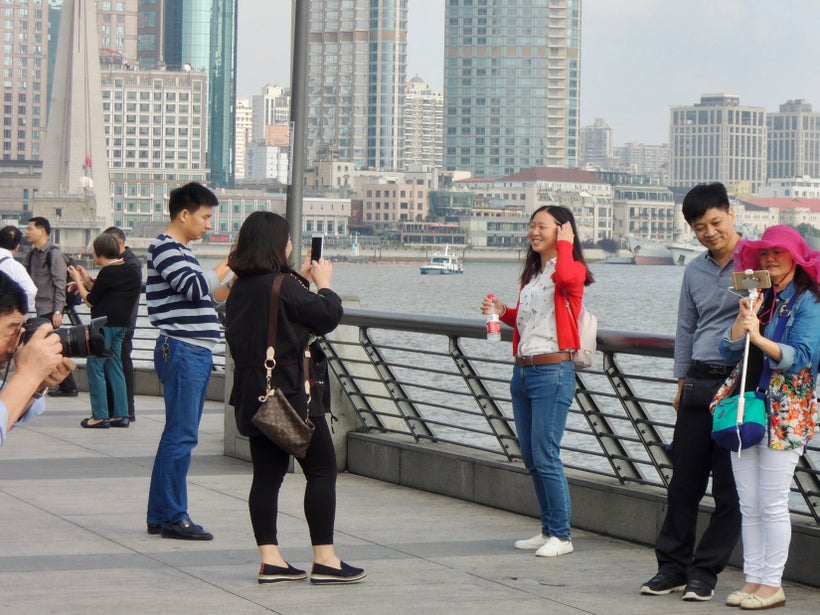 But what I found most interesting on a sunny Sunday morning on The Bund was the people-watching. A popular destination for families armed with cell phones and selfie sticks, it is virtually impossible to move without being in someone's photo.
And if you want a see the effects of China's long-held one-child policy up close, there is no better place than The Bund.
One small child is often surrounded by parents and grandparents smiling and laughing and plying the little one with snacks and toys, and taking photos. Constant cell-phone photos. It is rare to see two young children together. Each kid is the star of his or her family outing.
Until this past January, the Chinese government forbid couples, upon penalty of fines, of having more than one child. Now, two are permitted. Though with housing prices in the country's major cities regularly hitting new highs, birthrates are expected to remain low.
China might be in for a decreasing population in the next decade or so, but the generation that is coming up will undoubtedly be the singular vessels of each family's hopes and dreams, and will be as pampered and educated as possible.
Shanghai is a huge city—24 million souls and counting—and it is filled with museums (ancient artifacts, film history and art of every kind). Perhaps the most surprising is the one dedicated to Shanghai's Jewish refugees. Set in a working-class neighborhood not far from the city center, this museum, built around the Ohel Moshe Synagogue, chronicles the lives of the thousands of Jews who escaped the Holocaust and lived here during World War II. Though the city was under Japanese occupation, these European refugees were not turned over to Japan's Nazi allies. Instead, they were confined to this specific area, where they had good relations with their Chinese neighbors. At war's end, most emigrated to various places around the world.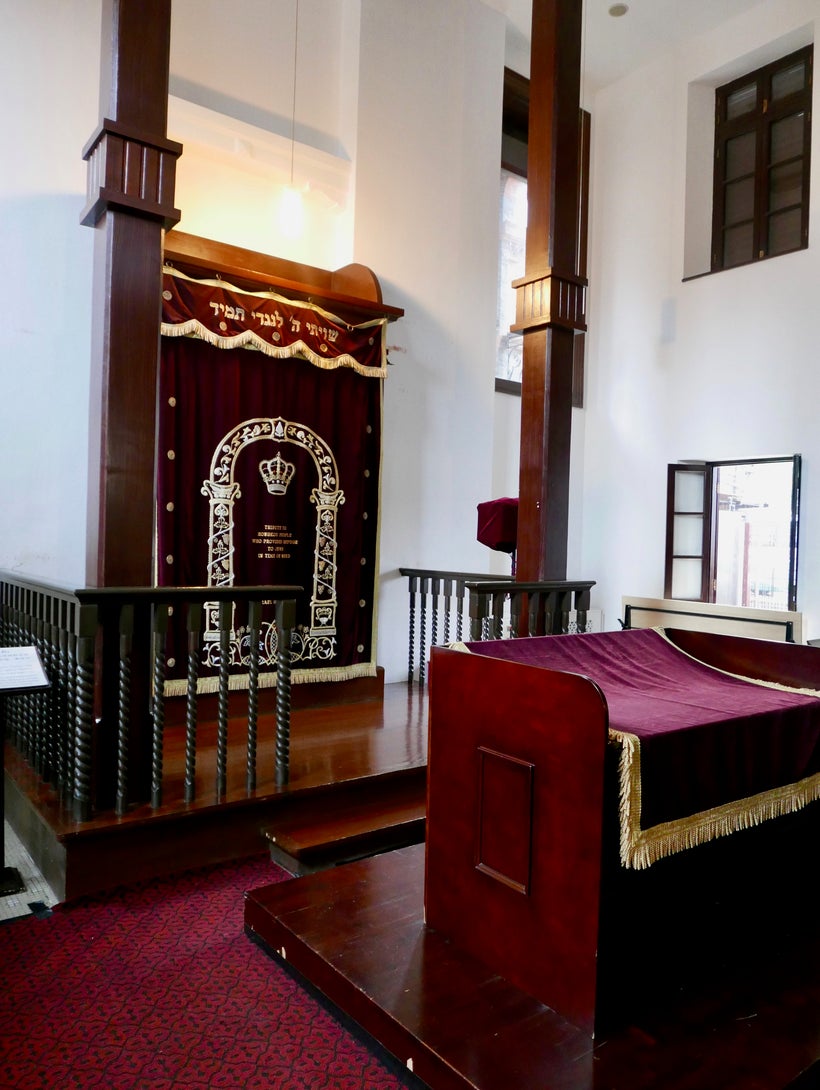 Another historic neighborhood with a very different background and present is what's known as the French Concession. Essentially a French outpost during the early 20th century, this neighborhood really does have the feel of an arrondissement. Especially in the evening, when the outdoor cafes are bustling and the light filters through the trees as it does with the horse chestnuts of Paris. On my visit, I heard no French, and encountered only trendy Chinese looking for high-end fashion and Western-style dining.
Of course, the most interesting meals in Shanghai are much more traditional and down to earth. The city truly is a melting pot of the country's cuisines, and hotel restaurants are often good places to find them.
No matter how far your culinary explorations take you (fried finless eel paste, anyone?), start with the thoroughly tame and wildly popular offerings at the Nanxiang Steamed Bun Restaurant on Yuyuan Road in the Old Town. Set in a tourist-intensive shopping and sightseeing area (with almost all of the tourists Chinese, Korean or Japanese), the restaurant is a multi-story temple to the wonton and it cousins. Bamboo steamers packed with meat-filled, seafood-filled, vegetable-filled, even soup-filled dumplings arrive at your table as though you were in Willie Wonka's dim sum factory.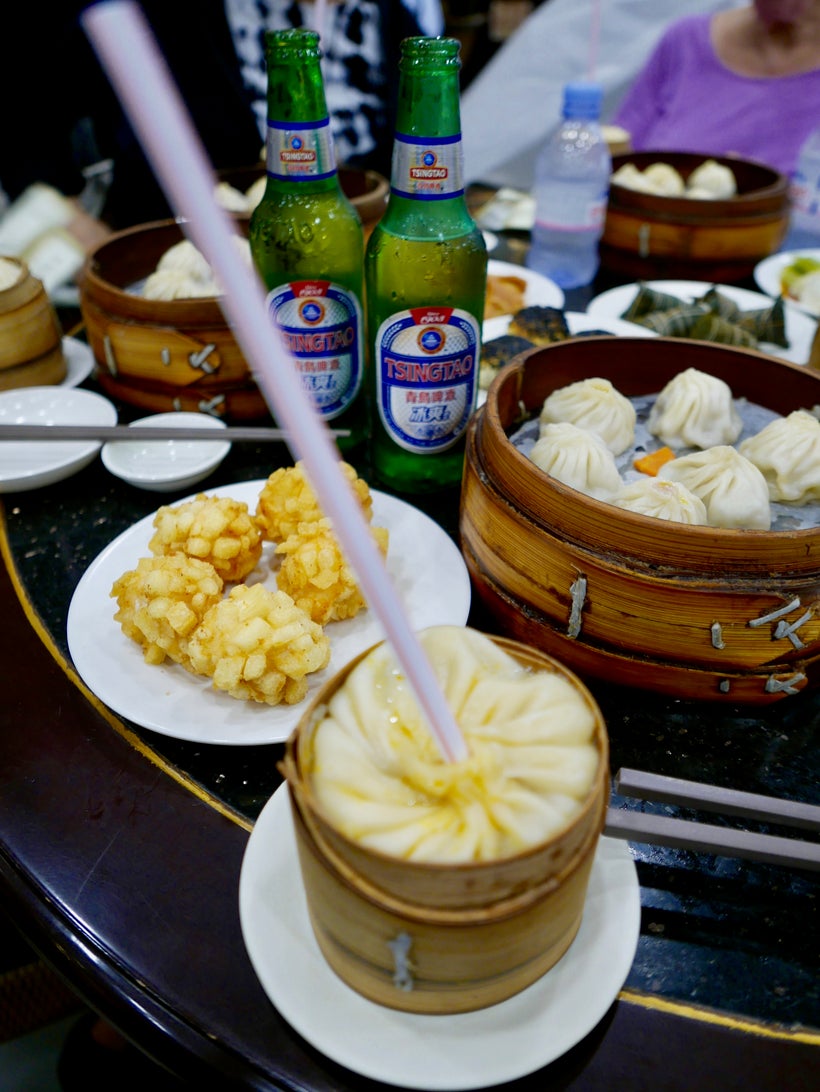 If you're in a hurry, head to the walk-up window at street level where you can get dumplings to go. Don't forget to grab a straw for your soup-filled dumpling. Otherwise, eating it will require the miraculous dexterity of a Shanghai acrobat.
This post was published on the now-closed HuffPost Contributor platform. Contributors control their own work and posted freely to our site. If you need to flag this entry as abusive,
send us an email
.