The Greek Islands are home to some of the most serene sunsets in the world. If you're looking to see the best, chances are you'll end up on the island of Santorini. Nestled in the Aegean Sea, Santorini is what I like to call a precious gem of the islands: in 16th century BC, a volcanic eruption shaped it's breathtaking landscape.
Today, you can dine at some of the world's best restaurants while watching sunsets atop 900 foot cliffs. The cliff-laid landscape makes for some amazing hiking, biking, and ATV riding. The island if full of places to rent ATVs, one of the easiest ways to see the island.
The island is also known for it's incredible whitewashed, cube form houses, that add to the surreal feeling of exploring Santorini. Each house lays nestled along the cliffs, making for some amazing places to stay.
If you're looking to visit Santorini and stay at the best resorts, below are three of the most recommended: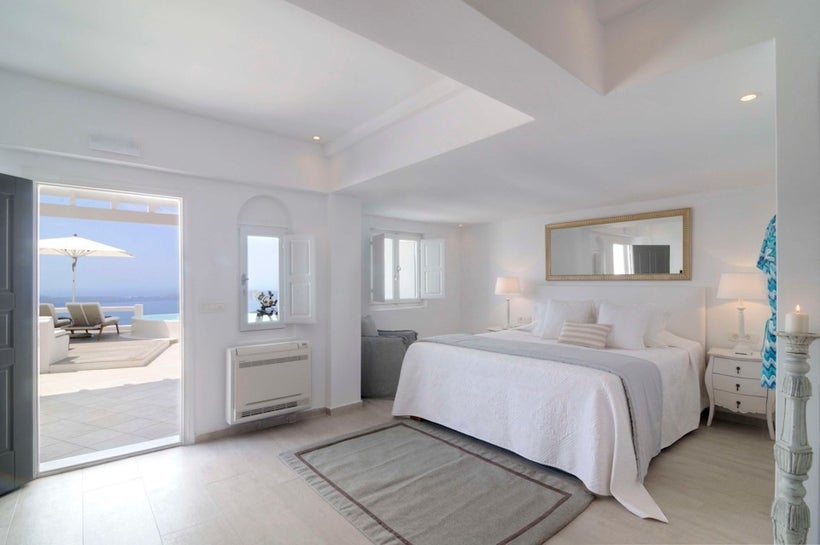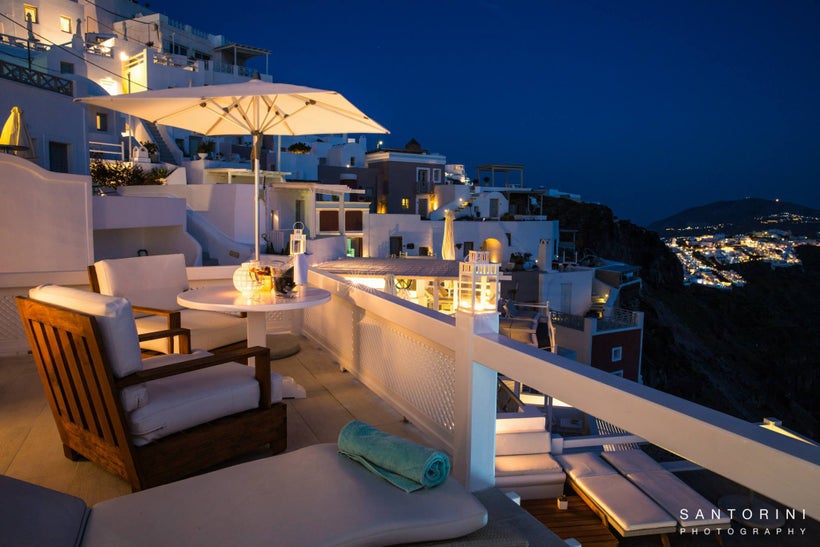 The Aqua Luxury Suites welcome a whole new world of pure luxury and comfort, astonishing vistas and supreme accommodation. The refined modern furnishings and elegant interior design, the natural sunlight and the amazing selection of luxury amenities welcome you to experience the ultimate holidays in Santorini. The team of professionals here in Imerovigli will make sure you feel at home, providing exceptional tailor made services.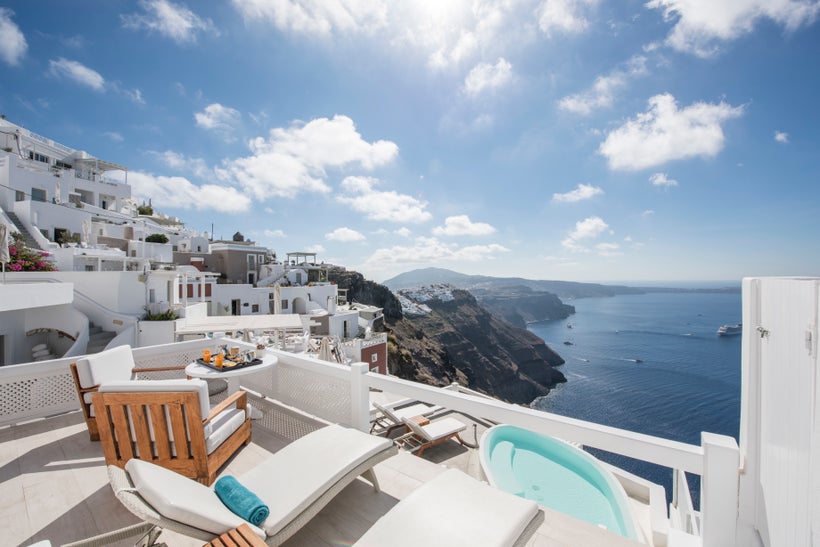 Start your day full of energy, with breakfast served in the privacy of your luxury suite. Fresh, organically grown ingredients and traditional recipes from Santorini are blended together, offering the hotel's epitome of flavor and aromas. Throughout the day, a gourmet selection of dishes and carefully picked wine varieties from the island's wineries will surprise your palate at their Imerovigli hotel and introduce you to inspired Mediterranean cuisine. Dive in the gargling waters of the plunge pool, tasting the finest refreshing beverages or a signature cocktail prepared to perfection for you.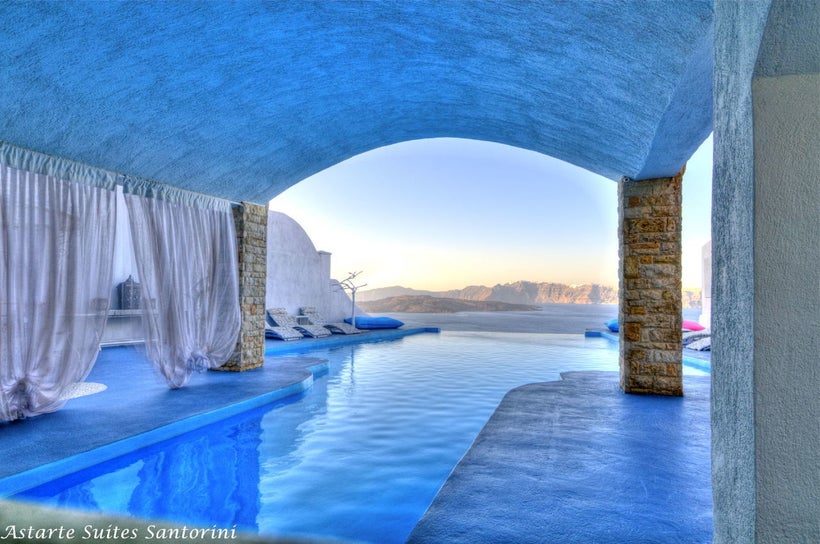 Set on a clifftop overlooking Santorini's caldera and the Aegean Sea, Astarte Suites has been described as heaven on earth. This high-end, all-suite hotel in a modern, villa-style lodging is close enough to the main city area of Fira, yet far enough to feel like your in your own world.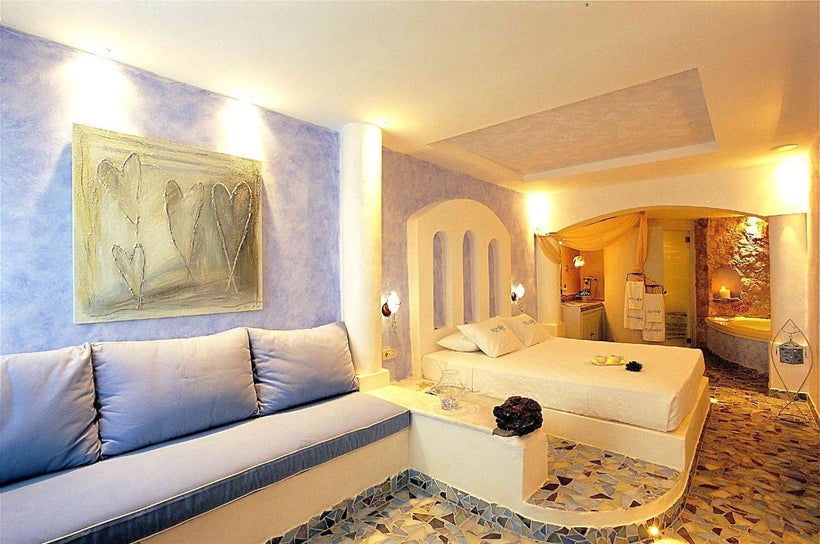 Featuring terraces with caldera views, the airy, upscale suites offer living areas and mosaic-tiled whirlpool tubs with crystal-studded domed ceilings, as well as free Wi-Fi, flat-screen TVs and minibars. Upgraded suites add hot tubs and/or private infinity pools. Free breakfast is served in-room, making for a easy-going morning.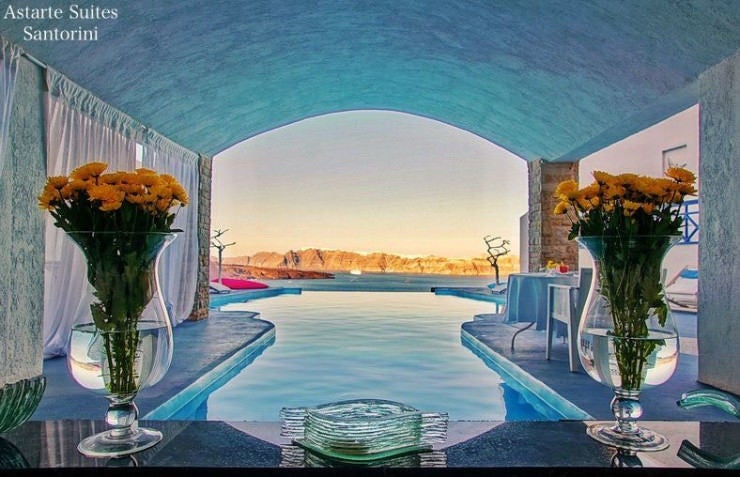 Some say five stars is not enough for this hotel, as every guest is treated like luxury. If you're looking to leave stress behind and experience a tranquil vacation, than the Astarte Suites are a must stay at location.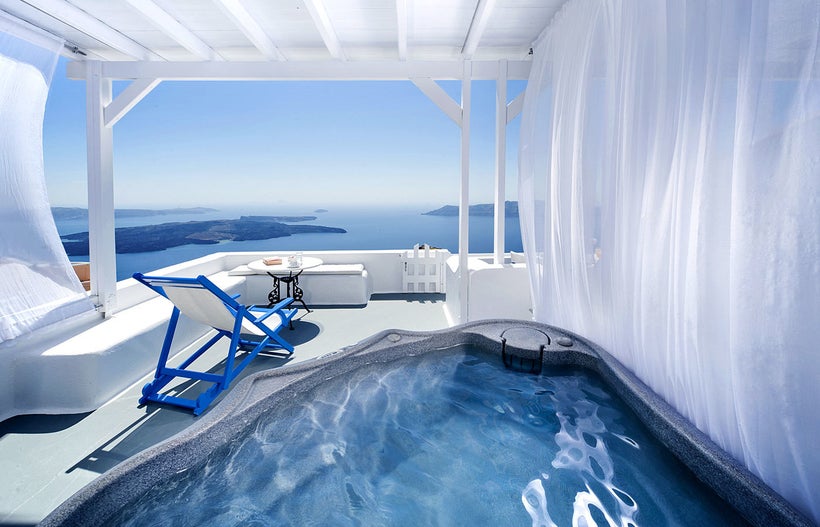 Situated in magical Imerovigli area, nestled amongst a traditional white washed setting on the cliffs facing Skaros, sits the Artemis Villas. This hotel located 300 meters above sea level offers panoramic views of the volcanic island that is Megali Kameni, the world famous Caldera and of course the deep blue waters of the Aegean sea.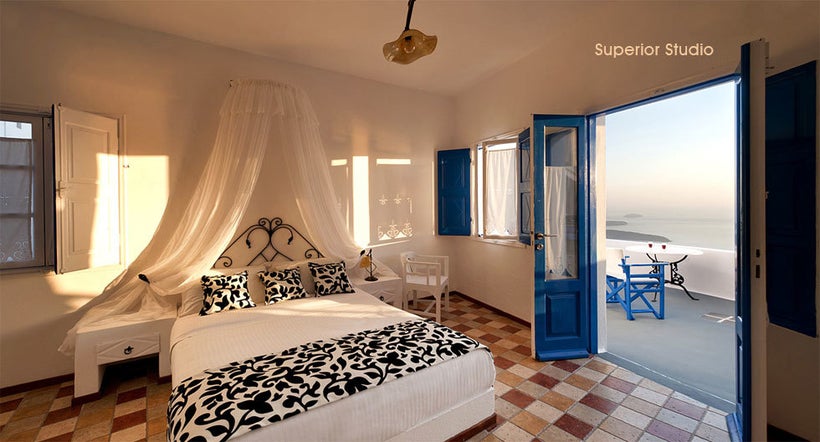 The hotel has a total of ten villas, all offering modern facilities for a stay you will remember for years to come. Their pool deck with accompanying sunbeds offer a place to relax with a incredible view and their staff are always there to serve your next drink. If you're looking for a beautiful sunset view from your room, than this is the place to stay!
This post was published on the now-closed HuffPost Contributor platform. Contributors control their own work and posted freely to our site. If you need to flag this entry as abusive,
send us an email
.