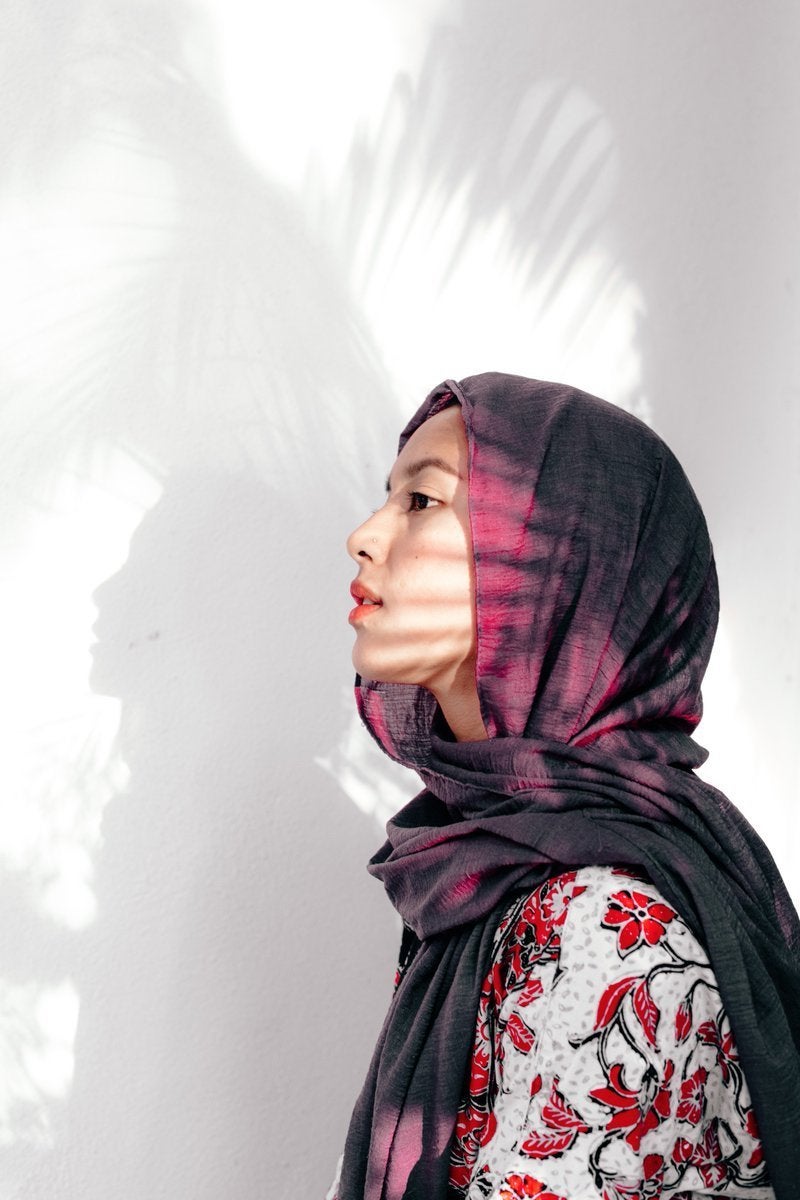 In Prague, 23-year-old visual creative Sharina Shahrin spends her day visiting galleries, exhibitions, and a variety of studios. As a fine arts student at Prague College, she decides each day for herself — challenging her strength and seeing how much she can push herself to reach her potential.
Shahrin always loved creating. As a young child she was making cards every single day for family members. Although she never considered taking art as a course in high school, Shahrin had a few buffer months to decide what she wanted to do after graduating. The ambitious artist did a foundation in Art and Design, trying to see if it's the path she wanted to tread, and ended up having trouble stopping once she started. She then went to the London College of Fashion to earn a degree in Creative Direction, and is now studying at Prague College.
"I believe you're on the right path when you're doing something you love," she said. "You attract people purely based on the energy of your work."
Growing up in Kuala Lumpur and then living in London — two cities where thousands of Muslims reside — Shahrin faced many adversities after moving to Prague. As a woman who dons the hijab, she was often faced with racial slurs and prejudice comments from passersby.
"I was put in a position where I questioned — not really my morals — but whether I feel safe or comfortable enough to wear the hijab," she said.
Shahrin then asked herself how she can channel all the negativity, hatred, and lack of understanding into her art — and decided on a body of work that demystifies the understanding of Muslim women.
In light of capturing the constant conversations Shahrin had with her non-Muslim roommate who encouraged her to stay true to her identity, the young artist created a series of photos to showcase that she is Muslim, and how Muslim women do everyday things. They get ready together, go shopping together, and just chill at home and watch movies, too.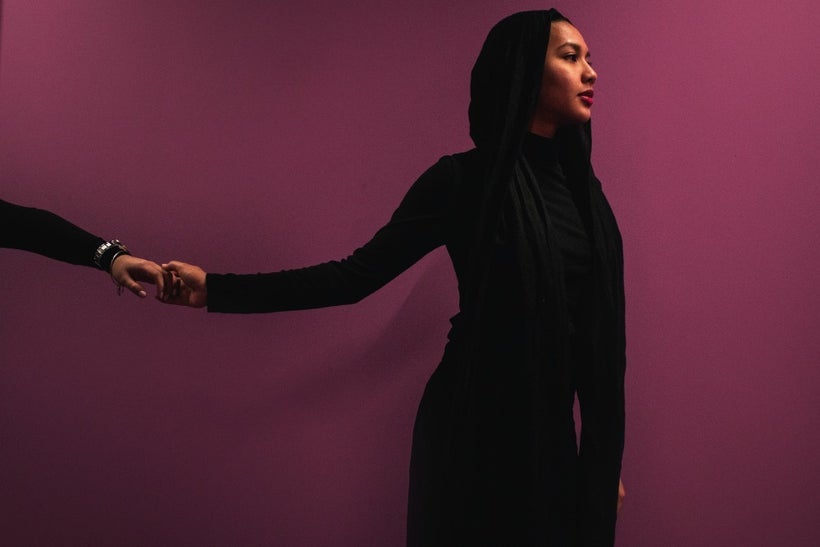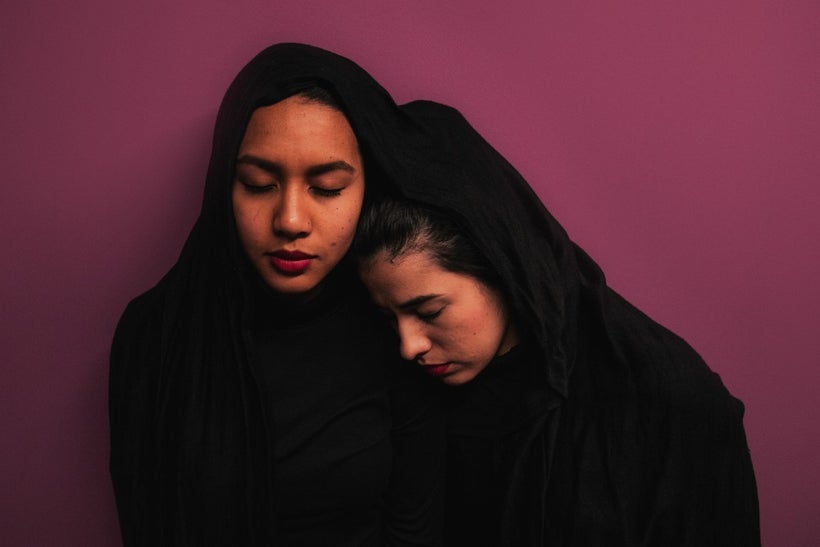 "If it wasn't for her, I wouldn't have been able to go through the first few months here," shared Shahrin, about her roommate. "She was the one who was like, 'Sharina, wear it. This is who you are, and you look so beautiful in it. You should never have to hide that.' That coming from a girl who isn't even Muslim — that really shook me to my core."
Another body of work that similarly exudes messages of internal strength, and holds particular significance to Shahrin, is a mixed media piece she created in 2016 for a feminist art show in Malaysia. Titled "The Burden We Bear", the piece is a representation of a woman's heart.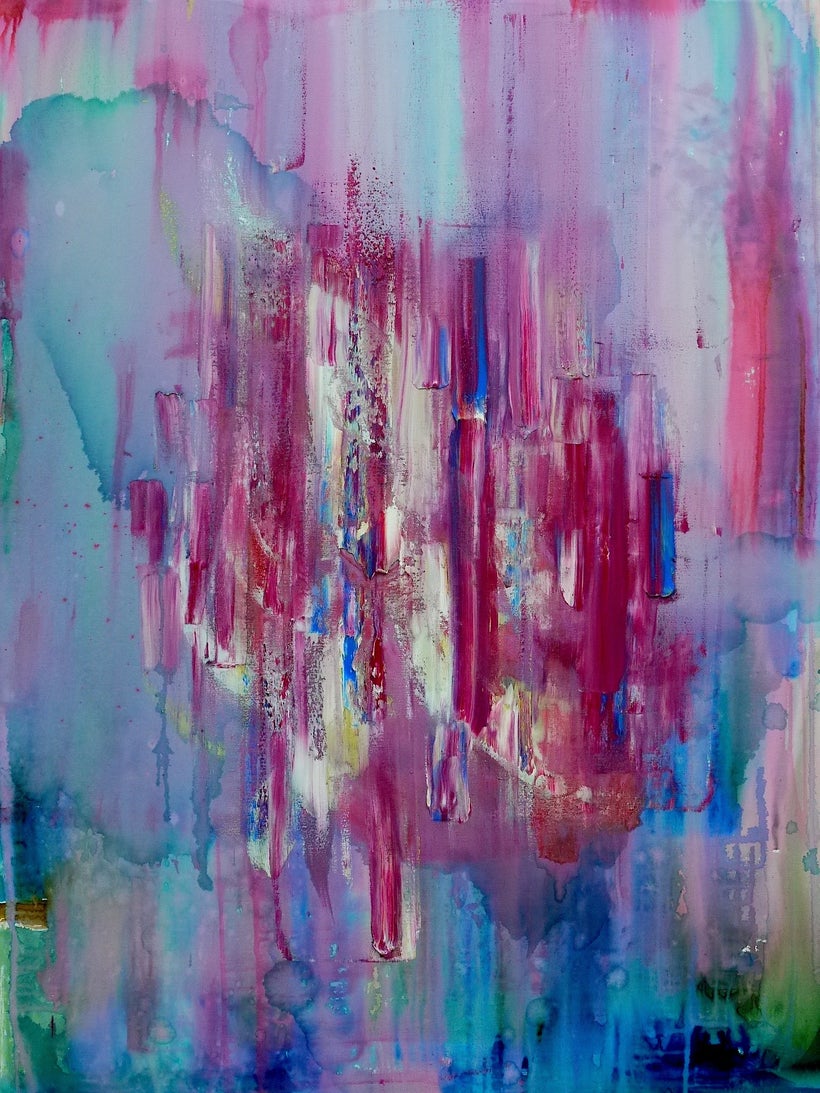 "We feel everything," she said. "The good, the bad. We feel it all so intensely. I personally see this as an experience that we have as women and that men don't. Men can't really actively engage with it. They generally have this idea of hyper-masculinity. This piece is me representing a woman's heart. With the texture, it looks like a peeling wall - a wall deteriorating. But there's a certain beauty to it. It shows that no matter what we go through as women, the fact that we have to do twice as much just to get at the same level or make ourselves noticed, through all the struggles, the burden, everything — there's still a part of me that would never not want to be a woman, because we're still able to maintain that elegance and strength to rise above it all."
Shahrin says that there is a certain strength that women acquire, adding that it is a burden, but woman bear it regardless and truly embrace it.
"It's nice as an artist to be able to channel your experience and struggles and put it to good use," the creative shared. "I think that's my responsibility as an artist, especially a Muslim artist. We need to demystify all these misconceptions of our religion, and that's what I'm currently doing."
Shahrin is the managing director of Everyday Studios — a studio she created to be a platform for art and design in Malaysia. She is also the founder of Baju, a clothing line that explores traditional Malaysian batik. Although the concept of this line was intended for just Malaysians themselves, Shahrin now receives orders from all around the world.
This post was published on the now-closed HuffPost Contributor platform. Contributors control their own work and posted freely to our site. If you need to flag this entry as abusive,
send us an email
.