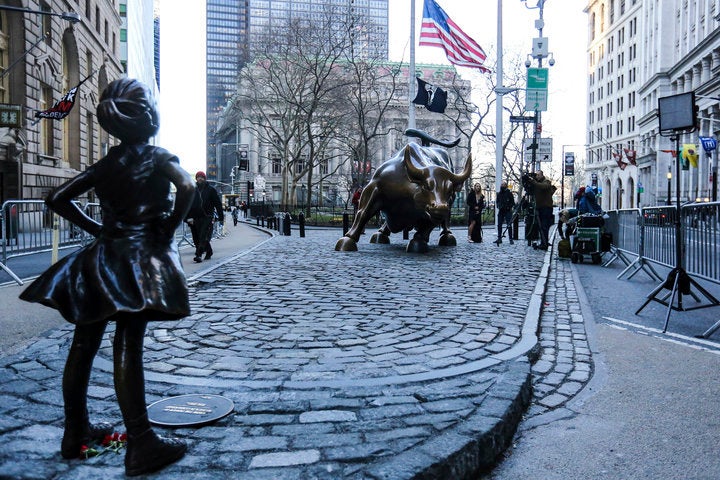 Twenty years ago, television told women to buy extraordinary quantities of shoes. There was the holy grail of happiness, according to the absolute hit "Sex in the City". For today's generation of women "Sex and the City" is out, and a new trend is in, marching in protest. The marching is against the dominant male stereotype, but also explicitly asking for the government (another patriarchal authority?) to provide certain services, higher wages, better working conditions, and the like.
How about taking charge of our own future in a constructive meaningful way? An interesting study is the Big Data Finance conference at New York University (http://www.BigDataFinanceConference.com/BDF2017, this year taking place on May 19, 2017) which I had a pleasure to serve on for the past five years. The conference has been growing every year since 2013. In 2016, it attracted nearly 300 participants, up from 210 in 2015. Most participants are senior portfolio managers in top hedge funds (Two Sigma, Millennium), pension funds (New Jersey State Retirement Fund and CPPIB) and endowments, such the Province of New Brunswick, who are looking to continuously expand their knowledge and improve their skills despite years of amazing experience.
In 2016, the conference saw a 50% increase in women participation from 2015: out of 300 participants, 3 were women, up from 2 in the previous year, myself included in both years. Does this count as progress? Hardly, given that the overall conference attendance grew 30% year on year.
Where are the women and why they don't attend events that are educational in nature and beneficial for their careers? Are they discriminated against? Hardly – as a not-for-profit, we are able to offer everyone equivalent admission rates, much lower than those of our competitive events. Are we discouraging women from attending via marketing? Again, not, as we are doing marketing via social media – a most universally-accessible platform.
And while the new State Street statue of the little defiant girl in front of the Wall Street bull is cute, shouldn't the girl be subduing the bull instead of being imminently martyred by being run over by one? What kind of message does martyrdom ultimately send to girls and women? Wouldn't self-directed betterment be a better choice?
Irene Aldridge is Managing Director, Head of Research at AbleMarkets, the Big Data for Capital Markets company, specializing in real-time and near-real time Software-as-a-Service improving execution, portfolio allocation and risk management. She is a co-author of "Real-Time Risk: What Investors Should Know About Fintech, High-Frequency Trading and Flash Crashes" (Wiley, 2017, https://www.amazon.com/Real-Time-Risk-Investors-FinTech-High-Frequency/dp/1119318963), and an author of "High-Frequency Trading: A Practical Guide to Algorithmic Strategies and Trading Systems" (Wiley, 2nd edition, 2013, https://www.amazon.com/High-Frequency-Trading-Practical-Algorithmic-Strategies/dp/1118343506). She can be seen at the upcoming Big Data Finance conference, http://www.BigDataFinanceConference.com/BDF2017
This post was published on the now-closed HuffPost Contributor platform. Contributors control their own work and posted freely to our site. If you need to flag this entry as abusive,
send us an email
.