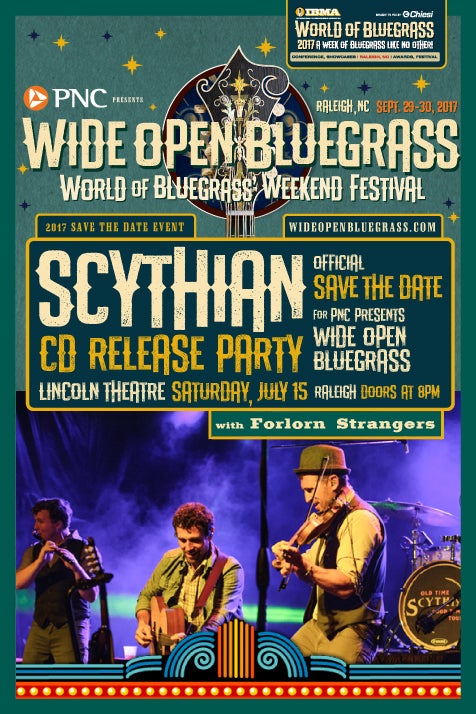 You can catch two of the Wide Open Bluegrass acts — MerleFest favorite Celtic roots rockers Scythian and Nashville's Forlorn Strangers — at an IBMA "Save the Date" party beginning at 9 p.m. on Saturday, July 15, at the Lincoln Theatre in Raleigh. This all-ages show will also serve as a CD Release Party for Scythian's newest album, "Dance All Night."
The World of Bluegrass Festival is the biggest week in bluegrass featuring the Business Conference, the Bluegrass Ramble, the Awards Show hosted by Bela Fleck and Abigail Washburn and Wide Open Bluegrass, which bring together bluegrass stars and emerging artists, bluegrass fans and bluegrass professionals from around the globe.
The ticketed Wide Open Main Stage features the best of the best in bluegrass today, with proceeds benefiting the Bluegrass Trust Fund. The free Wide Open StreetFest brings bluegrass into the community and introduces the music to thousands of new fans every year.
Danylo Fedoryka of Scythian says Larry's Beans, the Raleigh-based roaster that just opened a coffee house around the corner from the Lincoln Theatre, 805 N. West St., will be doing giveaways at this Saturday's show with the grand-prize winner getting six months of organic coffee delivered to their door.
"We'll never forget ringing in the New Year at 'First Night Raleigh' and our crazy dance tent sets at IBMA," Fedoryka says.  "We are so happy to be making a stop in this great music town. The show is all ages and since it's a late addition, please help us spread the word! It's gonna be a great show!"
According to Scythian's website, "This brand new concert series features a killer lineup all summer and Scythian is stoked to be part of it. Bring a picnic, blanket, chairs and dancing shoes. Craft beer will be sold so there will be something for everyone! Opener Brushfire Stankgrass goes on at 7 p.m. and Scythian takes the stage at 8:30."
Learn more about IBMA's World of Bluegrass Festival by visiting https://ibma.org/
This post was published on the now-closed HuffPost Contributor platform. Contributors control their own work and posted freely to our site. If you need to flag this entry as abusive,
send us an email
.