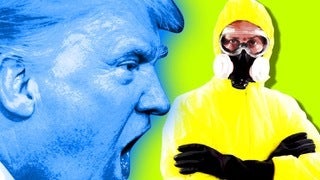 With the staff, current and pending, at the U.S. Environmental Protection Agency (EPA), the agency appears due for a name change.
The Profit Protection Agency, perhaps? Or how about the Environmental Profiteers Association? Or they could come clean and just openly merge with Big Chem lobby shop American Chemistry Council (ACC).
The EPA's offices are being filled one by one with veterans of the chemical industry who are inclined to offer friendly benefits to their old colleagues, including Nancy Beck, formerly Senior Policy Director at ACC, now Deputy Assistant Administrator in the EPA's Office of Chemical Safety and Pollution Prevention (OCSPP). Now, Trump has nominated Dr. Michael Dourson, who has close connections to Big Tobacco, to lead the OCSPP as Assistant Administrator for that Office.
Dourson's deep-rooted industry ties make him a concerning and entirely unfit choice for this post. His research firm, Toxicology Excellence for Risk Assessment (TERA), is known for conducting industry backed studies that are widely questioned by the scientific community. TERA's clients include Big Chem giants Dow, Monsanto, and many more. Dourson will face a Senate EWP committee hearing on Wednesday — essentially the last chance to block his appointment.
"Dr. Dourson's consistent endorsement of chemical safety standards that not only match industry's views, but are also significantly less protective than E.P.A. and other regulators have recommended, raises serious doubts about his ability to lead those efforts," Senator Tom Carper, Democrat of Delaware, told the New York Times. Sen. Carper is the ranking minority member on the panel that will assess Dr. Dourson's qualifications. "This is the first time anyone with such clear and extensive ties to the chemical industry has been picked to regulate that industry."
Despite these startling conflicts of interest, and significant and adamantly voiced concern from environmental agencies, the EPA itself issued a press release in support of Dourson's nomination — a move chillingly out of the EPA's pre-Trump norm.
Dr. Richard Becker is a Senior Director within ACC's Science and Research Division;
Steven Bennett, vice president for scientific affairs at the Consumer Specialty Products Association (CSPA);
Sheri Blystone, director of regulatory affairs and product safety at SNF Holding Company; and
Stuart Cagen, a toxicologist at Shell Health.
"Expert" Opinions for Sale
The people who make up this advisory committee matter. They're the "experts" whose opinions will matter when the EPA is designing — or destroying — environmental regulations, and the results of these regulations have permanent impacts. Chemical trade associations like ACC are infamous for using their deep pockets to fund junk science and propaganda in order to protect the toxins they profit off of, no matter how deadly and destructive they might be.
In fact, it is exactly this kind of junk science that has kept asbestos legal and lethal in the U.S., even though it kills 15,000 Americans — and an estimated 200,000 worldwide — every year.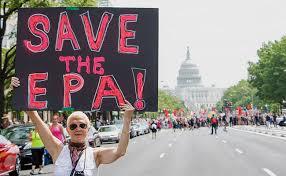 One Step Forward, Two Steps Back
When the Toxic Substances Control Act (TSCA) was reformed last year, with bipartisan support in both chambers of Congress, there was renewed hope that the EPA would finally be able to regulate the some 80,000 dangerous chemicals in our environment. The earlier version of TSCA left gaping loopholes and exemptions that favored industry, "making it impossible to ban known carcinogens like asbestos," as President Obama said when signing the TSCA reform bill.
However, when Trump's pick for EPA Administrator — Oklahoma Attorney General (see: lawyer, not scientist) Scott Pruitt — was approved, environmentalists and concerned citizens everywhere knew there would be trouble with TSCA and beyond.
Indeed, we've seen these predictions come true time and time again, already. In its early months, Trump's EPA sought suggestions on regulations that were good candidates to be or repealed, replaced, or modified.
This was done under the guise of cutting unnecessary costs, consistent with Trump's overall stance on government programs that aren't part of the military. The irony here is that, while looking to cut programs that protect American air, soil, streams, oceans, and public health, Pruitt was racking up nearly $1 million in taxpayer-funded expenses, such as private travel and 24/7 personal security, just in his first seven months in office.
Fortunately, the EPA's mission to cut programs and existing regulations received largely negative responses from both industry and environmentalists. In other areas, like TSCA, industry is handily winning out. The Agency has already paved the way for TSCA to result in nothing watered-down regulations rife with exceptions and loopholes. If we fail to fight back, they will have essentially killed this hard fought, historic law that actually has the potential to make the world a safer place.
Public Pressure is Tried and True with Team Trump
On Friday, Health and Human Services Secretary Tom Price resigned after facing severe public criticism for racking up $400,000 in chartered flights — less than Pruitt's $900,000 spending spree, though that number includes other costs like a nearly $25,000 soundproof phone booth.
We need to harness this power of public pressure once again in defense of an EPA that actually protects the environment. The Agency has deviated too far from that crucial purpose, so we must call on Congress to intervene.
Our elected representatives have several stopgaps for some of the problems the EPA is creating:

Most immediately, the Senate Environment and Public Works committee has a chance to prove Dourson's unfitness to hold a high-level EPA role in Wednesday's hearings. Call or email the Senators on the EPW committee and share your concerns about Dourson's industry ties and for-sale science.
Members of Congress can call for an Oversight Hearing to assess whether or not the EPA is executing TSCA in the way the legislature intended. Reach out to your district representative to bring up this issue.
Most effectively, with chemicals like asbestos, for which there already exists overwhelming evidence of undue risk, Congress can preempt watered down regulations by passing ban bills like the Alan Reinstein Ban Asbestos Now Act.
Congress answers to US, and they're listening harder now than perhaps ever before. Use your voice and ask them to stand up on behalf of the safety and future of the American people.
NOTE: The EPW Committee vote on Michael Dourson, Matthew Leopold, David Ross, and William Wehrum to be Assistant Administrators of the Environmental Protection Agency, and Jeffery Baran to be a Member of the Nuclear Regulatory Commission is tentatively scheduled for October 18, 2017.
This post was published on the now-closed HuffPost Contributor platform. Contributors control their own work and posted freely to our site. If you need to flag this entry as abusive,
send us an email
.