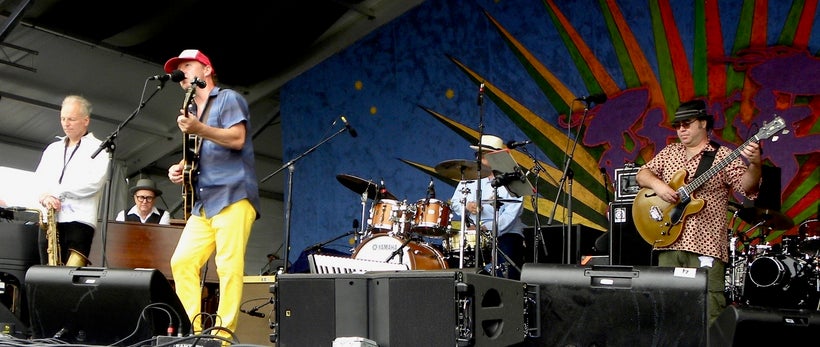 The New Orleans Jazz & Heritage Festival delivered an earful of international music and hometown heroes, and a bellyful of food on Day 1. It made the Fyre Festival meltdown even harder to witness from the comfort of a festival that's had a good 48 years to get it down pat. Singer / songwriter Alex McMurray (pictured above) kicked off the day taking requests, one of which was for his ballad "Like K-Doe Lives" which asks "Will you be my Antoinette?" Antoinette K-Doe wheeled a wax version of her late husband musician Ernie K-Doe, the self-described Emperor of the Universe, around New Orleans. Which seemed normal at the time. With the city's influx of newcomers in the last decade, it's good to hear a crowd requesting a song that's as local as it gets.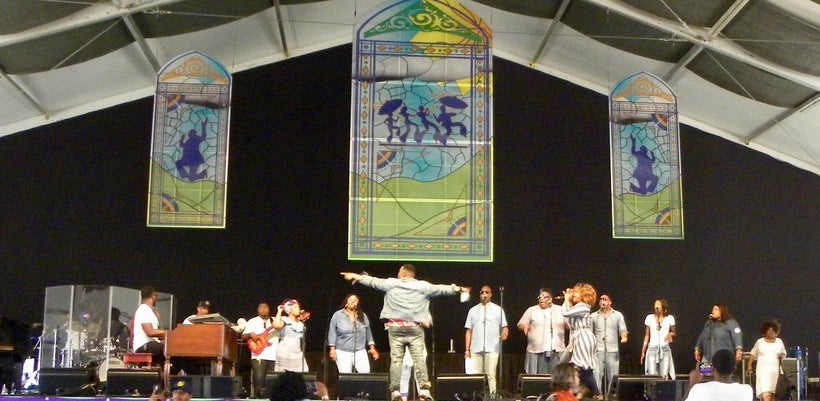 Josh Kagler & Harmonistic Praise Crusade held court in the Gospel Tent as his chorus sang: "Today will be the best day of my life" enough times to make it so. Lady Tamborine (far right above), who's now a regular on Harry Connick, Jr.'s show "Harry," held her own on a stage full of practically levitating belters. Also energizing was The New Wave Brass Band led by Oscar Washington, and Keep N It Real, We Are One, and Perfect Gentlemen Social Aid & Pleasure Clubs second lining.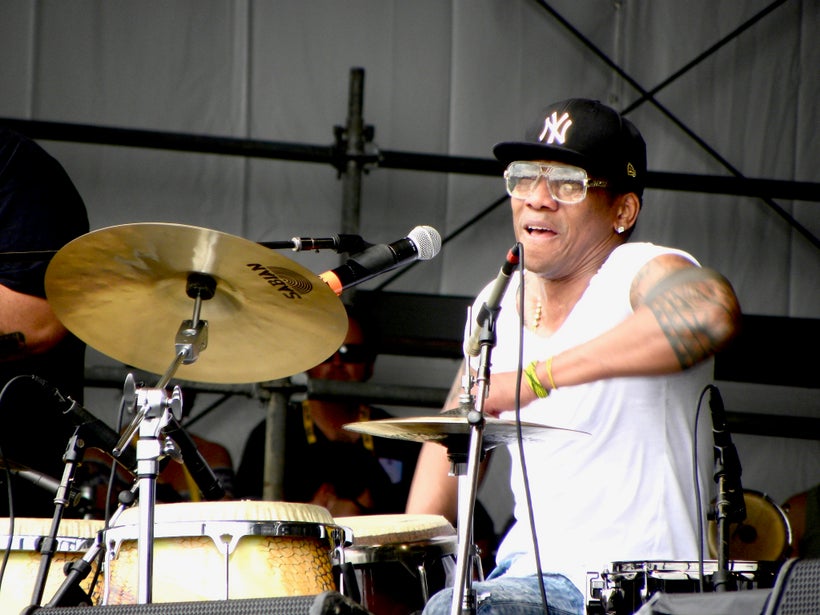 Offering a window into another culture, Jazz Fest hosts an annual international cultural exchange, and this year's is Cuba. Percussionist Pedrito Martinez, booked solid throughout both weekends including a Congo Square set, said: "Playing the first day of the fest was amazing and it represents a lot to me since it's the first time this fest is dedicated to Cuban music which means prestige, respect and honor to the legacy of Cuban music. And I can't forget to mention that this is one of the most relevant festivals on the entire planet." He added that, "It is even more enjoyable playing the festival with my brothers in the band Jhair Sala, percussion; Sebastian Natal, bass; and Edgar Pantoja, piano."
Past Congo Square at the Gentilly Stage, Fort Worth soul singer Leon Bridges played to a packed field. After "Take Me To Your River," he asked the crowd: "Y'all ready to party real quick?" They were. Over at the Blues Tent, New Orleans trumpeter James Andrews sang, "Everybody needs somebody, I need you! You! You!" bringing the crowd to its feet. Meanwhile in the jazz tent, The Joey Alexander Trio featured a 13-year-old piano prodigy from Bali playing an astounding Coltraine set. At 13, I learned Lionel Ritchie's "Three Times a Lady" then quit piano lessons. In retrospect, it's better to learn more than one song.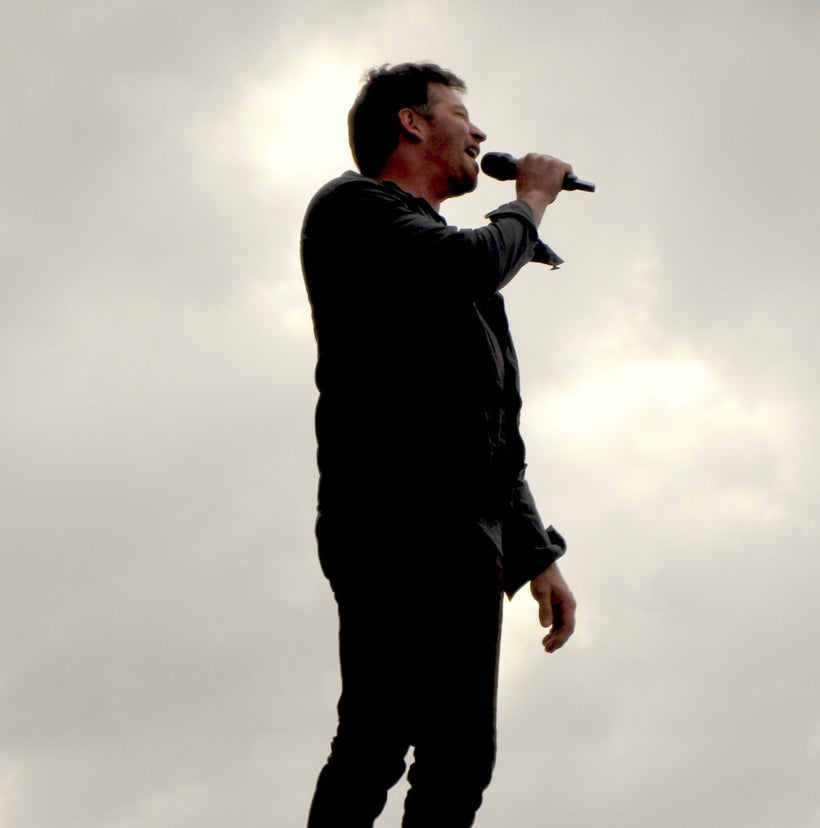 Harry Connick, Jr. took piano lessons from legendary James Booker, as part of Booker's parole deal with Harry Connick, Sr., the District Attorney at the time. Harry, Jr. came home to Jazz Fest after 10 years, and his first Fest performance was at 9 years old, beating even Joey Alexander's record. He kicked off his set singing "Just in Time," followed by "Bourbon Street Parade" with: "We'll see all the big shots down on Bourbon Street," backed by New Orleans music big shots including trombonist Lucien Barbarin. His dad, at 91, joined him on a song proving that music in New Orleans is ageless.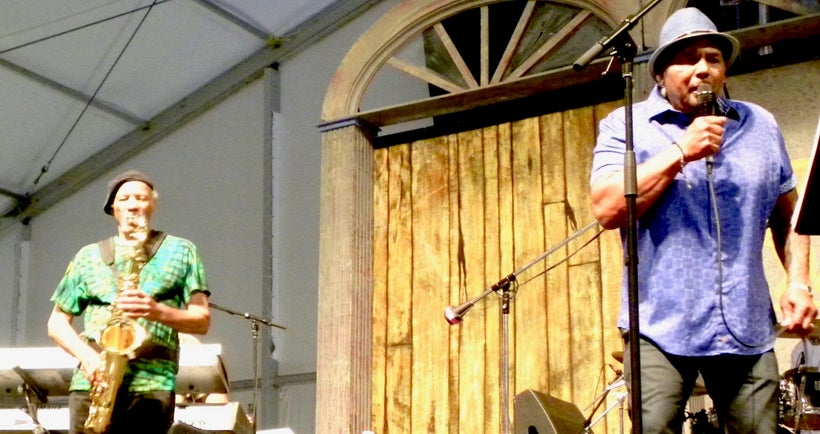 In another family duo, hometown hero Aaron Neville capped off Day 1 with his angelic vibrato, backed by his brother Charles Neville on saxophone. His version of "Fever" was fire. Thankfully, it was not not Fyre, because that festival was a hot mess. And that's a wrap for a Day 1, Weekend 1, of the 48th Jazz Fest, where the party gets better every year.
This post was published on the now-closed HuffPost Contributor platform. Contributors control their own work and posted freely to our site. If you need to flag this entry as abusive,
send us an email
.