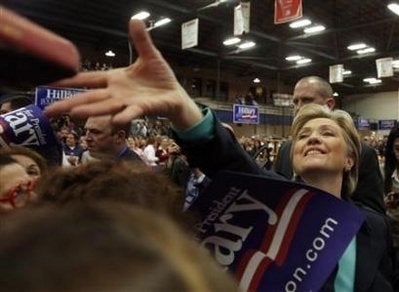 Glenn Thrush reports: An elderly lady in the audience at Hillary Clinton's town hall outside of St. Louis prefaced a question about a rumored U.S.-Mexico-Canada economic union this morning by saying "Bush the bastard..."
Hillary smiled, head bobbing slightly, and didn't say a word in dissent. The crowd roared in approval.
The woman, speaking during a question-and-answer session focused on trade competition and pocketbook issues, asked about a widely-circulated conspiracy theory that President Bush was pushing for the creation of a North American "Amero" currency that would replace the greenback dollar.
"He has this all planned for 2010," the questioner said of Bush.