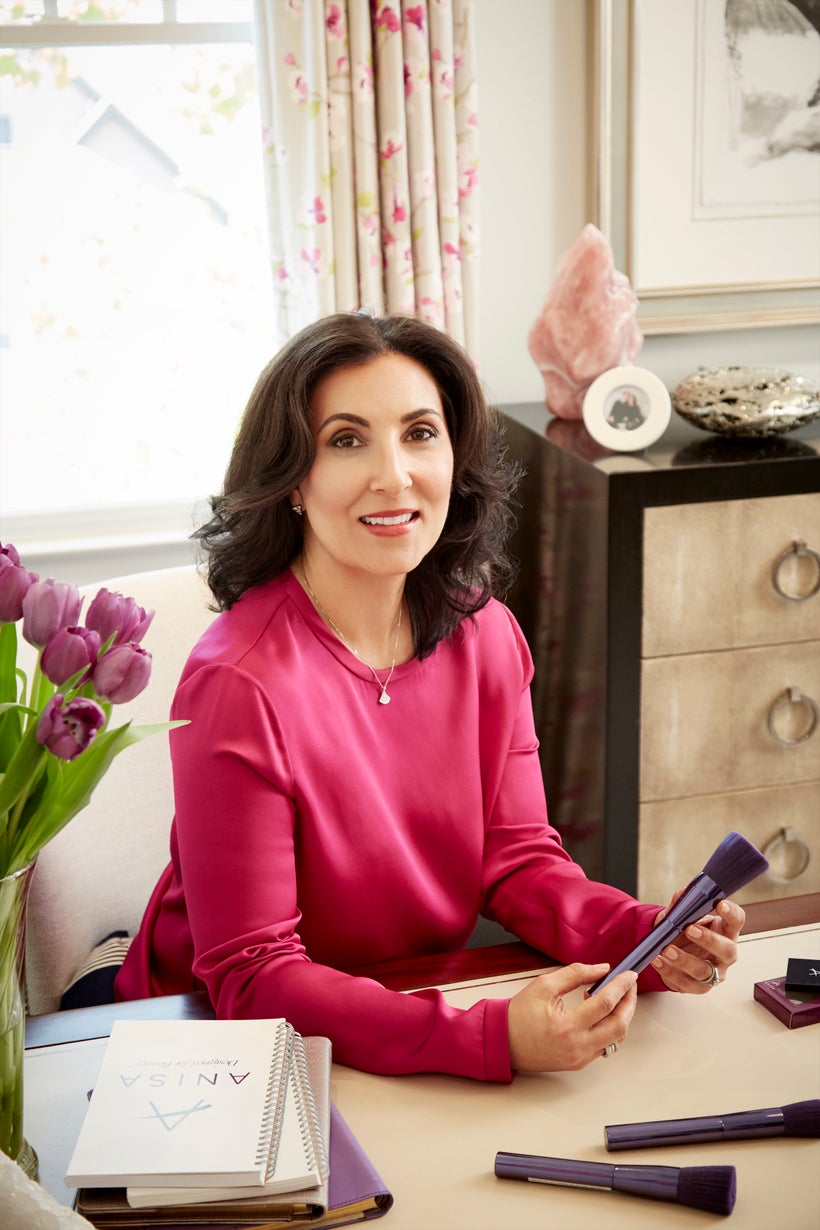 Founder & CEO of Anisa International, Anisa Telwar Kaicher was exposed to business and entrepreneurship at a young age. Without a college degree or any formal business training, Anisa began honing her skills at 17-years-old, working for her mother's import/export company.  She watched as her mother built her business from nothing into a $100 million dollar organization, and later saw her lose it all. 
At 25-years-old, determined to pick up where her mother left off, Anisa called on a Korean business contact and asked to sell his products. Those products were handcrafted cosmetic brushes, and in 1992, Anisa International was born.
Beginning her solo career as a distributor, Anisa grew her brush organization into a design and production powerhouse. Within the first five years of business, Anisa was creating and manufacturing custom artistry tools for the biggest names in the beauty world. Leading the industry in product innovation, Anisa holds more than 25 patents and trademarks and has received various industry awards for innovation, excellence and superior partnership. 
In 2003, she opened her own state-of-the-art manufacturing facility in Tianjin, China where she has successfully transformed beauty tools into proprietary solutions that add value and exceed expectations.
Today, Anisa produces more than 25 million brushes a year and has offices in China, Atlanta, New York, San Francisco, Los Angeles and London. Although cosmetics brushes remain the core of her business, she has branched out to include body brushes, storage solutions, and brush cleaning and care products.
In an effort to pay forward her success and empower other female entrepreneurs, Anisa avidly creates a culture focused on mentoring and giving back to the community through partnerships with the Savannah College of Art and Design, Emory University Goizueta Business School and Agnes Scott College.
How has your life experience made you the leader you are today?
In starting Anisa International, I may not have had formal business training, but I learned by doing and having boots on the ground. I know I am where I am today because of all of the mistakes that I made along the way. Building something successful requires trial and error as you work to find your footing. Also, I think it's vital for the CEO/Leader to know the ins and outs of their business. Naturally, you're going to start delegating, but doing each part of your business gives you the opportunity to know firsthand what your employees have to go through and what it takes to be successful in that role, affording empathy and understanding for learning curves. I've made so many mistakes, and to overcome that, learn from them and move forward in managing effectively, you need to balance power and leadership with humility and humanity.
How has your previous employment experience aided your tenure at Anisa International?
Previously, I was working with my mom, where I got the opportunity to watch a strong, female entrepreneur at a time when women were not leading the business. While she was my mom, I saw her as a leader. From an early age, I adopted the thought that successfully leading was a human trait not innately specific to either male or female. I learned by example that you must be in charge of your own path and that is something I have carried with me throughout my career. It informs how I make decisions and how I lead my organization forward.
What have the highlights and challenges been during your tenure at Anisa International?
Honestly, even the highlights either resulted from or presented new challenges. At the core of it, that's the life of an entrepreneur. Everything we have experienced has helped us grow into the company that we are today. Some ongoing challenges include consistently building revenue, continuing to develop vision and seeking repeated growth, both personally and professionally. I haven't always done everything right, but it is the tough decisions that help push us to the next level, as progress comes out of adversity. For example, opening our plant in China was a big risk because I wasn't an expert in manufacturing. I hired a Vice President of Operations that was strong in manufacturing and relied on assistance from my customers to get up and running. It was one of the greatest risks I've ever taken but owning a fully integrated manufacturing plant has been a differentiator for Anisa International and has become one of the greatest highlights of my career.
What advice can you offer to women who want a career in your industry?
I feel strongly that this truly applies to women in any industry – give yourself credit. While we don't get every single thing right every single time, we get so much accomplished and we have a lot to be proud of. I believe in the need for self-assessment and ongoing mentorship. As females, we need to define ways to reward ourselves when we reach goals we've set, hold ourselves accountable and follow through on this so we have the confidence we need to tackle the next challenge.
What is the most important lesson you've learned in your career to date?
I have learned that my heart has to be in this as much as my mind. I have an obligation and responsibility for my employee's livelihoods and I need to do the right thing for the people who work for me. As Anisa International goes through a period of growth and transition, as the leader, I feel more exposed than ever before. That vulnerability can be scary but backing down or walking away is not an option. I need to be a good steward of the organization that I have spent my life building.
How do you maintain a work/life balance?
I've learned that work cannot have 100% of me 100% of the time. I become frenzied when things are out of balance and I can't perform as effectively as I need to for the results we want to achieve. I believe that a leader can burn out and I need that time away to be productive in being able to run the business day to day. For me personally, removing myself physically by traveling with my husband, enjoying meditation, making sure I am sleeping and exercise are all vital practices for me to stay healthy in body and mind for myself and Anisa International.
What do you think is the biggest issue for women in the workplace?
I don't believe that women are fair to themselves. We simply do not give ourselves enough credit. On the flip side, because we feel like we need to be able to do it all, we don't communicate when we are at capacity and then we collapse from the weight and pressure of it all. I learned this first hand. When I was 40 years old, I felt completely burnt out professionally and personally. I was pushing myself to go 100 miles/hour at work and all the while, I was facing a divorce at home. I knew I had nothing left to give on either front. I made the difficult decision to step away for almost a year and returned rejuvenated and strong. As intimidating as it was to remove myself, knowing that my business may not be waiting for me in the same state when I returned, it was one of the healthiest decisions I have made over the course of my career and one that taught me a valuable lesson about the balance required to be successful.
How has mentorship made a difference in your professional and personal life?
Over the course of my career, mentorship has been a vital factor in my success and I highly recommend that anyone even thinking of starting a business finds a trusted mentor immediately. Having the collective knowledge of someone who has lived it before you and can understand you when you feel crazy is key. Having a mentor helps bring accountability both professionally and personally. For example, I have a mentor who I go to for the inner workings of my business and another who I go to for personal mentorship to help make sure I am focused on keeping balance for my own heart and mind and in my relationships, which all affect my work output. Now, it is my honor to pay it forward by mentoring young entrepreneurs who are looking to start their own businesses.
Which other female leaders do you admire and why?
Is it too cliché to start with Oprah? What she has done over the years, how she has promoted females – she promoted that it is ok to be a woman and succeed. There are so many others, it almost feels unfair to have to narrow down, but when I look inside of the beauty industry specifically, I am drawn to the women who started in their kitchens and have now evolved into major brands. Women like Lauren Mercier, Bobbi Brown and Mary Kay took an idea birthed out of a personal pain point and are now helping women gain the confidence they need to succeed in their own lives every day.
What do you want Anisa International to accomplish in the next year?
Anisa International is currently going through a period of increased growth and that means the next year will be mainly focused on continuing to build a strong infrastructure to support that growth, rebuilding our manufacturing plant and stabilizing our supply chain. In our day to day planning, we are tasking ourselves with what we can do to better to support an industry that is in the middle of tremendous change. I love what I do and I am passionate about continuing to do the work as long as it makes a difference.
This post was published on the now-closed HuffPost Contributor platform. Contributors control their own work and posted freely to our site. If you need to flag this entry as abusive,
send us an email
.