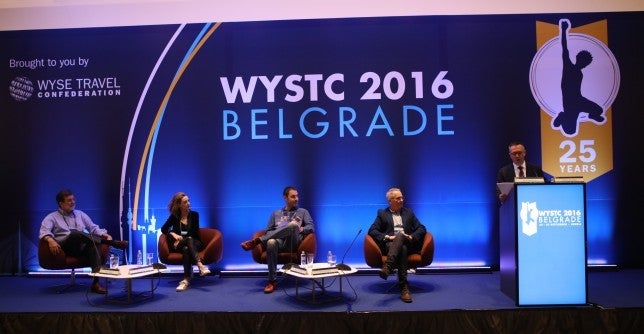 As I stand in the conference hall, I am surrounded by 500+ cultural exchange and travel professionals from 50+ countries. It's the first day of the annual World Youth and Student Travel Conference, this year in Belgrade, and I'm about to be part of a panel discussing youth travel in an age of political unrest.
Yet my mind flashes to the date, September 21 — the UN International Day of Peace. Perhaps it was sparked by the opening speaker, a UN official from the World Tourism Organization. Or being in Serbia, a country that only 10 years earlier was dealing with Kosovo violence and the war crimes trial of former president Slobodan Milosevic
Joining me on the panel were Dusan Kovacevic, whose EXIT music festival is credited for helping to bring down the Milosevic regime, and Paula Froelich, the mastermind of the A Broad Abroad travel platform.
Our moderator, Phil Sylvester, a former Australian broadcaster and now a World Nomads travel insurance executive, introduces the discussion with a series of brilliantly quirky images that give the panel wide latitude for commentary. And not surprisingly, the panel takes all of it. What ensued was a wide ranging conversation around travel in an age of uncertainty: terrorism, climate change, war tourism, social activism and hot spots.
While the topics were edgy, the tenor was upbeat. After all, travel has the power to break down barriers and build tolerance. And isn't that what the world needs now?
WYSTC brings together a diverse bunch and the agenda offerings are equally so. As the day went on, I consumed sessions on the US State Department's global youth ambassador program, music festivals and youth tourism, and the international student demographic. And like any provocative endeavor, I walked away with nagging questions:
1. At a time when a new generation of young leaders is emerging in countries around the world, how can our government fail to issue sufficient youth work and travel visas to meet demand? These youth exchange visitors bring money and goodwill to the United States, and return home with a deeper understanding of our country.
2. Just how important are resilient youth travelers to the wider tourism sector? If an economy hit by terrorism takes an average of 13 months to recover, how important is the role of youth travelers, who tend to be more adventurous and return earlier than most. If they are the ones that lead the recovery, shouldn't the value of the youth travel segment be better acknowledged in national tourism strategies and plans.
3. Why the surprise about my suggestion of Chernobyl as a tourist destination? Discover for yourself photos of Chernobyl today on the web. It's a poignant reminder of what happens when we don't pay enough attention ... to our environment or our civilization. And limited tours are now being offered to the abandoned nuclear site.
Youth travel fights narrow-mindedness and builds global citizens. And the rebounding Balkans are ready to receive youth travelers. What better place to spend Peace Day.
Full disclosure: I now serve on the international board of the World Youth and Student Educational Travel Confederation, which organizes this conference.
This post was published on the now-closed HuffPost Contributor platform. Contributors control their own work and posted freely to our site. If you need to flag this entry as abusive,
send us an email
.