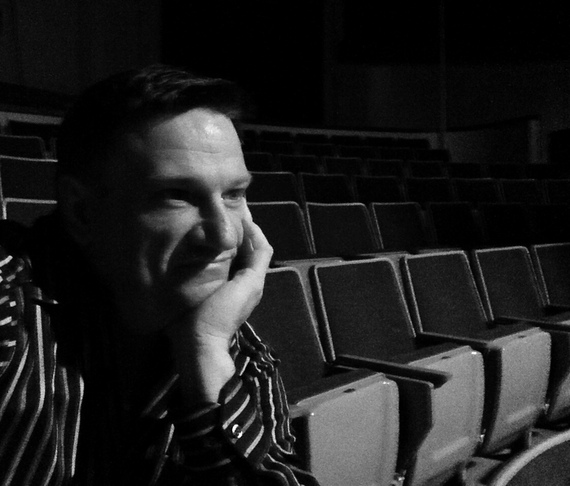 With so much movement happening in the LGBT community that plays out across our news constantly, I wanted to talk with a few fiction writers about the impact it has on them. 
Gregory Allen: First I thank you all for taking the time to chat with me about this topic. From Arizona to Texas to Kansas, it seems that LGBT issues are hitting all across America at a fast speed. 
Drake Braxton: "Fast" is an understatement. 
Allen: True. So how does this -- or does it -- affect any of how you tell LGBT stories? 
Dan Via: In the case of DADDY, that things are moving so quickly is part of the story. On the one hand, the idea of a world in which being gay can be almost incidental to the course a person's life is thrilling to me. On the other hand, that wasn't my world growing up, even if I acknowledge that I've had it relatively easy. So I wanted to explore that kind of disconnect.
Braxton: I wrote Missing a few years before Seventh Window ever published it back in 2012. I wanted to tell an honest story about a gay couple, but as I wrote I couldn't help but show the differences between New England and the feelings people had towards gay couples in the South. 
Arthur Wooten: However, the South is now showing so much more support for gays. 
Braxton: Exactly! It makes me wonder if my book will have a certain shelf life where it feels like a period piece. 
Allen: Good point. Arthur, you wrote Birthday Pie several years ago, which also deals with a gay man from the North returning to his Southern roots. 
Wooten: Yes, Greg, Birthday Pie -- the novel -- was published in 2011, but its first incarnation goes as far back as 1990, and that is the date that the story takes place in. I consciously depict a family that wholeheartedly accepts and embraces their gay son's lifestyle. Although homophobia within his small North Carolinian hometown is still festering, in the last chapter I make sure equality prevails. 
Allen: I started Well With My Soul as a play and then turned it into a novel, but I knew I was speaking of a specific period in time (the late '70s/'80s) when telling the story of a man that goes back in the closet to be a minister.  
Wooten: It's fascinating that some us have that experience of writing for the stage as well as books. Watch out, guys: I'm plugging myself -- Birthday Pie (the play) won the Key West Theatre festival and had its premier there in 1998. But I think we can all agree that Key West is very different from the rest of the South in its openness and diversity. Dan, DADDY was a play before you wrote the screenplay, right? Were you making a particular statement about our community with that play? 
Via: I really just wanted to tell a story. But my perspectives on the gay community -- the good and the not-so-good -- inevitably found their way into the play. It was the only way I could make the characters breathe as real people. 
Braxton: I think it's important to show all aspects of our community. I made a conscious decision to show a diverse set of our community in Missing. 
Allen: Yes, you did. And I've tried to take that diversity even further in adapting it for the screen as He Is Gone. 
Wooten: Yes, Greg. Get in there that you are the screenwriter for He Is Gone. [Laughs.] 
Allen: But of course. 
Wooten: The success of Birthday Pie the novel has aroused new interest in the play version, and I've adapted it to the big screen (both of which have been optioned by Iron Violet productions for Broadway and as a feature film). With these rewrites, I had the luxury of revisiting the story with fresh eyes and take into account what is happening in the world today. The core story is the same, but I certainly had to update some scenarios. 
Allen: Dan, did you find yourself making big changes to DADDY when you wrote the screenplay? 
Via:  The play was a three-hander, so it's been a balancing act trying to maintain that intimacy while letting the characters engage with a larger world. It's certainly allowed me to flesh out some important facets of their lives and relationships. More show, less tell. That's always a good thing, though I remain a fan of dialogue.
Wooten: So do we as gay men feel a responsibility to our LGBT community when writing fiction? 
Braxton: A responsibility to be truthful and show all sides -- my two cents. 
Allen: Yes and no. I don't want anyone to ever hold me to a "you must do this" sort of attitude when writing fiction, but I do believe I need to.  
Via: I'm with Drake. So that's four cents.
Wooten: To answer my own question: I also agree with Drake and have to write honestly. And if it's a story embracing the LGBT community, then that honesty will support them. 
Allen: While we're here, share a little about the film process you're each working on. Dan, I read an interview with your director and co-star Gerald McCullouch where he said you had investors and then finished up with a crowdsourcing project. And now you are set to shoot! Has it been all you had expected up to this point? 
Via: Well, this is my first time at this particular dance, so I'm not sure I had expectations per se. That's probably a good thing too, because there have been false starts and detours along the way that might have been more demoralizing if I'd had a clearer notion of how it was supposed to happen. The important thing is that we're now in a position to tell this story the way we want to tell it and share it with a wider audience. That's pretty damn exciting.
Wooten: I'm very happy to have signed with Iron Violet. Actually, this is the third time, with three different production companies, that Birthday Pie has been optioned. Hell, I should write a book about: How to Make a Living on Options! All kidding aside, they are currently working with investors to get both the film and stage productions happening simultaneously. It's an amazing process to watch from an author's point of view. 
Braxton: I feel the same, Arthur. Even though Lois and Gregory are both handling my project as an indie film, I get to sit and watch it unfold. 
Allen: We are attempting to share Drake's story in a truthful way with as small of an indie budget as possible, so we're asking every single lover of LGBT cinema for funding. And yet we're also trying to find those larger investors too. It's difficult with your first feature film to get that backing that one needs. 
Wooten: First film. First novel. First stage play. It's difficult no matter how you slice it. And I'm thrilled to announce that I'm helping in funding He Is Gone. It's a great story that needs to be shared on the screen. That's why we all need the LGBT community to feel invested in our fiction projects. It's all for them, to show their stories.  
Allen: Full circle back to how the two relate to each other. 
Braxton: And desperately need each other as well. I need the community in order to fill my fiction with truth. 
Wooten: And the community needs writers like us, and so many others, in order to tell their stories. 
Allen: And on that note, I thank you all. Please take a moment to check out each of these projects. 
For more information, visit:
daddythemovie.com
heisgonemovie.com
ironvioletfilms.com
drakebraxton.wordpress.com