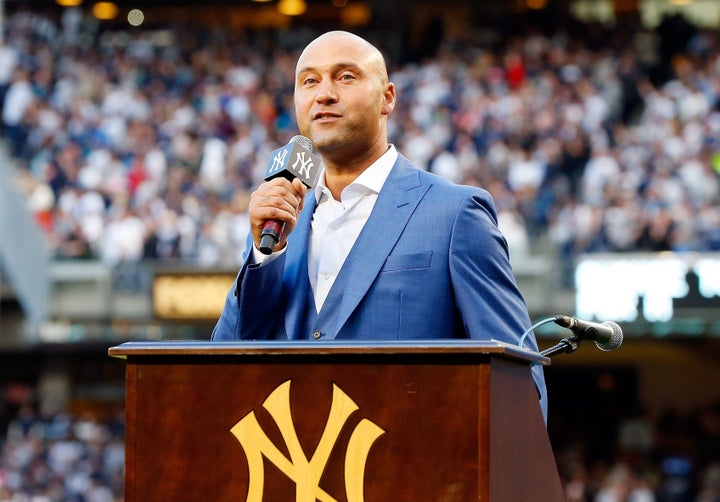 When Derek Jeter spoke to fans at Yankee Stadium on Sunday to celebrate the retirement of his No. 2, the circumstances were dramatically different from those that surrounded another Yankee captain, Lou Gehrig, and his speech on the Fourth of July 78 years earlier.
The Jeter ceremony was a joyful capstone to his 20-season tenure, scheduled many months earlier. In a powder blue suit and open shirt, he looked as confident and prepared as he had while wearing Yankee pinstripes. He had no reason to weep or to sense that his happy days would end soon. He was ready for this day, having retired after the 2014 season with 3,465 lifetime hits, the adoration of millions of fans, and a rich future. He has launched the Players Tribune website that lets athletes bypass traditional media to give unfiltered accounts of their lives and married the model Hannah Davis, who is expecting their first child. And, along with former Florida Governor Jeb Bush, he is pursuing the acquisition of the Miami Marlins, who defeated the Yankees in the 2003 World Series in six games.
Gehrig was facing his mortality as stood before newsreel and radio microphones at the original Yankee Stadium. He had last played at the end of April 1939, with four hits in 28 at-bats and one run batted in. Once seemingly indestructible, he had played feebly. In June, a diagnosis of amyotrophic lateral sclerosis at the Mayo Clinic had provided him with the reason for the rapid disappearance of the strength and physical brilliance that had made him the Iron Horse. On that hot July 4th, his uniform rippled in the breeze, as if he were shrinking inside his Yankee flannels.
He was too weak to hold the trophies and gifts that were given to him.
His replacement, Babe Dahlgren, was deputized by a worried Manager Joe McCarthy to catch him if he looked about to fall. Gehrig looked wobbly.
According to versions of the speech's origin told by his wife Eleanor, Gehrig was prepared to speak to the crowd. He either wrote it on his own—or her help. He rehearsed it—but maybe he did not. As he headed to the field for the ceremony, he did not bring the text of his speech, and no copy of it has been found.
Through tears, he offered gratitude to his wife, parents, mother-in-law, managers, teammates and opponents. But mostly, the speech is remembered for its second line:
"Today I consider myself the luckiest man on the face of the earth."
And for describing his life-altering diagnosis as merely a "bad break."
Demonstrating such grace after learning that he had a disease that had ended his career and was weakening him daily remains remarkable. Months later, he explained in a syndicated article that he had was grateful for his achievements since his poverty-stricken childhood as the son of German immigrants.
Gehrig wrote that he had thought of himself as the "luckiest kid on earth" if he could play on the high school football team, go to college and break into major league baseball. His "bad break" would not diminish that sentiment.
"All right, I'm still the luckiest man on earth when you add things up," he wrote. "I've got a long season of life to play out and my team—America—is absolutely the best in the league. That's what counts."
Without the sort of physical challenge that Gehrig faced, Jeter's words lacked gravitas...
Jeter looks like he will have the "long season of life" that was denied to Gehrig. At 42, he did not look physically vulnerable. As trim as the day he ended his career with a game-winning hit, Jeter took a handheld microphone and offered his litany of thanks—to the late Yankee owner George Steinbrenner, his family, managers, coaches, teammates, support staff, and fans. He spoke with the confidence of a modern athletic superstar who shared a driven work ethic with Gehrig as well as an ability to avoid controversy. Without the sort of physical challenge that Gehrig faced, Jeter's words lacked gravitas—as nearly every athletic goodbye delivered in a stadium or arena does.
If Jeter's speech is remembered for its oratory, it may be for saying that "time flies, memories fade, but family is forever, and I'll be eternally grateful to be a part of the Yankee family." For completely different reasons, Jeter could have legitimately declared that he was the "luckiest man on the face of the earth."
Jeter's speech will not likely inspire great cinema. But Gehrig's did. The producer Samuel Goldwyn was so moved by the newsreel that he agreed to make "The Pride of the Yankees." Goldwyn knew nothing about baseball and ordained that the film focus on Gehrig's courage and his love for Eleanor. Baseball wasn't squeezed out of "Pride," but on-field action was secondary, even with Babe Ruth in the cast.
Gary Cooper, who had never played baseball, portrayed Gehrig. Whatever batting or field skills he acquired came through the tutoring of Lefty O'Doul, a once-great hitter. Cooper was lean and lanky, unlike the brawny and muscular Gehrig. But Cooper understood how to play men of quiet dignity like Gehrig. He had been doing it for most of his career, although he was nervous about portraying someone whose memory was still indelible with baseball fans.
The film's version of the speech is shorter and in many ways different from the original. The script instructed Cooper that the scene was a "crucifixion as well as triumph." Cooper's delivery was modest but powerful. He hesitated a few times and shed some tears. And he was finished with a rhetorical flourish thanks to the screenwriters' decision to shift the "luckiest man" line to the end.
The speech over, he licked his lips, put his hand over his mouth and walked off alone into the dark solitude of the dugout. An umpire yells, "Play ball!"
Cooper's "luckiest man" speech has become the de facto version for the past 75 years because most of the newsreel is gone, leaving behind film of only a few of Gehrig's lines. Jeter's speech will never suffer the same fate.
Online, it will never fade away.
BEFORE YOU GO