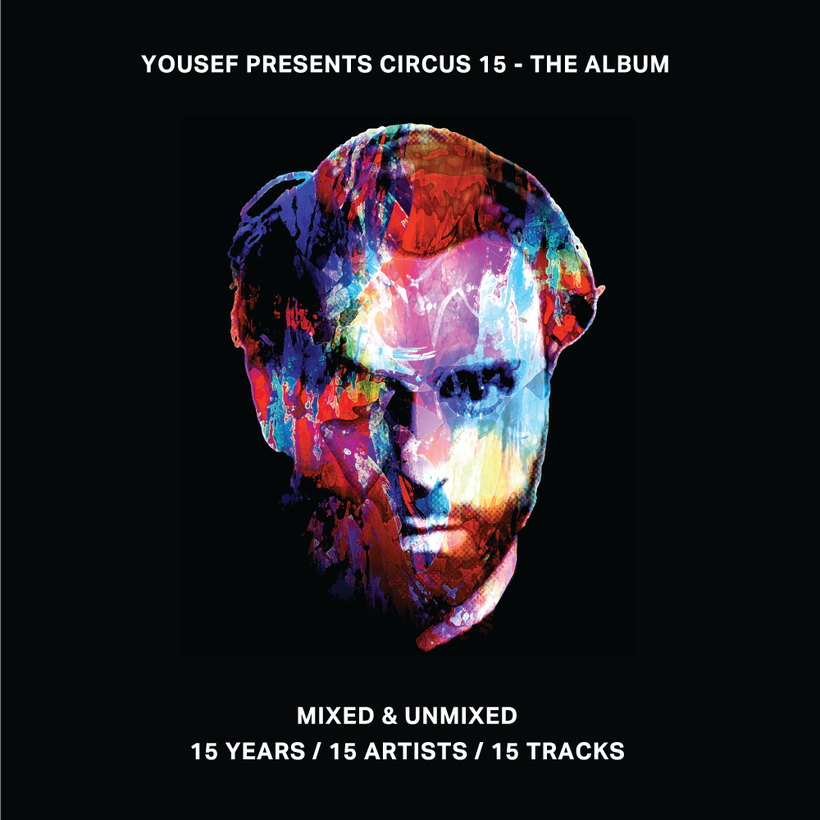 Liverpool based Circus Recordings turns fifteen this year. To celebrate, label head Yousef has put together a compilation which includes tracks from Jamie Jones, Catz N' Dogz, and Joris Voorn. All of the artists included have been involved with Circus since its inception in 2002. Ahead of the 15th birthday party, which will feature Peggy Gou, Kölsch, and Carl Cox, Yousef shares a track from the compilation and talks about why he started the label.
What was your objective with this compilation? I had a few objectives, but most importantly it was to display & further cement the relationships between the artists on the compilation, myself and Circus. Trying to get them all together at one time was not easy. It was also a great way for the world to see what we've been doing in Liverpool at Circus for the last 15 years and what I've been doing on the Circus Recordings label for 9 years. Getting this caliber of artist on the label is great to help the label develop socially, but getting 15 of them all together at once, it might be unprecedented?
How did you discover/get into dance music? I was a b-boy and breaker as a kid, and from them I loved early hip hop, and then acid house followed. I loved the music and I loved the freedom that the acid house spirit offered. The music and the raves and the clubs (and the partying…) broke down cultural barriers and opened up the perspectives of legions of people. Coming from a tough neighborhood & environment, at the time the camaraderie made you feel much safer.
Why did you start Circus recordings? I had been releasing music on other strong labels and felt it was time to throw my hat into the ring… I had almost no idea what I was doing but I had some help in the early days. After a couple of years of almost exclusively releasing my own music and having some successful releases on the likes of Cocoon, I felt I wanted to be more like a proper record label rather than a 'DJ label'. So I spent time learning how to run Circus Recordings as a proper business, or at least where all the artists are looked after with regards to promo, PR, mastering, mix downs and A&R. Now it's grown, respected and growing, into a place where I want to be.
What is the main challenge you have when putting together a club night? I would say financial risk. As my party Circus is born from a love for the authentic house & techno I've always played and made, it means pushing fresh new music is essential. We have big names, of course, but we have brand new names too, which over time have developed into big names (we famously broke the likes of Loco Dice, Seth Troxler and Davide Squilace to the UK). We do not book mainstream commercial acts, so the risk if the party is going to work is constant, but it's this vulnerability that has helped keep Circus at the top of its game and has helped my partner and I learn the game in great detail. I always want everybody to have a great time, feel welcome and feel free to have fun, no limitations, other than great new music. Also being prepared to tough it out when things don't go your way, sticking with it can be hard but we have had many many highs and few lows.
What makes a good party? For Circus it's the ethos, entertainment & enlightenment, which means new underground music but realistic enough to sell tickets, not so noodly and left field that it's too risky. Also we have an inclusive vibe, we make clubbers feel welcome and we show them gratitude, and make sure they know they are the most important people in the club and we don't have any VIP.
Was there a track of the summer for you? Harry Romero – 'Revolt' (Bombassa) or my own (aptly named...) 'Vanity', out soon on Crosstown Rebels.
Do you have a favorite track from your own discography? Either 'Come Home' on Cocoon, 'Life is Too short' on Knee Deep in Sound, or 'Vanity' on Crosstown Rebels, they are tell stories.
What are you listening for when you receive a demo? Color… I want someone to have a point other than the dance floor. I want the mix down to be excellent and I don't want it to be functional tech house. Does the track matter?!
What's the last book you read? "Storyteller – the Life of Roald Dahl" by Donald Sturrock, "Worth Dying For (the power flags and politics)" by Tim Marshall, and "Oi Cat" By Tess Ray, to my son!
Advice for producers/DJs at any stage of the game? I'm not sure I'm one to give advice… The way I work is not only scrappy but also creatively random. I make dance floor house, techno, sometimes write songs and poignant lyrics, and one project could be very different to the last. I don't always play the music I make, as when I DJ I'm high on energy, mixing 4 decks and doing all I can to use my technique to slay the crowd with the aforementioned new music and edits and loops… I guess the one thing I do is be myself. I'm confident enough in what I do to be comfortable in myself not to constantly seek (too much!) commendation.
Yousef Presents Circus is available on Beatport via the link below.
This post was published on the now-closed HuffPost Contributor platform. Contributors control their own work and posted freely to our site. If you need to flag this entry as abusive,
send us an email
.