After being battered by decades of war, Vietnam has risen as one of Asia's most dynamic and rapidly growing countries. With an emerging economy that is creating opportunities, the youth of Vietnam are being empowered to take on real world challenges through nonprofit and social entrepreneurial projects.
Trinh Nguyen and Giang 'Jasmine' Phan are two such individuals. Trinh is a senior student at Massachusetts Institute of Technology (MIT), majoring in Biological Engineering; while Jasmine is a graduate student in Master of Digital Media at Northeastern University. Although they both originated from Saigon (Ho Chi Minh City) in Vietnam, they did not cross paths till they were introduced by mutual friends in Boston, USA. Through conversation, they realized that there was a noteworthy need for an event that brought together likeminded individuals who undertook social projects. Inspired by the projects that were founded and run by their Vietnamese friends, they wanted to give back by empowering the youth and creating a platform for them to cultivate ideas in the Vietnamese community in Boston. The idea of uniting social entrepreneurs who are impacting the society on the forefront of social change was the goal. Thus began the Viet Youth Projects (VYP) Conference, an annual single-day event that aims to bring together promising social projects that are spearheaded by brilliant and passionate Vietnamese youth. This year, the conference was held at the Massachusetts Institute of Technology (MIT) in Cambridge, MA on the 10th of September.
Throughout the 3 months that they undertook extensive planning, both Jasmine and Trinh were determined to create an event that allowed a high degree of interaction between the attendees by making it 'participant-centered'. Keeping that in mind, they centered the conference on panel talks, workshops, group discussions and presentations. This provided a collaborative platform for the discussion and exchange of innovative ideas between experts and hopefuls alike. The conference was organized in partnership with the MIT Vietnamese Students Association (VSA) and Vietnamese Women Together (VWT) organization. VWT is a project that was founded by Jasmine, with a focus on the role of women in Vietnamese society.
The projects that were showcased at their pilot conference were:
• Vietnamese Women Together: a project that wants to redefine the role of Vietnamese women in society.
• Math and Science Summer Program (MaSSP): a project that wants to transform math and science education in Vietnam.
• Dream Project Incubator (DPI): a project that creates a mentor-mentee platform for young Vietnamese entrepreneurs and project leaders.
• #SaveSonDoong: one of the biggest activist campaigns aiming to protect Son Doong Cave, a world heritage.
The conference consisted of a welcome address by Dr. Bernd Widdig (Director of International activities at the Office of the Provost in MIT) and a keynote speech by Thao Nguyen Griffiths (Country Director at Vietnam Veterans of America Foundation and an Eisenhower Fellow). The panel at the conference sought to answer the question: 'How to build a sustainable and impactful organization?' Panelists Mike Ritz (Executive Director at Leadership Rhode Island), Thao Ly Bui Tran (Sr. Associate at Rencontres Du Vietnam) and Abhishek Syal (Sr. Research Analyst at EMC and CEO at ARISE Impact) discussed their insightful thoughts and ideas based on their invaluable experiences. The panel discussion was followed by two workshops that allowed the participants to explore topics on starting and running social projects.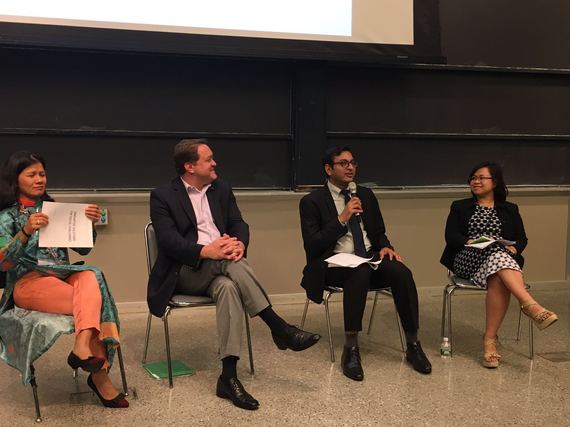 Abhishek Syal, an MIT Alumni and CEO of ARISE Impact, shared his expertise on starting his organization that was centered around the concept of contextualized self-learning content on mobiles and computers. During the Question and Answer session, he highlighted the importance of valuing differences in opinion when managing a team. "We encourage team members to present different opinions, along with the 'why'. The 'why' is helpful in understanding the context of the opinion and idea as well as what the team members are passionate about."
Attendees and organizers of the event spoke with much enthusiasm about the conference. "VYP was an opportunity to surround myself with like-minded individuals who seek to make a positive difference in Vietnam. The chance to create meaningful relationships with these leaders helped give an idea of how we can work together in order to achieve our goals," said Daniel Banh, Organizing Member of VYP Conference. "I just moved from Singapore to U.S. a month ago. I was active in social work back in Singapore, and I plan to continue contributing back here. The event was a great opportunity for networking. I have built valuable connections with people who share the passion for making positive social impact, and are working to solve it. I appreciated the professionalism as well as the warmly welcome atmosphere. The refreshment with Vietnam's banh mi was delicious too. Looking forward to the next meeting," added Elle Phuong Le, VYP Conference participant.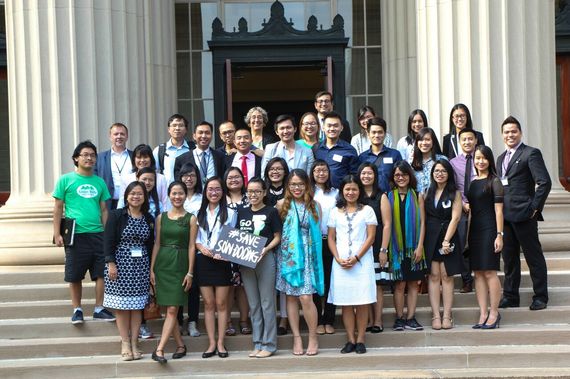 This year, the VYP Conference attracted approximately 80 people, including students from universities in the New England area, professionals from companies and founders from nonprofit organizations as well as social enterprises. With the inaugural conference having been a big success, the conference will be held annually, with plans to address social projects and innovations from other countries in South East Asia. For Trinh Nguyen and Jasmine Phan, the VYP Conference is an idea that sprung out of the gratitude that they felt for the opportunities that they had gotten in life. The result: a networking and learning opportunity that brings together the emerging leaders of social change.