It's official: I have contracted the One Young World fever.
What is "it" you asked? I will try to give you a brief analysis of the four different stages of the OYW fever... And, oh boy! Am I thrilled to have caught it!
Honestly, prior to arriving at Johannesburg last October, I genuinely didn't have a clue of what to expect and what was expected from me? Being selected to attend this summit as a delegate was my early Christmas present! I simply felt blessed to share this adventure with my 1250 peers representing 190 nations (!). Being a newbie, I knew very little of OYW. I understood that the organization aims to gather the brightest minds of this generation to discuss and expose dire global issues in order to find the appropriate and effective ways to address them. These discussions are led by panels composed of world-renowned counselors and this year's list was very impressive.
Themes such as education, human rights, sustainable development, global business, youth unemployment, leadership and government were approached and discussed during four intensive days of sessions inside and outside the Sandton Convention Center. One thing was sure, for each global problem, 1001 solutions were found.
H.E Madiba once said that the greatest single challenge facing our globalized world is to combat and eradicate its disparities. I firmly believe that this is also the challenge upon which we OYW Ambassadors must face.
Realizing that there are so many areas we could work on opens ourselves to the essential questions such as: How can I make this world a better place? How can I make a positive impact? In my case, I do not possess nor lead a Forbes Fortune 500 company. I do not have the financial means to build schools and hospitals that are free of charges around the world. My voice, for the time being, is just a single drop of water in earth's oceans. So, how can I be the change? This is the first stage of post-OYW fever syndrome: you are filled with immense doubts.
During one plenary session, a panel of sportsmen such as Boris Becker, François Pienaar, Ashwin Willemse and Ryk Neethlin discussed their personal experiences with sport and the positive impact it could bring to society. Then it struck me:sSport is the key. It is a tool of empowerment because it teaches endurance, resilience, perseverance, team work and so much more! Sport is a language that knows no boundaries nor race, but erases differences and embraces humanity. During the "Sport & Society" conference, Boris Becker mentioned the Laureus Sport For Good Foundation. It has numerous projects around the world but currently none in Indonesia. This information has given me a way to make a feasible change. I aspire to bring Laureus to my home country. I believe that at that point I've reached my second state of OYW fever: I am excited, but not delusional. I am motivated and dedicated to contribute and give back to society. Best of all, I know where to start!
Then, I was lost. This is what I would call the third stage of the fever. Now that I have this brilliant idea sketched on my computer and engraved in my mind, how on earth can I make it happen?! How do I take ACTION? I am aware that it is a rather huge project to ignite and I will need a lot of support.
Those four days went by in a blink of an eye and I was quite sad to know that we would all be parting soon. I reassured myself in saying that this wasn't good bye but au revoir! The social media will always be there and will help me keep in touch with most of the Ambassadors!
During the closing ceremony of the One Young World Summit, Kate Robertson and David Jones asked us OYW Ambassadors to write our pledge(s) on a ribbon for the OYW ball. Guess what I wrote on mine?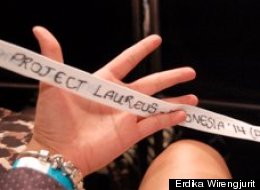 This simple act brought me to my final stage of the fever: I was feeling hopeful! I believe that us the youth can bring solutions to the most terrible problems that our world is currently facing. I felt soothed knowing that we are capable of healing the world and humanity, if we all worked hard enough together.
After more than a month, I still have the OYW fever burning deep inside of me. I am taking action, one baby step at a time. It is a long road, but I remain faithful and optimistic!
In summary, I believe that catching the OYW fever restores HOPE in each in every one us. After all, hope is what pushes humanity to be better.