I recently attended the Toy Art Gallery's Halloween show. On the way out I passed Exact Science, a new gallery. I noticed they were having an opening so I asked if I could shoot the show. They were very nice and allowed me in. The art was being sold for "Invisible Children, a charity for African children who have been terrorized by the war in that area of the world. The sculptures by Big Cook were really spectacular! Below is information on the gallery, the show and the artist Big Cook.
Exact Science is a Los Angles-based concept studio. We promote the production of cultural relevance and intellectual capital through the elevation of urban & fine art. From Hip Hop to other post modern cultural movements, Exact Science is motivated by the hybrid, collaborative and fundamental grassroots experience that spawns distinctive strains of urban and fine art. Recognizing these movements as a true testament to the devotion and diversity of cultural creators in our society, Exact Science acts as an agent and aggregator. We use core philosophies and practices employed throughout contemporary history to generate new concepts and styles. We seek opportunities to expand the different cultures of creative activity into the public domain and to promote urban art as fine art.
Through the elevation of this art,we help to build intellectual capital and cultural relevance in our communities. Always at the nexus of transformations in the urban landscape, Exact Science is committed to incubating urban art-in the street, studio, club and warehouses-while bringing it to more unlikely places, such as the gallery, museum, lecture hall or classroom. In doing so, we become a link between the present and potential audiences around the world. Although typically thought of as a state of being-a final product, look, statement or otherwise-design can also pertain to a state of movement-an action, motion, execution of or progression towards a larger goal. When you design, you plan... and for Exact Science, although our essence embodies a particular aspect of urban culture, we aim to dig deeper into the subconscious of the cultural consumer and catalyze a community to contribute to their urban environs.
Ultimately, our goal is to reach beyond the limit of ""cool"" (i.e. products that buttress our faith and belief in urban arts and history) and to stimulate people to participate in the historical making of contemporary urban culture. With this philosophy towards design that MOVES rather than IS, Exact Science calls itself a concept studio. As a concept studio, we are involved with cultural production-whether fashion, music, dance or art-but also with cultural experience-providing platforms for cogitation, creation, instrumentation and debate. We shift between genres, scenes, styles, talent and media, drawing out the connective elements between them as well as highlighting their differences. In this manner, our concepts are expressed in a variety of formats without being bound by convention.
Exact Science Gallery presents an eclectic group show featuring 31 artists from all over the United States & Europe. Showcasing works from John Park, Ricky Powell, Van Saro, Hans Haveron, Yoko D' Holbachie, Gosha , Matthew Grabelsky, Tewsr, Dcypher, Big Cook, Melissa Kavanagh, Cameron Mikovich, Adam Abraham, Kelly Thompson, Koshin Finley, Delfin Finley, Cody Lusby, Nate Seubert, Erik D. Flores, Wayne Chang, Weirdo Rafael Isaac Delgado Jr, Stacey "Flygirrl" Wilson, Seitaku "Tak" Aoyama, Robert Nelson, Augie Pagan, L Croskey, Nikki Poling, Lizz Lopez, Adam Rebellion and Bruno Goldschmitt to stimulate people to participate in the historical making of contemporary urban culture. Exact Science is motivated by the hybrid, collaborative and fundamental grassroots experience that spawns distinctive strains of urban and fine art.
Exact Science has teamed up with artist Big Cook & Invisible Children to raise awareness for conflict children in Africa. Big Cook created a series of unique sculptures entitled "Toy Soldiers". We will be conducting a silent auction with Invisible Children of the five sculptures with the aim of keep this conversation growing & raise money to help rehabilitate & reunite abducted children with their families and communities.
Music for your ears will be provided with live performances by Donyvano & Toni Lee, Karibel & LijaLu. Your Dj's for the evening "Wu-Tang Clan" Dj Choco, & engineer Orville "Lil Oh" Allen & Mr. Numberwonderful.
Toy Soldiers Toy Soldiers is a study on youth violence, an ode to how children in Africa are being forced into combat. I chose to start this journey exploring the brutal inhumanity in Africa. The images I saw haunted me, and yetmoved me to bring light to this tragic situation. Even today, children are being kidnapped from their homes, ripped from their mothers' arms and sent to brutal war camps. While being trained to kill, they're fed poisonous cocktail drugs to dull their senses, preparing them to live and fight in total chaos. Some are even forced to kill their parents. So who's to blame? How can a social structure break down so badly? Is it the Tyrants and Warlords destroying culture, tribes and tradition for personal gains?
Or is it corporate interests stealing Africa's resources and not giving back to the people, forcing them to kill one another? What happens to the people of Africa once the war is over? Are we observing this same kind of social break down in the ghettos of America when we put more money towards penitentiaries rather than education? Here in America where people of color and those lacking economic privilege are ignored. What can we do to keep topics like Toy Soldiers in the forefront and apart of everyday conversation?
I hope my artwork can help start the conversation, and ultimately lead a movement to put an end to youth violence in Africa and America. As I sculpt each Toy Soldier my intentions are to pull the observer in and have them draw their own conclusion while asking themselves the same question I ask myself: What can I do to help? Big Cook.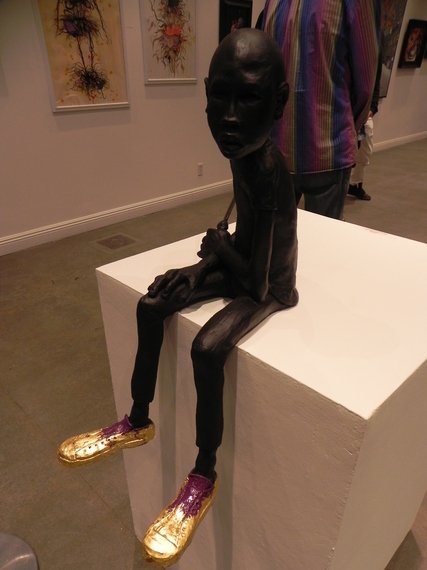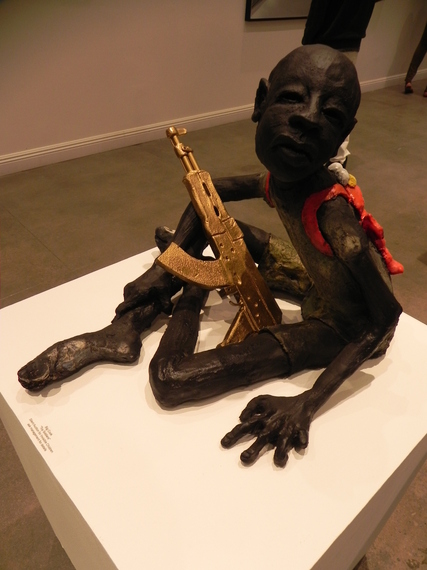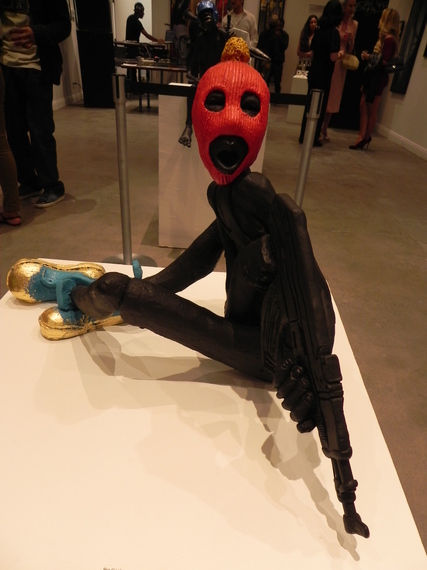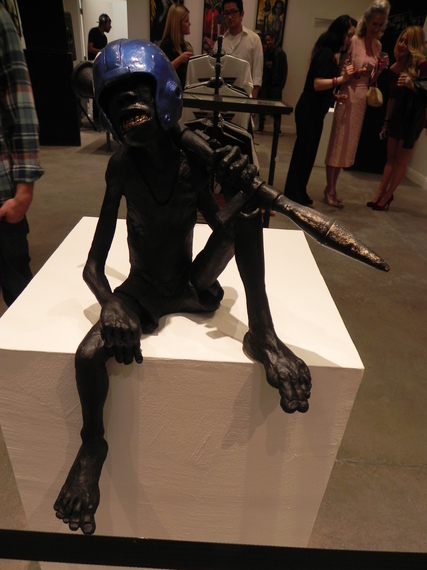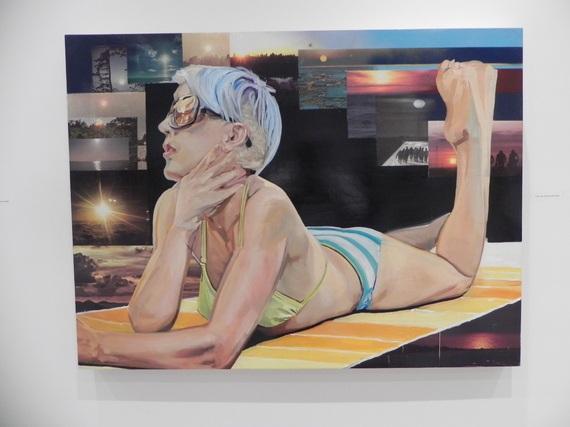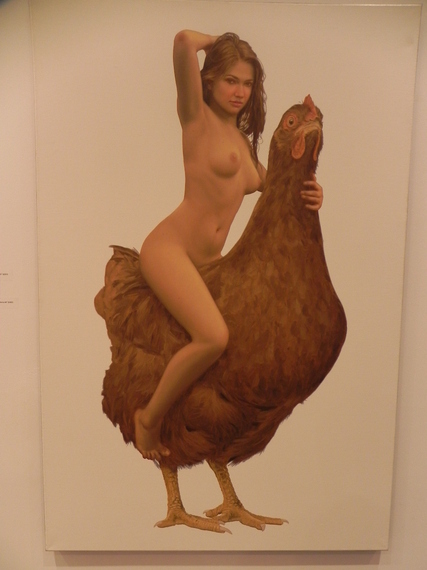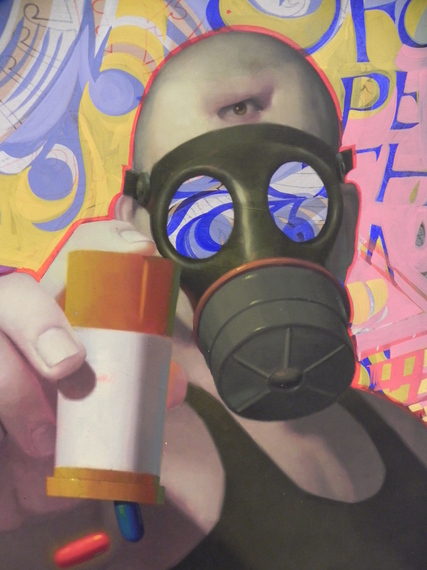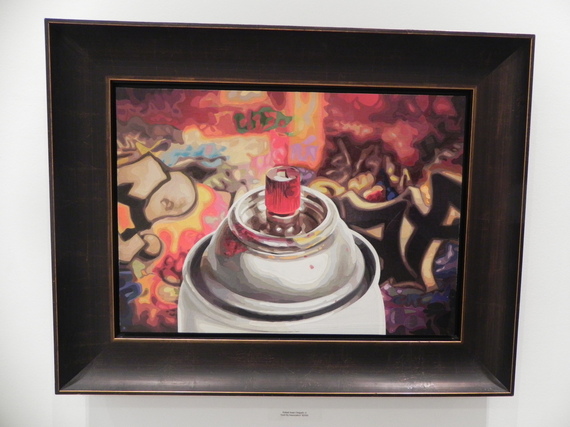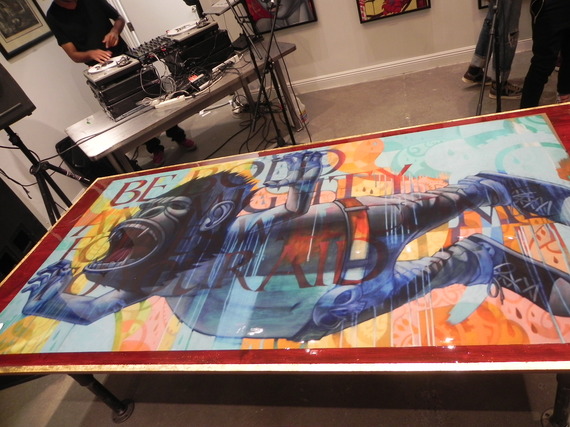 If you like what you see, click on through to AFTimes for more pictures!
Thanks for reading!
Toygodd