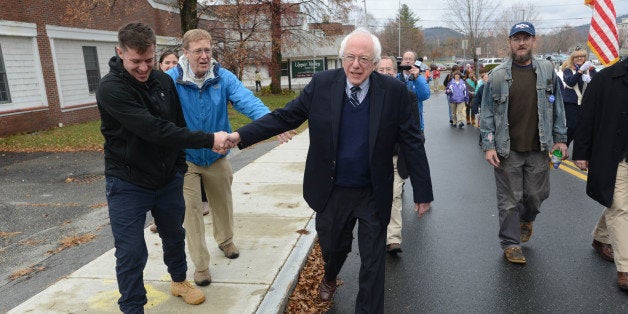 Bernie Sanders applied for conscientious objector status during the Vietnam War. He is a self-proclaimed democratic socialist, and he decries the Military Industrial Complex that so many veterans have been a part of.
It may come as a surprise then, that thousands and thousands of veterans are "feeling the Bern," as Sanders' supporters are proud to proclaim. So what is it about this Senator from Vermont that has veterans passionately fighting for his election?
Sanders is and has been one of the most vocal champions for active duty service members, veterans, and veteran's rights for the last three decades.

That's right -- the democratic socialist from Vermont, who applied for conscientious objector status during the Vietnam War, has been standing up for veterans for a long, long time -- and Veterans have taken notice.
Many vets believe that Sanders has shown great leadership and judgment in his opposition to United States-led actions around the globe; from the first Gulf War, to his infamous opposition of the invasion of Iraq which he predicted would lead to the destabilization of the region and the rise of unpredictable insurgencies. In 2002, then Congressman Sanders spoke on the floor of the House of Representatives, saying:
I have not heard any estimates of how many young American men and women might die in such a war, or how many tens of thousands of women and children in Iraq might also be killed. As a caring nation, we should do everything we can to prevent the horrible suffering war will cause. War must be the last recourse.....[And] who will govern Iraq when Saddam Hussein is removed? And what role will the US play in an ensuing civil war that will develop in that country? Will moderate governments in the region who have large Islamic fundamentalist populations be overthrown and replaced by extremists?
With the rise of ISIS and the further collapse of neighboring countries in the region, recent history has shown us that Senator Sanders was right to be cautious.
I voted against the war in Iraq--and not only did I vote against it, I helped lead the effort. Many of the things that I said back then turned out to be true--the massive destabilization of the region.
But veterans say that, even more than his willingness to speak up when the country is heading down the wrong path, it is his steadfast support for returning warriors that earn him their loyalty. Over the years, Sanders has been integral in getting key legislation passed to improve and extend benefits for our service members, veterans, and their families. He has received bipartisan praise from key members of the Republican Party, including Senator John McCain of Arizona, who says that he and Sanders "were able to come together and come and pass legislation that was nearly unanimous in both House and Senate. So he does have a record of advocacy for our veterans."
It is time for full disclosure. I am a veteran of the Iraq War, and I too am "feeling the Bern." I have the names of six Marines tattooed on my right arm. They lost their lives fighting in the streets of Iraq, fighting in a war that never should have been. Since returning, I've lost two more friends to suicide.
I am proud to support a candidate for president that has been on the front lines fighting for veterans and active duty service members for decades.
He may not be the candidate you'd expect thousands of us to throw our support behind, but we know firsthand the costs of war, and we know an ally to our cause when we see one. In Senator Sanders, we have the chance to elect a Commander in Chief who will think twice before sending our sons and daughters off to war and a President who understands that we are morally obligated to care for them upon their return.
If you are not prepared to take care of the men and women who put their lives on the line to defend this country - who came back wounded in body, wounded in spirit - if you're not prepared to help those people, then don't send them to war in the first place.