At an early age, Eric Johnson was shaped by his father's mastery in automotive body work to his bravado in pool, archery, marksmanship, and even poker. From his father, Eric learned how to use and make tools and achieve a craftsmanship in a wide variety of materials. As a young man, Eric was a promising pitcher and fencer. However, Eric's life took a dramatic turn when in his early twenties, while on vacation in Hawaii, he fell from a cliff and severely injured his neck. After rehabilitation, Eric eventually returned to making and studying art. Attending Cal Arts and UCIrvine, Eric mentored under significant west coast artists such as Craig Kauffman, Tony DeLap, and John Paul Jones. Eric lives with daily physical pain that he finds, is best eased, by making art not alone, but surrounded by friends and artists. Mentoring others in his studio eventually led to the community project "The Maize." These days Eric is working on a large-scale project and finalizing a six-year body of work dealing with the systems of binary stars and human relationships.
The photos below are of a piece called "The Maize." The piece stands 14 feet and is 8 feet in diameter. It consists of 378 individual, kernel-like pieces that were made over a three-year period that I called The Maize Project. I began the work in 2005 and it was first shown in 2008 at the Torrance Art Museum, Southern California.
The reason the work was a "project" was due to the way it was made. Over the three-year period of its construction, my family and I hosted what we called Pour Parties at my studio in San Pedro. At these parties, folks from all walks of life (from children, local friends and neighbors, to well-known artists like De Wain Valentine and Craig Kauffman) were invited to make a kernel.
Some of the pieces contain objects such as fish net needles, keys, magnets, candy corns, seeds, bees, letters to the Pope, music scores and memorial items to a lost loved one. All of the pieces are made from pigmented resin and are hollow. The work represents the opportunity to shed light on the importance of corn in the Americas, with a dual meaning to bring attention to the issue of GMOs while at the same time assembling a lodgepole-like object that brings people together in object-making and -viewing.
Up close, the viewer is drawn to inspect the individual kernels, often inquiring on the suspended items and colors of each. Stepping back, the viewer can take in that the whole piece slightly twists on a steel and aluminum wheeled structure that is open in the center. In fact, there is a hidden door that can be removed to let a viewer inside.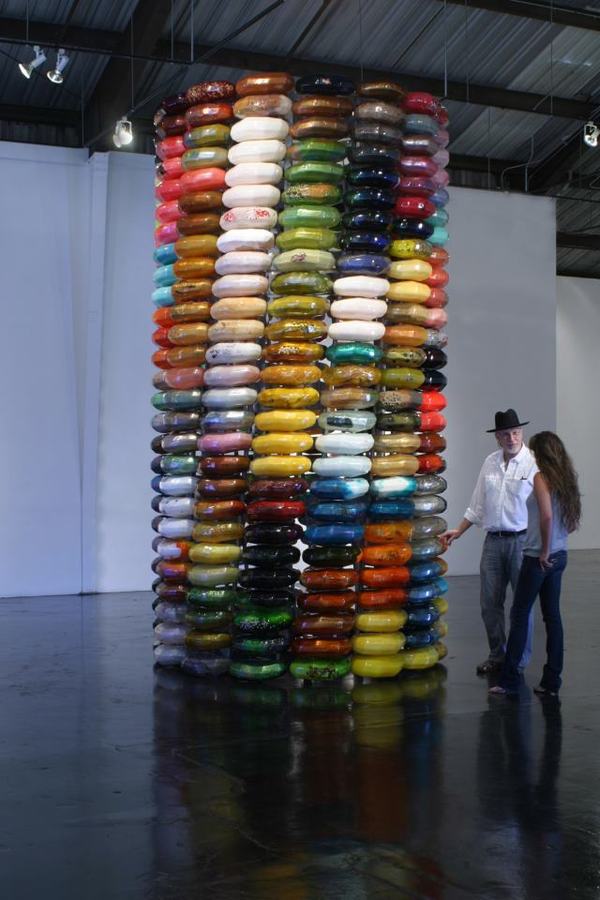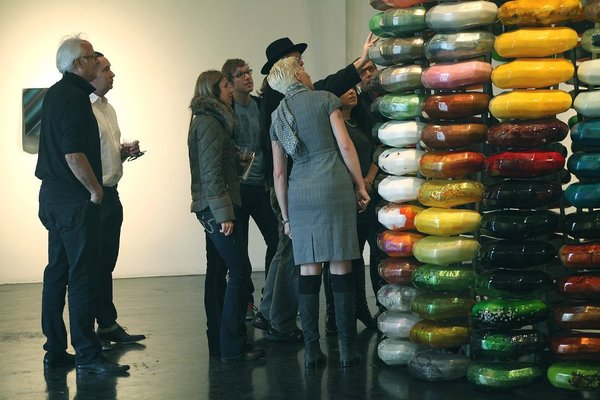 Are you 50 or older? Want to submit your own art or photography for consideration? Send us your work at 50arts@huffingtonpost.com. See here for more details.