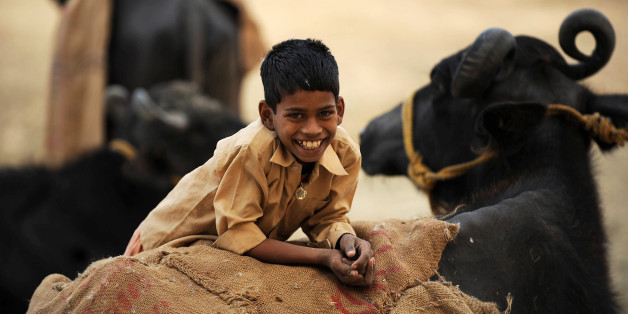 As a recent college graduate, I have had my first encounter with true freedom. In this new dispensation, devoid of external obligations, my motivation for doing anything can come only from within. In light of this introduction, it may come as a surprise that I am about to describe my experience traveling to India with four of my best friends to start a gum company.
The tale should become at least slightly more plausible when I add that the mission of our gum company, Sweet Bites, is to eradicate tooth decay in the world's poorest populations. The first of its kind in India, Sweet Bites gum is 100 percent sweetened with a natural sugar substitute, Xylitol, which has been scientifically proven to prevent cavities when chewed regularly. To begin the journey, we chose the startup capital of India -- Bangalore.
For the uninitiated, stepping out into Bangalore entails a bombardment of the senses. Cows plow through formless traffic that is directed by a chorus of blaring car horns. There is a constant, gruesome battle of smells between the delectable local cuisine and the ambient garbage. Walking around the city invariably entails having a direct encounter with poverty. The fever of my shell shock broke after reading a chapter of the Bhagavad-Gita that discusses the distinction between the material and the spiritual worlds. All of my complaints against the city -- the noise, the smell, even the poverty -- were merely material. Such materialistic preoccupations prevented me from beholding the deeper reality of my surroundings -- the spirit of Bangalore. With my antennae properly attuned, a clearer picture emerged of a city dominated by a pervasive community spirit and an inexhaustible appetite for innovation. I prepare to leave India (for now), I dare say I feel at home here. But it was not always this way.
Catching me in a weak moment during the first few days of our trip, my friend and co-founder Morgan, who spent last year working in Bangalore, sought to console me, saying, "Mother India always provides when you need it most." I was skeptical to say the least. Morgan is kind of a hippie, and exactly the type of person you would expect to hear that from.
The truth of Morgan's aphorism was demonstrated shortly thereafter when we had a meeting with a prominent local NGO. I had exchanged phone calls with a manager with a multi-syllable name. Still adjusting to the strange sounds of the local language, Kannada, I had a hard time keeping his name in my head, let alone pronouncing it in an intelligible way. To complicate matters, in Bangalore, Google Maps only feigns being functional, giving flawless directions to a random point in the city. So we left for the meeting early, only to find that I could neither locate the office nor remember our contact's name. Retiring to a nearby breakfast joint, enveloped in the embarrassment of my complete failure, I embraced the South Indian comfort of dhosa and coconut chutney. Midway through the meal, I spotted a man wearing a T-shirt with the logo of the elusive NGO. After frantic conversation, it was revealed that he was the manager that I had spoken with on the phone. After a few laughs, we continued to his office and conducted business as usual. Needless to say, when I saw Morgan later that day, I was all smiles.
Mother India provided and provided as a mix of serendipitous encounters and hard work propelled us to a successful business pilot. After a nonstop schedule of leading educational programs in schools, testing our sales acumen in the local markets, and forming partnerships with local NGOs, Sweet Bites has taken on a life of its own. We received a subtle sign of our success when we were interviewed by a local reporter who told us that she had been chewing Sweet Bites gum for weeks before she was assigned to our story. Our jaws dropped in disbelief; we had not yet distributed our gum in her area of the city. The results of our pilot speak clearly: India is ready for Sweet Bites. When we get the resources needed for a full launch in the Fall, we will be back in full force, ready to meet the growing demand for our gum.
Having told of our triumphs in the pilot, I must resist the temptation of making my new free self out to be like a roaring river un-dammed. Most of the time, my state can be more accurately likened to that of a domesticated beast returned to the wild. Life dictated by an estranged inner drive is not all about saving babies and scaling the Himalayas. A few days ago I travelled for several hours to find a doughnut.
Sometimes I lay paralyzed by the simultaneous realities of having an abundance of choices and yet none at all. F. Scott Fitzgerald described this state as being "like a little boy left alone in a big house, who knew that now he could do anything he wanted to do, but found that there was nothing that he wanted to do." However, I never linger listlessly for too long. A quick glance out the window reveals a land of great need, adventure, and opportunity. Sadly, as good as India has been to me, there are millions whose circumstance suggests a different story. Living in India is a constant reminder: reality is yours to construct, but for whom are you building?
Our experience at Sweet Bites represents what is perhaps the essence of the startup culture that has so captivated my generation. At best, we are a bunch of 20-somethings set loose on the world, making our own schedules, and forging our own reality. At worst, we are ... well ... a bunch of 20-somethings set loose on the world, relentlessly searching for American pastries. I would never make the outlandish claim that we are bettering the human condition, but what I can say is that we're certainly trying.
This post was produced by The Huffington Post and the Hult Prize, where teams of college and university entrepreneurs compete for $1,000,000 in funding for compelling social business ideas. The posts are written by the "Big 6" competition finalists. To learn more about the 2014 Hult Prize, please visit here. Read all posts in the series here.