Tonight's show is guest-hosted by Sean Hayes, Will Sasso and Chris Diamantopoulos, portraying Moe, Larry and Curly, in promotion for their new movie "The Three Stooges." Back in 2009, Raw tried to one-up "Saturday Night Live" by having a new guest host every week -- it resulted in the single worst year of WWE programming ever. Lame comedy skits with disinterested celebrities hijacked the show each week. The only consistent wrestling we got for a year, was the always-predictable John Cena, perpetual "underdog" who never actually loses.
Last week, WWE delivered what I called the "best post-WrestleMania Raw ever." The challenge always comes with the week after that. This show is like December 26 and Christmas is never farther away. With the return of UFC sensation Brock Lesnar, perhaps WWE will turn the tide of years past and deliver an exciting show. The only thing standing in the way is the Three Stooges.
Quick Results
Brodus Clay and Santino Marella defeated Jack Swagger and Dolph Ziggler
R-Truth defeated Cody Rhodes
Lord Tensai defeated Yoshi Tatsu
Mark Henry defeated C.M. Punk by disqualification
Alberto Del Rio defeated Zack Ryder
John Cena defeated David Otunga

The Good, The Bad & The Ugly: WWE Raw, April 9, 2012
In-Ring Address with the New Permanent General Manager of Raw and SmackDown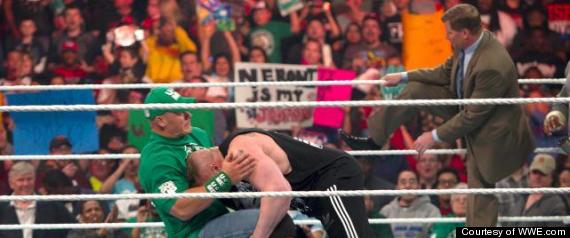 "Mr. Excitement" John "Johnny Ace" Laurinaitis marches into the Washington D.C. arena, flanked by A-1 crony David Otunga and enlivened by a Presidential-sounding new theme song. Michael Cole brags about how Ace should run for President because he could really turn things around. The GM airs a recap video of last week, when Brock Lesnar made his shocking return.
Johnny then welcomes Brock -- "the New Face of WWE" -- into the arena. Ace promises that Lesnar will add a sense of "legitimacy" back to WWE and his first match will be against John Cena at Extreme Rules, live in Chicago on Pay-Per-View. Big Brock takes the mic and thanks Big Johnny for having the wisdom to bring legitimacy back to WWE. But before he can get any further, he's interrupted by John Cena.
The crowd doesn't know what to do: they want to boo Cena, but Lesnar, the crowd favorite, is clearly aligned with the smarmy Ace. Cena takes a moment to soak it in, then walks up and casually smacks Brock in the face. The former UFC champ tackles him and we have a pull-apart brawl. Referees, management and fellow Superstars rush the ring to pull the two apart. Their efforts to restrain the two take several minutes; Cena has a bloody, busted lip and the crowd chants "Let them fight!" Producers finally give up and cut to commercial.
Verdict: Good. The D.C. crowd was hot for this brawl. The scuffle between Lesnar and Cena didn't look big and theatrical; it was close and nasty with both men rolling around on the floor, like a grade school skirmish. Best of all it set up a lot of exciting developments -- the Extreme Rules main event, Cena's scrappier attitude and Lesnar's clear animosity for him -- with very few words.

SmackDown Preview: A Special Super SmackDown airs live tonight (Tuesday, April 10) with a "Blast From the Past"-themed episode.
The last time WWE tried something like this, the Old School Raw of November 2010, it produced one of the best episodes of the year. With Mick Foley, "Rowdy" Roddy Piper, "Hacksaw" Jim Duggan, Sgt. Slaughter and more slated to appear, this should be a fun episode.
A replay shows that Brock connected for real with the first punch he threw. Lawler reports that Cena may have lost some teeth.
Backstage: In the GM's Office
Ace reams out his new assistant Teddy Long (fresh from a WrestleMania demotion) for failing to keep John Cena detained during Brock's speech. While he berates Teddy, Eve enters the room to set up a meeting with Johnny. The new boss tells her to call him.
*Amazingly hilarious set detail: Johnny has put his victorious white WrestleMania suit on a display in his office, with a commemorative "April 1, 2012" plaque.
Match #1: "The Funkasaurus" Brodus Clay (with his Funkettes) & United States Champion Santino Marella vs. "The All-American-American" Jack Swagger & "The Show Off" Dolph Ziggler - Tag Team Match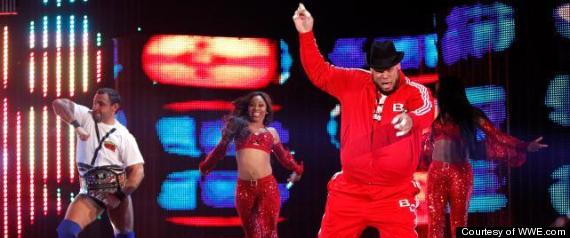 Vickie Guerrero attempts to introduce her tag team but our nation's capitol do their best to drown her out with boos. During the contest, Jerry Lawler gets a surprisingly good dig in on his broadcast colleague Michael Cole, by telling him that if he was a dinosaur, he'd suffer from "ereptile dysfunction." Cole has to take a moment to genuinely regain his composure. By the time he (and I) turn our attention back to the match, Clay squashes Ziggler and gets the victory.
Winners: The Funkasaurus and Santino
Afterward, the good guys dance.
Verdict: Bad. This was perfectly acceptable, but Ziggler and Swagger always lose. The bad guys are never a real threat if they keep losing to every smiling, dancing good guy, week in and week out.
Backstage: In the GM's Office
The Miz tries to get Ace's attention, but Johnny needs to postpone their meeting until next week. Teddy Long returns with a still-bloodied Cena. John explains that he's not an actor, he's a fighter (you already lost to the Rock, let it go Cena); he also proclaims that while Ace may be trying to get rid of him, he's not going anywhere and he wants a match tonight.

Backstage: The Hunt for the Three Stooges
Santino speaks with perennial minor league talent Curt Hawkins and Tyler Reks, looking for Moe, Larry and Curly, but the Superstars haven't seen them. His search carries throughout the commercial break; when we return, his pursuit leads him directly into the path of the Big Red Monster, Kane. The masked machine does not appreciate Marella's Stooges impression, and the Milan Miracle books it.
Verdict: Ugly. And it's only going to get worse.
Match #2: "Dashing" Cody Rhodes vs. R-Truth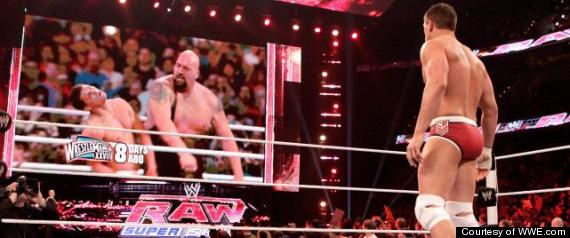 Within a minute of the match, Big Show interrupts to debut his newest video presentation: Cody's embarrassing defeat last week. Cody recovers too late, as he walks into Truth's finishing maneuver.
Winner: R-Truth
Verdict: Ugly. First off, we said last week that Cody had officially gotten his comeuppance; anything more and it would be needlessly excessive and turn the good guy Big Show into the bully. Way to Be a Star, WWE! But what's even dumber is the video that Big Show used. He literally went "Hey Cody, remember last week? (Cut to video of Big Show saying "Hey Cody, remember WrestleMania?") Big Show distracted Cody with a recap of a recap. When the video started playing, what did Cody think was going to happen? He didn't think -- even for split second -- "oh man, I hated that last week I got distracted and I hate that he's reminding me of that distraction with another distraction. Maybe I should try to ignore him!"
Backstage: The Hunt for the Three Stooges Continues
Since the last time we saw him, Santino switched out of his trunks and put on shorts and a T-shirt (because this wasn't a pre-taped segment at all and thus not a complete failure of linear editing). The champ comes across a large crate marked "fragile." He opens it up and the Three Stooges fall out. Terrible, terrible comedy ensues.
Verdict: Ugly. It's around this time that you can start to hear the Washington D.C. crowd's enthusiasm start to die down.
Match #3: Lord Tensai (with his deshi Sakamoto) vs. Yoshi Tatsu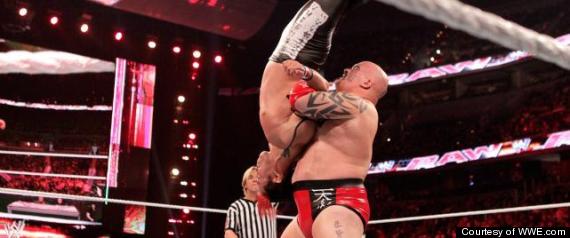 The J-Pop fan-favorite called out Tensai for dishonoring the traditions of Japan and challenged him to a fight via Twitter. In what may be a first for the navel-gazing social media tool, someone actually accepted. Tensai destroys Tatsu, while the crowd heckles him with chants of "Albert." (His previous incarnation as a WWE Superstar) The ref stops the match when Tensai knocks out Tatsu.
Winner: Lord Tensai
After the match, Tensai sprays the mysterious mist into his hand and applies the cranial claw to Yoshi.
Verdict: Good. Tensai's character is still in his introduction phase; the live crowd is going to make fun of Tensai for previously appearing as a hairy-backed "Hip Hop Hippo," but they'll eventually grow tired of it.
Recap From Last Week: Jericho Beats Down Punk with a Bottle of Whiskey
Match #4: WWE World Title Challenge - C.M. Punk vs. "The World's Strongest Man" Mark Henry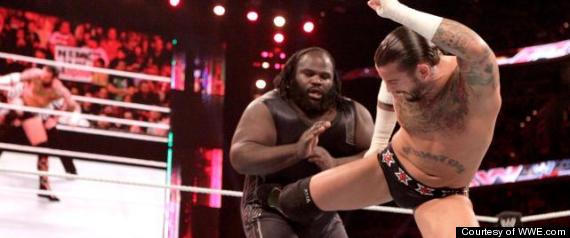 Before the contest begins, Punk explains why he chooses to be straight-edge: it's his business, and he didn't do it to be cool or gain sympathy. And if he was going to make it in WWE, he would do it by being the Best Wrestler in the World. He continues by stating that Jericho is bitter that Punk made him tap. When Jericho poured whiskey all over him, it reminded him of his alcoholic father and his troubled upbringing.
At this point, Jericho interrupts on the big screen to taunt Punk, asking if he's still hung over. He berates the champ for giving into what was in his genes, then throws in a "CM Drunk" for good measure.
Punk fires back explaining that all Jericho has done is fuel him to fight harder, and he will kick Jericho's a**. The mention of a**-kicking summons the beast Mark Henry from his slumber. He makes his way to the ring for his World Title challenge. The match doesn't go for long when Punk grabs a TV monitor and bashes Henry in the head.
Winner by Disqualification: Mark Henry
Punk is about to dish out more punishment, but Jericho strolls to the ring, carrying two twelve-packs of cheap beer. This distracts the champ long enough for Henry to regain his composure and take out Punk. He plants the Best in the World with a World's Strongest Slam. Jericho casually walks up to the downed Punk, ready to pour beer all over him. Chicago-Made springs to his feet fighting back, but Jericho knocks him out with CodeBreaker. He then gleefully pours half a dozen cans of beer all over the tattoo'ed hero. Refs finally pull him off and the Canadian Villain walks out, gloating to the crowd's disdain.
Verdict: Good. The feud between Jericho and Punk has only gotten more heated, more intense and more exciting. Both men are playing their parts excellently. But the most enjoyable surprise has been the way Mark Henry has been thrown into the mix as a powerful threat that Punk isn't taking seriously until it's far too late to do anything about it.
Match #5: Alberto Del Rio (with his personal ring announcer Ricardo Rodriguez) vs. "Long Island Iced Z" Zack Ryder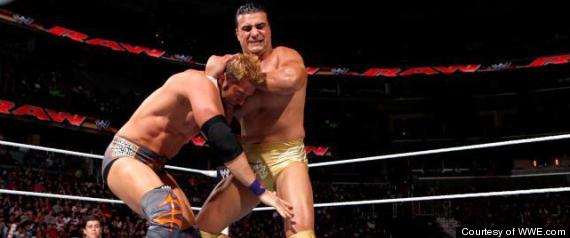 Just before the bell rings, we get a recap of SmackDown: Del Rio's chicanery handed Sheamus an unjust disqualification loss. Sheamus -- like any good sport and spokesman for an anti-bullying campaign -- took his wrath out on the official that made a bad call. Cole reiterates Johnny Ace's promise to reprimand Sheamus on tonight's live Super Smackdown. And you know what, Ace is totally in the right. But since this is pro wrestling, we get some weird backward logic where they build a show around superheroes that beat up everybody that gets in the way of their complete dominance; then they condition all the children in the audience to boo those who want to resolve conflicts through discussion.

Anyway, a short match is wrapped up when Del Rio makes Ryder tap out to the armbar submission.
Winner: Alberto Del Rio
Verdict: Bad. In case you think I'm contradicting myself from earlier when I said that bad guys need to win sometimes, the reason this match suffered was because it was so short. It was far too short for any real progression to happen for either Del Rio or Ryder. It was just there.
Backstage With The Three Stooges
The Stooges announce they are coming out to the ring -- meaning I only have this next commercial break to get to Washington and organize a mass egg-throwing protest.
In the Ring with the Three Stooges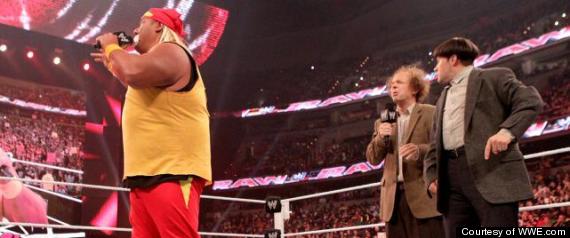 Moe and Larry wonder where Curly went when suddenly, "Real American" blares over the PA. Out walks Hulk Hogan... actually it's Curly doing a very convincing Hulkster impression.
Curly-Hulk proceeds to deliver a genuinely amusing and frighteningly accurate Hogan impression, imploring people to see "The Three Stooges." Despite the one funny joke that was achieved, the crowd boo's this whole segment. 20th Century Fox must love this "publicity."
The cheap shill is interrupted by Kane, much to the crowd's appreciation. Moe and Larry book it, but Curly stands his ground. He tries to Hulk up, but it's to no avail; Kane lays him out with a chokeslam.
Verdict: Ugly. There was a time when WWE knew how to entertain its audience, but this was when WCW and ECW were also on the air and wrestling fans had options. Without competition, WWE can not only get as complacent as it wants, but it can also appear shameless, tacky and desperate for Hollywood mainstream appeal by kissing up to whatever Z-grade movie is looking to promote to a captive audience that paid for something it's not getting.
*Will Sasso to his credit, took Kane's chokeslam without being cushioned in any way.
Josh Matthews Interviews Mark Henry
Henry reiterates that he has now beaten C.M. Punk two times in a row; he vows that he will become the next world champion.
Josh Matthews Interviews Brock Lesnar
After a commercial break, Matthews scores an interview with the UFC star. He asks Brock if he's proud to be back. Lesnar delivers some classic corn-fed trash-talking. According to Brock, Cena isn't qualified to hold his jockstrap. He then reminds the crowd that he took both WWE and the UFC to never-before accomplished heights; he's a war-machine and an a**-kicker.
Recap: The WrestleMania "End of an Era" Match
This was fine, but it should have been saved for the DVD, instead of taking up precious airtime.
Main Event: David Otunga vs. John Cena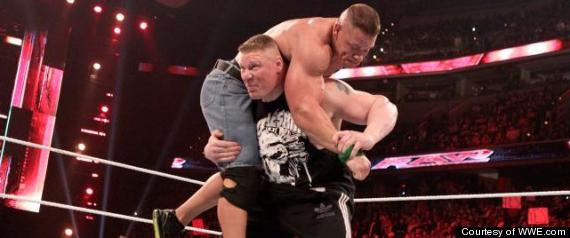 In a nutshell, it's a formulaic Cena match. He makes Otunga tap out in about 5 minutes.
Winner: John Cena
Lesnar runs out and kicks Cena below the belt. He picks up the prone "underdog" and lays him out with an F5. Ace, sitting at ringside, finally stands up to applaud Brock's actions. And we're out!
Verdict: Bad. The main event was an afterthought. Everyone was just waiting to see Brock come out and start brawling with Cena again. To their credit, that was an exciting final 30 seconds.
Show Verdict: Good (3), Bad (3), Ugly (4). This felt like those one of those dreaded 2009 Raws: all the wrestling (except Cena) was rushed to make way for a celebrity tie-in that does not interest the crowd. The only difference between then and now are Punk and Lesnar. Punk is allowed to have his "actual wrestling" corner of the show, while Lesnar is still such a unique figure in sports culture. The only way that he could become marginalized is from the sheer ineptitude of the old, out-of-touch, no-longer-hip producers of WWE. If they screw up his return and make him "just another guy" that Cena "the underdog" needs to defeat, then WWE deserves to go out of business.
The Real Main Event: The Punk-Jericho Rivalry. It was the only part of the show that wasn't a rushed afterthought or a momentum-killing "Stooges" promotion.
Honorable Mention: Will Sasso. In case you've learned nothing from Andy Kaufman, the best celebrity involvement in wrestling is pulled off by entertainers who are actual fans. Sasso has never been afraid to mix it up with wrestlers, dating back to his "MadTV" days.
The Curtain Jerker: Raw's Executive Producer. In just one week, they blew all the exciting goodwill built up by Rock and Lesnar's returns, with desperate Hollywood butt-kissing that turned off the live crowd.