WWE Raw: August 13, 2012 -- Episode 1003 or "Milk Does a HeartBreak Kid Good"
Quick Results
Match #1: WWE World Champion C.M. Punk defeated The Big Show by disqualification when Daniel Bryan interfered
Match #2: Ryback defeated JTG
Match #3: R-Truth defeated Heath Slater
Match #4: Sin Cara defeated Tensai
Match #5: Dolph Ziggler pinned Chris Jericho in a Triple Threat Match also involving The Miz
Match #6: Divas Champion Layla and Kaitlyn defeated Eve and Beth Phoenix in a tag team match, when Kaitlyn pinned Phoenix
Match #7: C.M. Punk and John Cena defeated The Big Show and Daniel Bryan in a tag tea mmatch, when Cena pinned Bryan
Match #8: Damien Sandow defeated Christian
Main Event: The contract signing between Triple H and Brock Lesnar went to a no contest when Lesnar kidnapped Shawn Michaels, held him hostage and broke his arm.
Last week, the stretched-out three-hour timeslot produced a dragging lifeless episode. With less than a week to SummerSlam -- the second biggest show of the year -- WWE needs to work overtime to create some excitement. The audience in Dallas better keep its fingers crossed.
The Good
JTG Says the Magic Word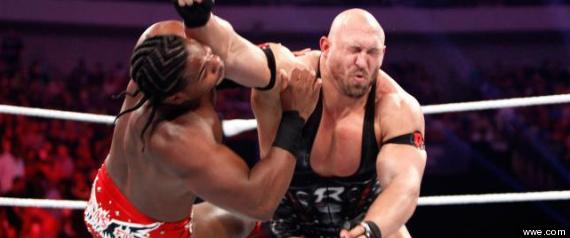 Last week, JTG (the real guy) complained on Twitter that JTG (the character) wasn't on Raw enough; so WWE put JTG (the character) on Raw to complain that he wasn't on Raw enough. JTG proceeded to use the "C" word in front of A.J. (no, "crazy") and got served up with a pummeling from Ryback. So JTG (the real guy) got what he wanted, in some twisted monkey's paw fashion. Only wrestling can do the "art imitates life" thing with this much transparency and timeliness. Pro wrestling is weird.

Bonus props for the writers continuing the "Sweet Valley High" drama that is Kaitlyn and AJ's former friendship.
The Audience Chanting "Feed Me More"
Are we living in the universe of "Rollerball" and "Death Race 2000"? It's always bizarrely hilarious to watch the bloodlust come out in an audience, be it for football or NASCAR crashes, but only pro wrestling can mimic the action figure-video game-Saturday morning cartoon id of the crowd. Pro wrestling fans are weird.
Roddy Piper and Shawn Michaels Interacting
It was brief (too brief in fact) but these two legends have rarely interacted in the past, making this a special moment.
Mark Henry Touting from the London Olympics
The Hall of Pain is sorely missed.
Booker T. Canceling the SmackDown Portion of the SummerSlam Main Event
Admittedly, it's a risky storyline idea to attempt with less than a week to the Pay-Per-View, but that's why it's intriguing. It helps give Del Rio more disgruntled edge, which works really well with his character. And it is leading to some great 11th hour SD intrigue.
At Least Tensai is Doing... Something
WWE has this tendency to give these big, intimidating characters "losing streak" gimmicks which totally neuters the intimidation factor. But at least Tensai's continuous beatings of Sakamoto allow him to show some semblance of rage as opposed to Jack Swagger who takes his losses and runs away with his tail between his legs. (Hey... where is Jack Swagger anyway?)
Piper's Old Man Ramblings Trying to Decipher #RawActive
I don't really see the point of it either, Hot Rod.
The Piper's Pit With Chris Jericho and Dolph Ziggler (and The Miz)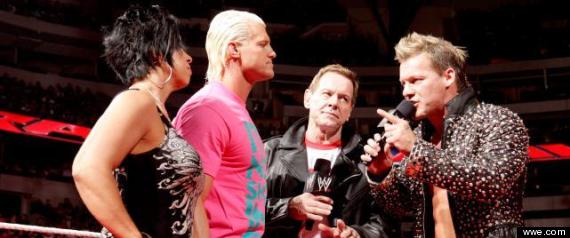 It was an ad-libbed mess, but you let it slide with Piper (he's earned it dammit). Jericho, Ziggler and Miz had one last shot before the PPV to do some trash talking and they stepped up.
The Ziggler-Miz-Jericho Triple Threat
This was the match of the night. Only the Daniel Bryan portions of the tag match produced the same kind of audience fervor.
Eve Being the Devil on Punk's Shoulder
I honestly thought she didn't have it in her, but she's doing really well with this antagonistic part. Her blatantly evil impulses are providing a nice juxtaposition to Punk's ever-increasing shades of gray.
The Barrett Barrage Continues
Another awesome hype video.
Daniel Bryan Continues to Steal the Show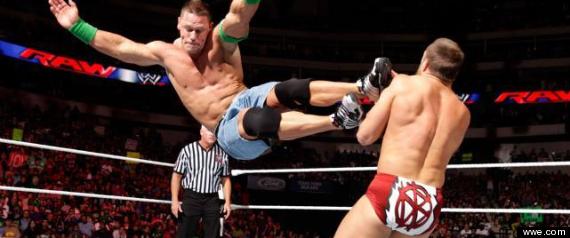 In a match with John Cena and C.M. Punk no less, Bryan produced the biggest emotional outpouring from the audience. His SummerSlam match with Kane will be good, but he's definitely earned a bigger marquee fight.
Sandow's First Main Event
Okay, it wasn't really a main event so much as it was a breather for the audience, but Sandow owned his segment, beating down Christian and brushing off Brodus Clay's distraction.
The Cena - Punk Rivalry
Writers did a much better job at maintaining the ambiguity of Punk's actions, as opposed to equating "disliking John Cena" with "treason."
The Triple H - Brock Lesnar Soap Opera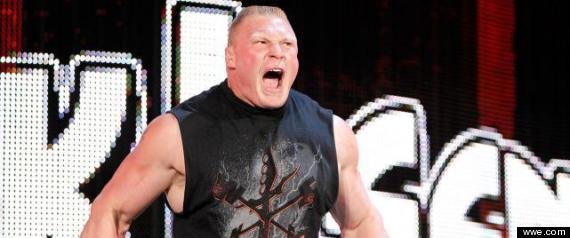 It was corny as hell, but it was damn entertaining. Everything from HBK's fear of running into Lesnar beforehand to Brock's gleeful assault was classic wrestling melodrama. Finally, this rivalry has regained the heat it had way back in April when Lesnar broke Haitch's arm.
WWE only had Lesnar for a certain amount of TV dates, so writers had to find some way to drag this feud out... but there must have been a more effective way to keep it compelling. We got the same video packages over and over again that just kept reiterating how badass Triple H was and how much of a coward Lesnar was. The more they beat it over our heads, the less impact the initial assault ended up having and the Game lost a lot of sympathy. They rebounded on the last show before the big PPV, but... come on guys.
The Bad
C.M. Punk: Perennial Curtain Jerker
If Punk is supposed to be the bad guy, why does the entire company continue to prove him right by not giving him the spotlight? When he's the freaking world champion?
Having Punk and Show open the show in a nothing match felt like WWE was just going through the motions. But then the match didn't even amount to anything because A.J. just scrapped the whole thing to put Punk, Show, Bryan and Cena in a main event tag match. (What was the main event going to be before this happened?)
Calling Big Show a "Force to Be Reckoned With"
He's never beaten Cena. Ever. Why is supposed to be intimidating? No, no stop! You can't say "Because he's tall." The Big Show is a big afterthought in this main event storyline.
Adding "Feed Me More" to Ryback's Theme
It wasn't necessary and reeks of WCW throwing in "Goldberg" chants to Bill's old theme. Let the fans chant it organically.
Triple H's Flight is Delayed
How convenient. It was a necessary plot device to add some tension throughout the show, but why would the CEO of a combat sports company -- who was stepping back into the ring to fight the superstar UFC fighter that broke his arm -- take such a last-minute flight in the first place? Wouldn't he want to be there to day early to prevent a flight delay from ever happening? I know it's nitpicky, but I don't care.
Slater Time(!) Didn't Lead to Anything.
Oh... well that was disappointing.
Poor Christian
Christian got soundly defeated by The Miz -- twice. Then he lost pretty soundly to Alberto Del Rio without regaining any momentum, so the Del Rio win didn't mean as much. But then Christian handed Antonio Cesaro his first loss on SD last week. Cesaro has been whooping Santino's butt every week and he has a title shot at the SummerSlam pre-show... but the loss to Christian sticks out. It would make sense if Christian was on the rebound and wanted the first shot at whoever walked out of the PPV with the U.S. title, but then he got trounced by Sandow.
If Santino wins on Sunday it will be like "big deal, Cesaro couldn't even beat Christian." If Cesaro wins, it will be like "why is he champ when can't even beat Christian?" If Christian tries to go for the U.S. title it will be like "Christian you've won one match in the last month, you haven't earned a shot." And if Christian just keeps losing without any direction that will be awful because Christian is awesome.
The Ugly
Primetime Players Minus AW
AW (the real guy) did in fact get fired -- not for the Kobe Bryant joke, but for tweeting in support of Linda McMahon's Senatorial bid; the McMahons are trying to draw very distinct line between Vince's WWE and Linda's CCC (Connecticut Congressional Campaign) and he committed a very major company faux pas.
The people who are really going to suffer are Darren Young and Titus O'Neil, who needed AW's over-the-top charisma.
Final Verdict
Good (15), Bad (6), Ugly (1)
Perhaps learning from last week's mistakes, WWE delivered a show that was actually packed with three hours of stuff. They put their best foot forward for SummerSlam.
SummerSlam
Pre-Show: United States Title Match - Santino Marella (Champion) vs. Antonio Cesaro (with Aksana)
World Tag Team Title Match: R-Truth and Kofi Kingston (Champions) vs. The Prime Players (Titus O'Neil and Darren Young)
Intercontinental Title Match: The Miz (Champion) vs. Rey Mysterio
Daniel Bryan vs. Kane
Triple H vs. Brock Lesnar (with Paul Heyman in his corner)
World Heavyweight Title Match: Sheamus (Champion) vs. ????? - To Be Determined on SmackDown
WWE Title Match: CM Punk (Champion) vs. The Big Show vs. John Cena - Triple Threat Match