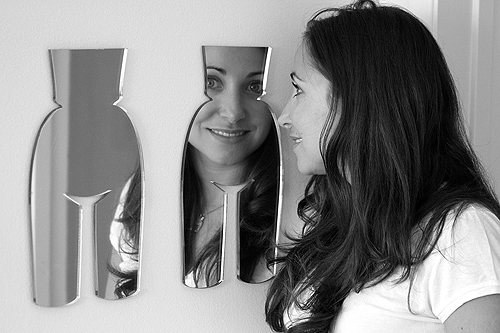 Allie Pohl, Venice Beach, Photo by Eric Minh Swenson
In the late-John Hughes 1985 sci-fi comedy "Weird Science", geek boy actors Anthony Michael Hall and Ilan Mitchell-Smith scheme a "perfect" woman out of their Memotech MTX512 computer. With a bit of hijinx they magically create the perfect brunette Barbie Doll played by a central casting 80's stiletto brick house woman, Kelly Lebrock. An infamous scene portrays Lebrock strutting herself along side David Lee Roth's rendition of "Oh, Pretty Woman." It was a combination of the Joel Silver, Simpson and Bruckheimer Hollywood 80s that paved the way of an unfortunate newfound class of women that are deemed shallow and plastic.

Decades later, Winter Park, Florida native Allie Pohl moved to Los Angeles after receiving her MFA from the University of Denver to define the "Ideal Woman". In my film, Pohl systematically defines the cultural trends of the ubiquitous Barbie Doll which she digitally enhanced to the Western societal ideal of 36"-24"-36". Women today spend thousands of dollars to nip tuck here and there, yet feeding into endless cash cows of dietary schemes and keeping fitness centers thriving during recessions.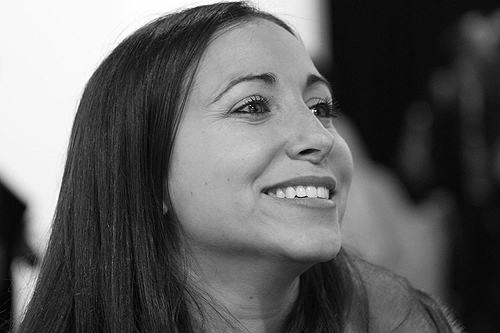 Allie Pohl, Venice Beach, Photo by Eric Minh Swenson
Allie Pohl says, "I have always been interested in why we follow certain cultural trends. For example, the concept of body hair and hair removal. Why do we remove it from some places and add it to others?" Pohl uses irony in her 24 waist, 36 butt, porcelain torsos. In one of her sculpture series, Chia grows from "unwanted" areas; the armpit, the midsection, and the leg. The sculptures are transformed from pre pubescent to womanhood during the time of their installation. She also has created a torso with Swarovski crystals down the front in the shape of a Brazilian. This piece is titled Jennifer Love Hewitt referring to the trend of "vajazzling." This became the proverbial "landing strip," which Pohl displays on some sculptures, has been pervasive throughout the 80's and 90's. These enhancements of "clean shaven" waxes of today subconsciously deal with women feeling younger and infantile, yet feeding into men's perversions of dominating the young, prepubescent and adolescent. Hence our fascination with the Barbie Doll.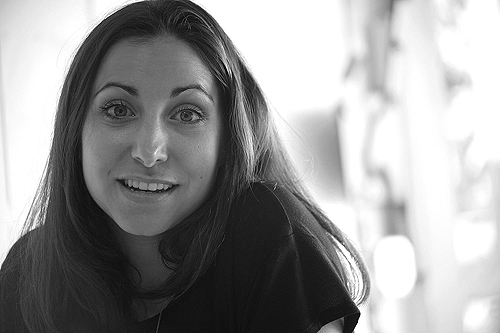 Allie Pohl, Venice Beach, Photo by Eric Minh Swenson

Admitting to a small bladder, Pohl also traverses a mission to photograph herself going to the restroom in chic bathrooms throughout LA hotspots in her "Hot Seat" photo series. I have recently been thinking about rituals that we do everyday but that we don't necessarily think about or concentrate on. 'Hot Seat' gives the viewer a glimpse into one of a woman's most personal acts while still humanizing it." Pohl has visited the restroom in Gagosian Gallery, Jumbo's Clown Room, the Chateau Marmont, and many more.

Pohl invites us to look into the mirror and analyze Freudian psychoanalysis of penis envy, Oedipus and Elektra Complexes through her use of a Go Pro 'strap ons device' which she uses in her different film series. What could be mistaken as vagina POV or foot fetish films, Pohl reverently captures female bathing rituals to the staccato pounding of heels alongside Hollywood Boulevard's Walk of Fame.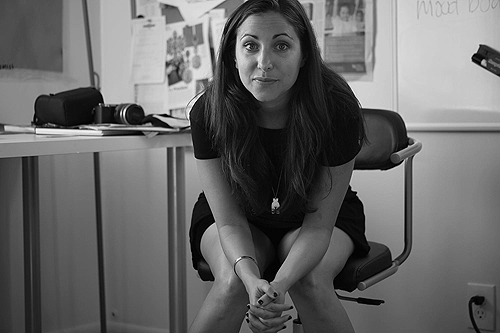 Allie Pohl, Venice Beach, Photo by Eric Minh Swenson

Finally, Pohl deconstructs humanity's sense of the ideal woman that has seemingly become chic to the point of absurdity and worship. In my film, we observe a youthful exuberance of Allie Pohl, yet deftly articulated in a well-thought out presentation of the research she surrounds herself in her studio and workspace.
Here is the film I did on Allie Pohl: