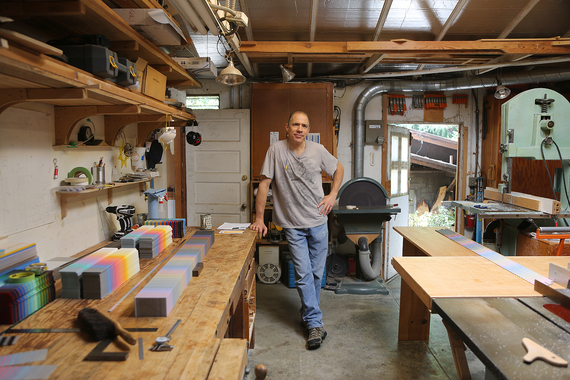 Los Angeles native, Eric Zammitt, in his Altadena studio near Pasadena. Photo by EMS.
Start the Hanz Zimmer soundtrack...
In my latest documentary film, Breaking Beautiful , Los Angeles based artist, Eric Zammitt, takes it to another level in my Take 1 Art Series. Take 1 is a series of short films I've directed over the years on creative people and art exhibitions throughout Southern California.
What makes this film special in the series is the unprecedented access Zammitt gave me to his process, a process bordering on acute lunacy, obsessive eroticism, and a determined prowess to enlighten and mystify. Numbered as Film # 461 in my Take 1 Art Series, I have never before visited a studio to film an artist in such a short amount of time. It took approximately 13 visits over a few months to produce this 24-minute film.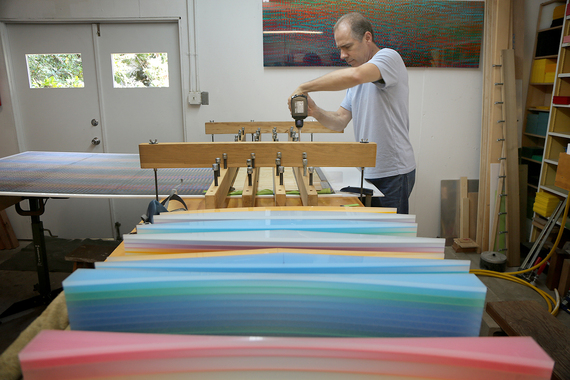 Eric Zammitt in the studio. Photo by EMS.
In the film you will witness interwoven and glued polymers that are sanded and polished into what Zammitt confidently calls "paintings." Unconventional to most viewers vocabulary of what a painting is, Zammitt utilizes acylic plastics to shape them into layers of Plexiglas resolved into abstract geometric layouts in arrangements that are modulated. The breathtaking machine work is so precise, yet awesome in micro and macro.
What fascinated me the most is the machinery in the film that are essentially functioning art pieces Zammitt designed to create his work. When I asked Zammitt if he was worried that other artists may copy his methods by the information laid out in this film, he simply replied, Let them try."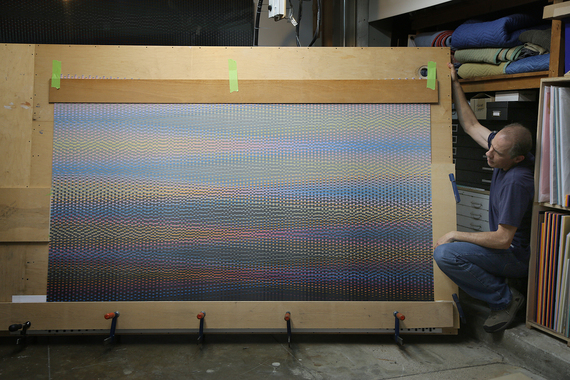 Eric Zammitt in the final stages of a painting featured in our film. Photo by EMS.
Whether its alien or ancient sci-fi language, there's a simplistic micro-edge fetishism in Zammitt's work that is more Zen and clarity, then actual process. However, in this film I'm proud to show that the process is the art and that the becoming that inevitably hangs on the wall is the mere monument of the process. See the film below...