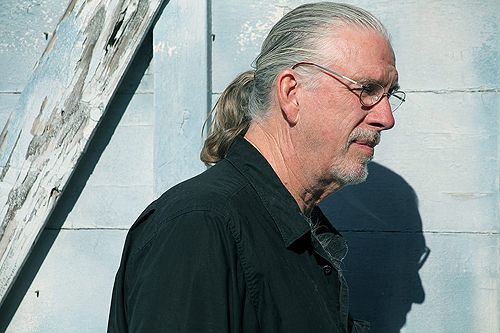 Eric Johnson at his San Pedro, California studio. Image by EMS
I recently shot and produced a 20-minute film on abstract resin-artist Eric Johnson in his San Pedro studio. My film survey of Johnson lasted four weeks, with two studio visits, a gallery installation, and his opening reception for his Monochromicorn at William Turner Gallery in Santa Monica. The show features the 14-foot Maize Project that is shown at the end of our film, which may be Johnson's current magnum opus. It may be hard to imagine that Johnson can top that behemoth, but knowing Johnson like I do now, there is no shortage of scale when it comes to the ideas and passion of this man.
If you ever get the privilege to visit Johnson's rusty cactus garden that is his studio near Long Beach, one will smell the Pacific Ocean and feel the California sun bathe his semi-open air working environment. There polyester resin is spun on acrobatic gimbals in molds that are shaped like organisms from the solar system or the human body.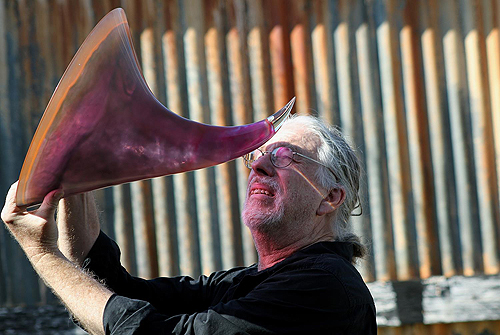 Image by EMS
Also striking in the composition of Johnson is his willingness to be a team player. There are numerous artists that he has invited over to learn his secrets, whose careers have benefited from his mentorship. Johnson likes to articulate his work to others, which is evident in our film. He has collaborated with many artists and non-artists, and in the art world at-large, where every artist prides them self an individual, Johnson had merged the concept of individual and teamwork into a science where a collective DNA of collaboration is embedded in his work.
I first met Johnson at the grand opening of the Museum of Art and History in Lancaster earlier this year. At the time none of us knew each other, but as the artists entered the main exhibition room where I was stationed, it was Johnson who stood out the most. He was wearing his signature style clothing and hat.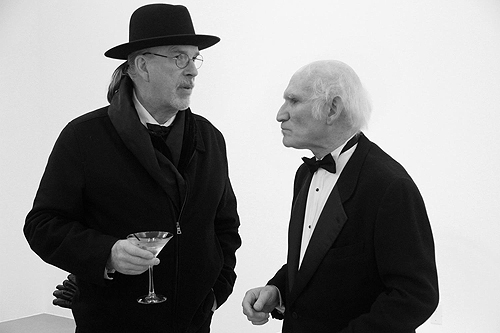 Eric Johnson and Peter Frank at the MOAH grand opening. Lancaster, CA. Image by EMS
He looked like David Carradine out of Kill Bill or an Elvis side-kick at the Las Vegas Flamingo. If Sergio Leone was still around I could see him casting Johnson in a Western -style Mexican standoff at the Salton Sea. Perhaps Robert Rodriguez could use Johnson in his next film. If Francis Ford Coppola decided to redux the redux of Apocalypse Now, Johnson could fill the Frederic Forrest roll as they follow the Nung River while Johnson is sharing his favorite pulled pork recipes. Too bad Tony Scott never finished his remake of the Warriors where the rumored climactic battle was to take place on the ominous Vincent Thomas Bridge. I could see Johnson squaring off with Edward James Olmos like Gary Cooper in High Noon in an about face between the Crips and the Pachucos.
Okay, now I'm daydreaming a bit too much here, but the reality is that I got to film Johnson and get a bit of art education that spans the DNA of DeWain Valentine, Tony DeLap and Craig Kauffman.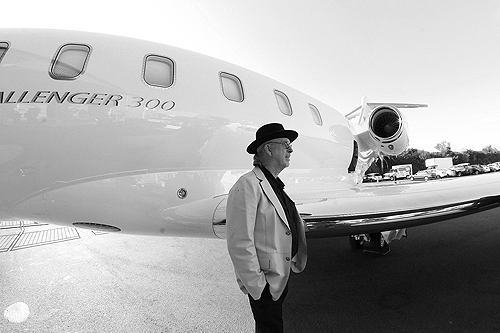 Eric Johnson at Art Platform. Venice Beach, CA. Image by EMS
Whether Johnson wields a sword and brandishes a six-shooter or comes with an Ennio Morricone soundtrack or cue Wagner's "Ride of the Valkyries" when he enters a room, Johnson may seem larger than life fit for the silver screen, but in reality he's a stylistic humble guy who's as smooth as plastic, slick as a Ferrari, and yet is minimal in his approach to life.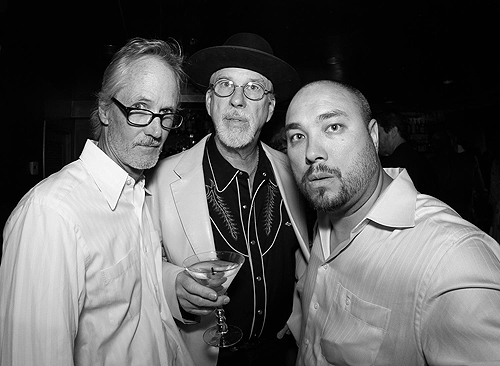 Ned Evans, Eric Johnson, and Eric Minh Swenson at Andy Moses/Kelli Berg wedding.