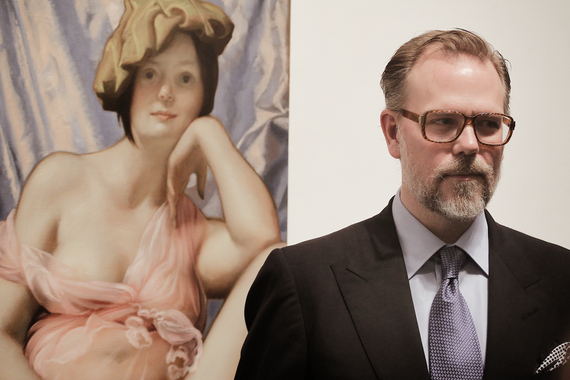 John Currin at Gagosian Gallery opening night. Photo by EMS.
"I find I can't get rid of my trashiness as an artist. A lot of my themes in painting, to the extent that there are intentional themes, are meant to bring that conundrum into high relief." -- John Currin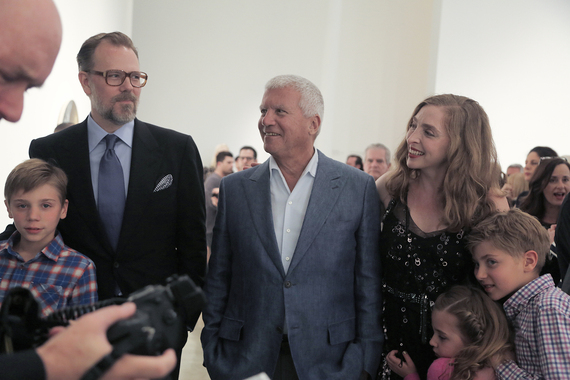 John Currin and his family with Larry Gagosian. Photo by EMS.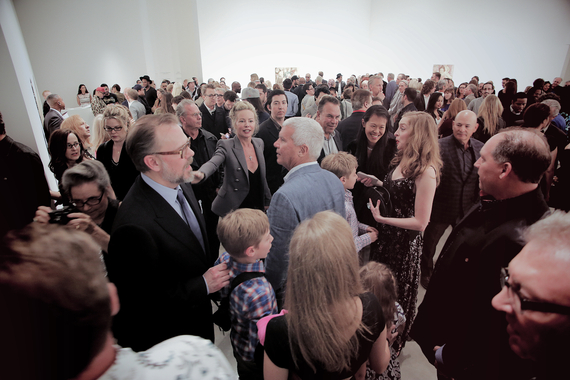 A reverie of patrons, collectors, movie stars and moochers. Photo by EMS.

The Gagosian Gallery in Beverly Hills held its pre-Oscar exhibition with New-York-based master painter, John Currin. The opening was held this past Thursday, February 19th. Currin arrived with his wife and children by his side, and although this was Currin's night to shine, he adoringly gave his family most of his attention. Having covered hundreds of openings in my career, I can say that the whimsical display of Currin and his beautiful wife and accomplished artist, Rachel Feinstein, playing with their kids in the hallowed hall of the Gagosian's empire, seemed as if a fairy tale was unfolding right before my eyes.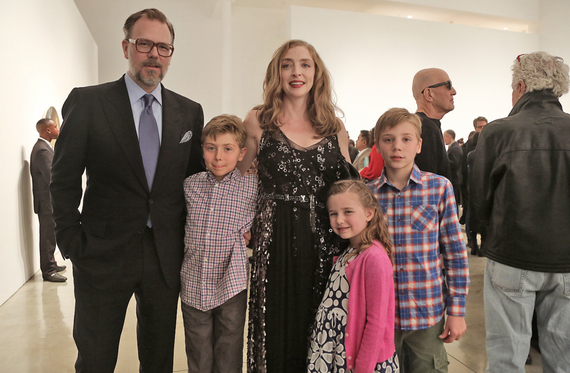 John Currin with his wife Rachel Feinstein and the kids. Photo by EMS.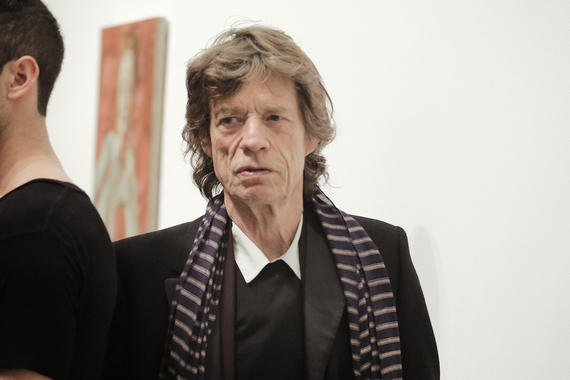 Mick Jagger of the Rolling Stones. Photo by EMS.
Larry Gagosian was beaming with excitement in seeing the Currin kids having so much fun. It was like a family reunion of sorts, amidst the awestruck crowd of patrons, collectors and art world moochers. The kids even hammed it up for my camera, at one point asking if I could take their pictures, as to kill a little time before they were swept away to an exclusive post dinner at Mr. Chow's down the street.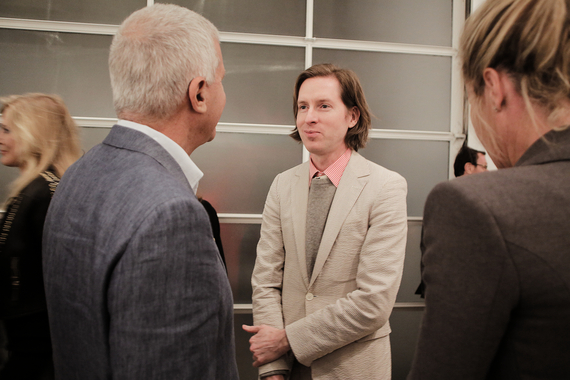 Filmmaker Wes Anderson's film, 'The Grand Budapest Hotel' was up for nine Academy Award nominations. Photo by EMS.

Currin was signing books with distinguished gentleman, while Rachel Feinstein led Elton John on a docent tour of the exhibition. All the while salivating bystanders were snapping their smartphones, and burning up their Instagram. Elton John was grand as usual. I broke my lens when I was trying to get pictures of his shoes. It fell out of my bag and made a sickening thud on the floor. The filter shattered, but I had two more lenses.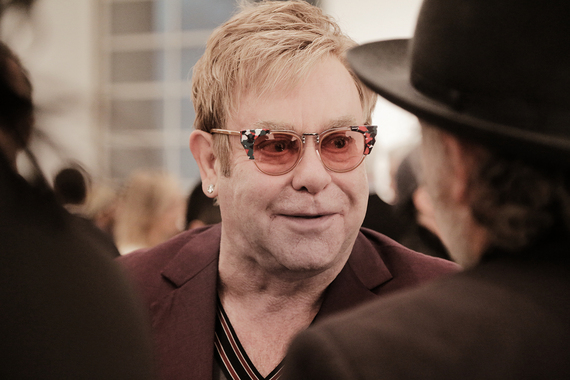 Elton John in full regalia. Photo by EMS.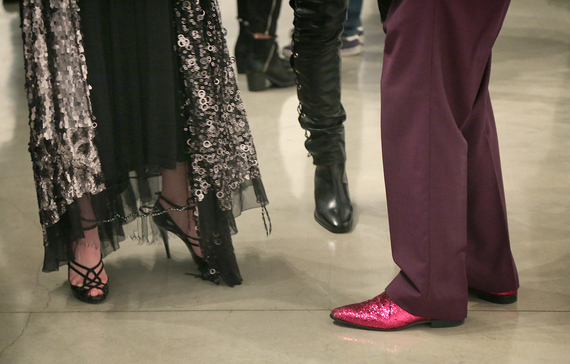 Who can guess the shoes worn by Rachel Feinstein and Elton John? Photo by EMS.
As I posted the event in real-time through social media, many in the art world felt shattered themselves, as they were not in attendance. They did not even know that Currin had an opening. It made me wonder, how did you NOT know this? It also made me ponder the parallels... you're at home... and the art world magnates are here. In the same way the legends are at the Oscars and the wannabee actors are at home wishing they were at the Kodak.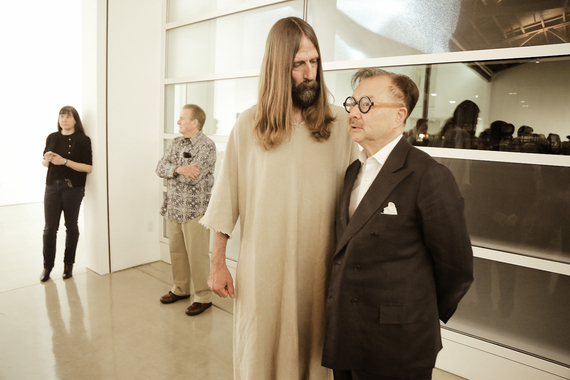 Jesus Christ and Mr. Chow. Photo by EMS.

It is what it is. This was no fairy tale night for those dreaming at home with little butterflies of confusion and angst wondering, "How did I miss this event?" For many in the room it was a vivid reality of a zenith of success as Escalades and Bentleys were loitering outside. This is the place that slated Currin a pre-Oscar party, an A-list venue, and an A-list restaurant.
Then there was Harvey Keitel who stole the show for me as people were fainting over Mick Jagger. Interesting that I had recently and randomly watched Taxi Driver a few nights before. I spent that night wondering what life may have been like for him if he had remained cast in Apocalypse Now. From there I recognized Julian Sands from one of my favorite films, Leaving Las Vegas. While Mr. Chow was taking pictures with Jesus Christ, the illustrious directors of LA/LACMA/MOCA/INC. showed up looking distinguished as ever.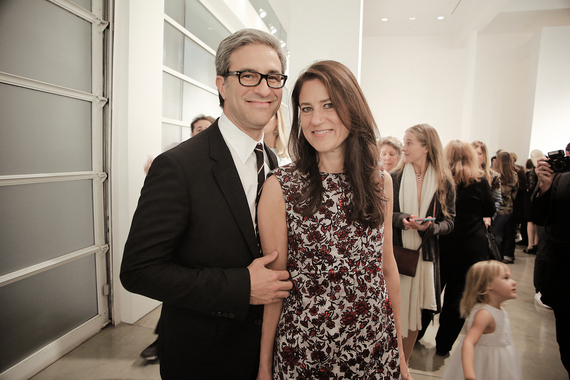 LACMA director Michael Govan and his wife, Katherine Ross. Photo by EMS.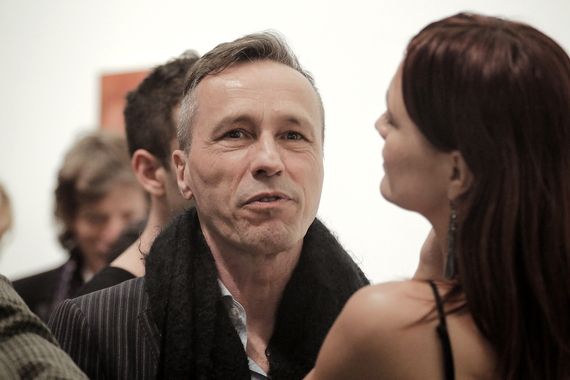 Michael Wincott. Photo by EMS.

It was a night to remember for Larry Gagosian and it was surely a night to remember for John and Rachel, but perhaps, in the end, it was mostly a night the kids would never forget.
This article is part of an ongoing photojournalism survey of art exhibition openings titled EMS N(art)rative. Through my lens I document a photographic essay or visual "N(art)rative" that captures the happenings, personalities, collectors, gallerists, artists, and the art itself; all elements that form the richly varied and textured fabric of the SoCal art world. This reconnaissance offers a unique view for serious art world players to obtain news and information on the current pulse of what's in the now, yet capturing timeless indelible images for posterity and legacy. Here is EMS N(art)rative Sixteen.