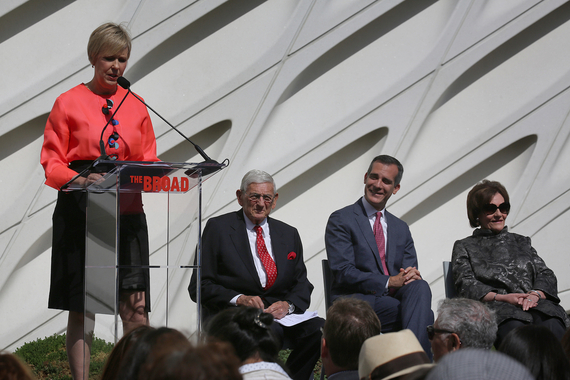 Joanne Heyler, Eli Broad, LA Mayor Eric Garcetti, Edythe Broad at the press preview. Photo by EMS.
The long-anticipated inaugural and latest Los Angeles art scene landmark, The Broad, opened its doors to the public on Sunday, September 20, 2015. The unique building designed by Diller Scofidio + Renfro in collaboration with Gensler is adjacent the Walt Disney Concert House and across the street from the Museum of Contemporary Art (MOCA). This triumvirate of arts and culture provides an international audience a prime destination on the appropriately named Grand Avenue in downtown Los Angeles. The opening of The Broad cements Los Angeles as a major contender for worldwide dominance in excitement and energy benefiting from a renovated and burgeoning cultural hub as downtown LA continues its rapid expansion of major galleries setting footprints in what was recently a barren no man's land.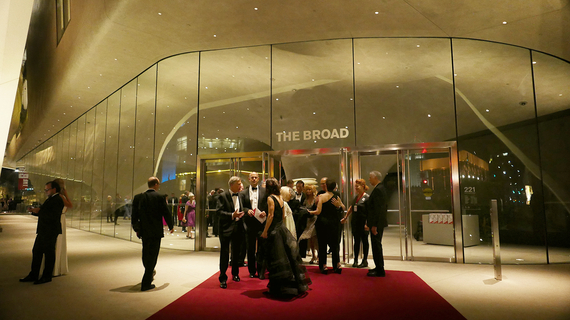 The Broad Gala on Thursday, September 17, 2015. Photo by EMS.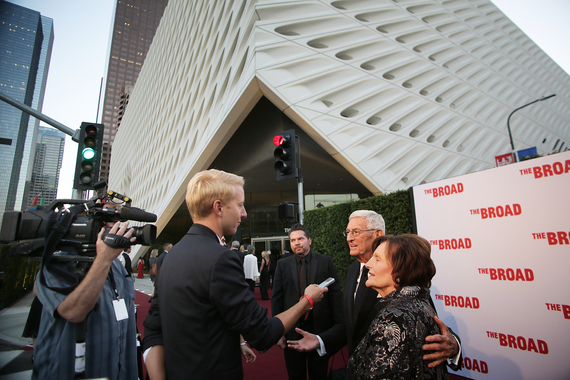 Eli and Edythe Broad at the gala. Photo by EMS.
The museum was founded by philanthropists and art collectors Eli and Edythe Broad, and will be open an accessible six days a week, Tuesday through Sunday. Most importantly the Broad will have no admission just like The Getty. The Broads contribution to the city of Los Angeles and the region cannot be understated, "Edye and I are delighted to welcome the public to our museum," said Eli Broad. "We built this collection and this museum so that contemporary art could be accessible to all. We cannot imagine a more fitting home for our collection and our museum than on Grand Avenue, where we join some of the world's leading cultural institutions."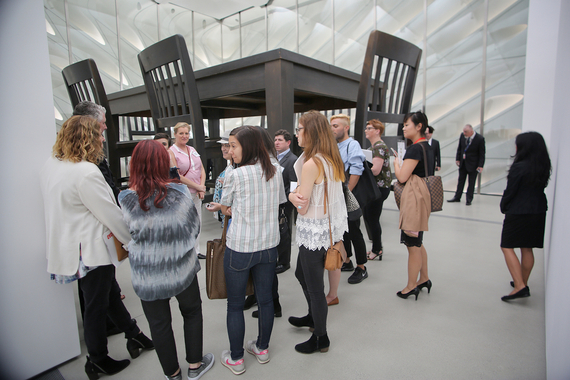 Robert Therrien art at the Broad inaugural opening. Photo by EMS.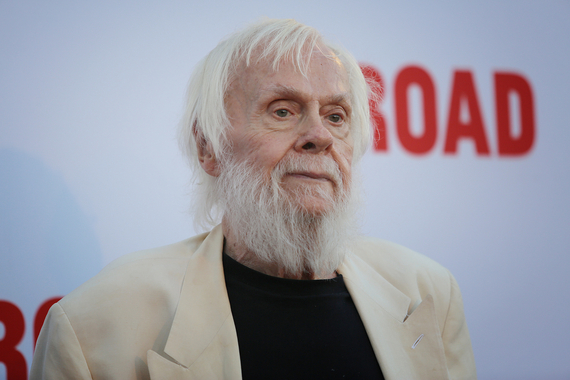 John Baldessari. Photo by EMS.
Added Joanne Heyler, founding director of The Broad, "After years of planning, we are excited to throw open the doors to the museum that Eli and Edye have given to Los Angeles, and we can't wait to invite the public to engage with and explore our collection of contemporary art within this new architectural landmark that is a work of art itself."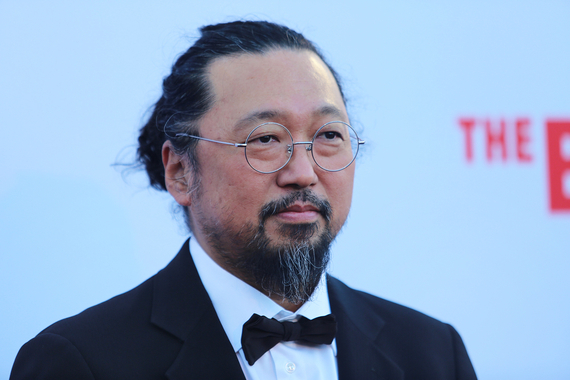 Takashi Murakami. Photo by EMS.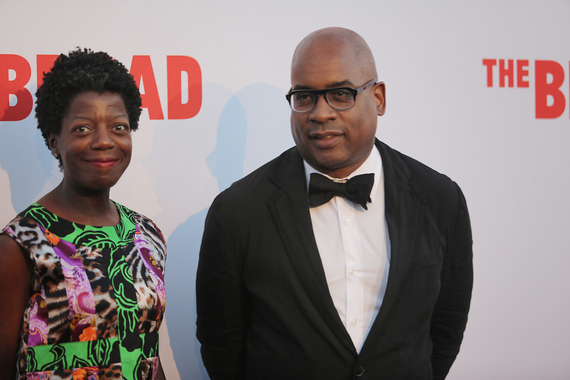 Glenn Ligon. Photo by EMS.

I had the opportunity to document the press preview on Wednesday, September 16 at 10:00 AM. Instagram were abuzz as the first posts of monumental Jeff Koons mirror-polished "Tullips" and "Balloon Dog (Blue)" started reminding Angelino elitists that their punching bag Koons was here to stay. Yet, for the proletariat class it was a welcome addition to heralded art from New York City. What is also meant for museum hierarchy's (who sent platoons of their own staff to help on opening day) is that the allure of Koons meant big news, big money, and big shiny things to allure the hoi polloi to renew memberships and reinvigorate talking points that Los Angeles is internationally sophisticated with it's scope of exhibitions.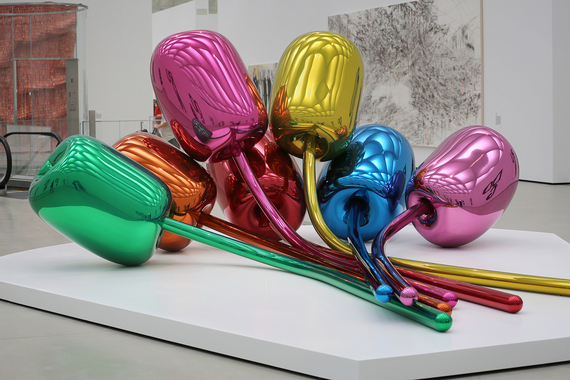 Tullips by Jeff Koons. Photo by EMS.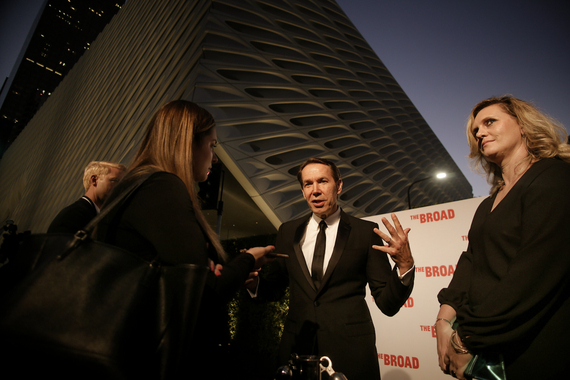 Jeff Koons. Photo by EMS.
For the inaugural exhibition, Joanne Heyler selected more than 250 works by some 60 artists to present the magnitude of blue-chip art in the Broad collection. Heyler states, "As vast as the inaugural installation is, very few galleries show the full depth of our holdings in the work of any given artist," Heyler said. "This presentation gives the public just a hint at the totality of the collection--and a reason to come back many times to see fresh rotations, new acquisitions and in-depth special exhibitions."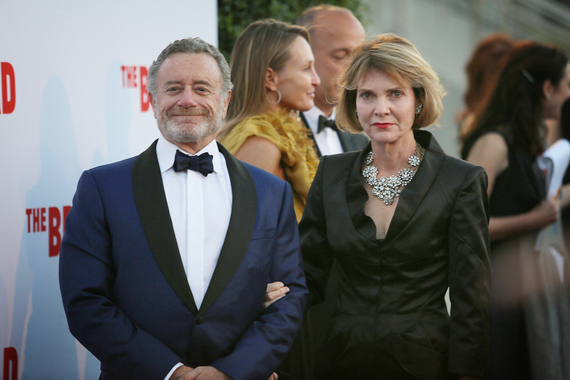 CEO of National Public Radio and art collector, Jarl Mohn. Photo by EMS.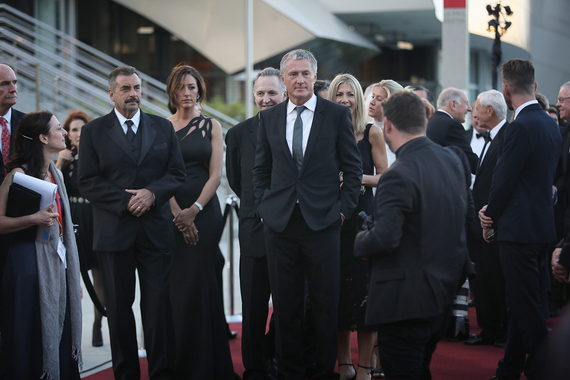 New York-based art dealer David Zwirner. Photo by EMS.

The mind blowing scope of work in the exhibition begins chronologically in the 1950s through the 1990s, with works by artists Jasper Johns and Robert Rauschenberg, as well as classic Pop works by Andy Warhol and Roy Lichtenstein. Officials state, "The installation continues with concentrated installations of art from New York's East Village and SoHo scenes (with incomparable depth in the work of artists including Jean-Michel Basquiat, Cindy Sherman and Jeff Koons) and then moves into the 1990s with works by Glenn Ligon, Andreas Gursky and Julie Mehretu, among others. Works that testify to the Broads' sustained engagement with artworks containing social and political content include pieces by David Wojnarowicz, Cady Noland, Kara Walker, Anselm Kiefer and Mike Kelley."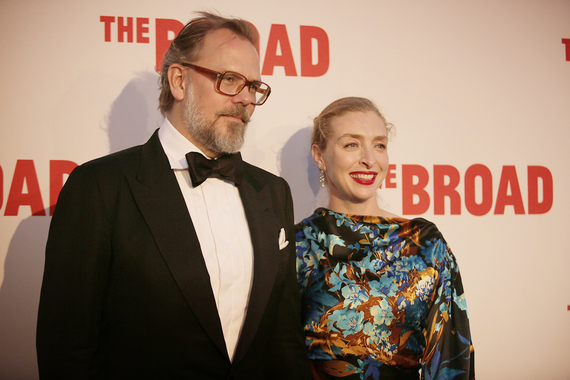 John Currin and Rachel Feinstein. Photo by EMS.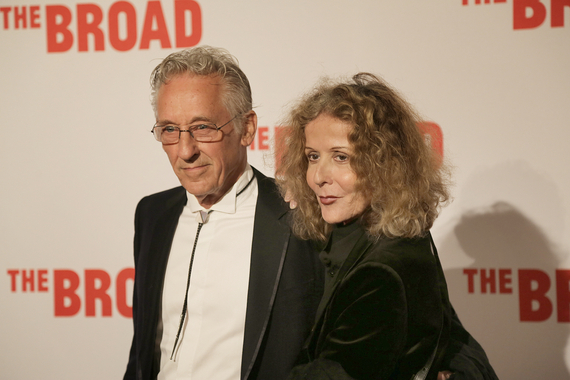 Ed and Danna Ruscha. Photo by EMS.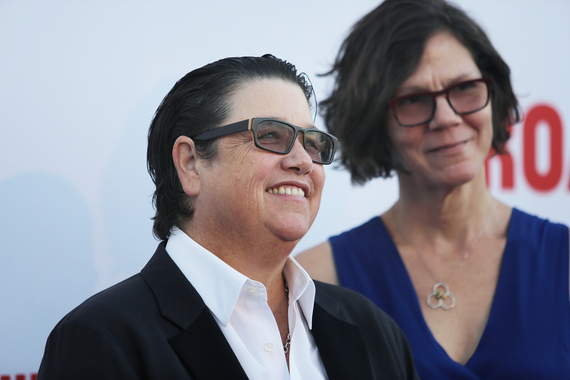 Catherine Opie. Photo by EMS.
Los Angeles, known for its creativity, entertainment, and lifestyle has always been the ugly stepchild of New York and London's depth of sophistication. LA's own arts scene has always been in the shadows of Michael Bay's Hollywood tent pole franchises, Marvel Comic films, and reality shows. However, the noise and mega-commerce of Hollywood is starting to hush with quiet harmonies of classical music where on one street on Grand Avenue a sophisticated lineup of institutions now exist : The Walt Disney Concert Hall, the Museum of Contemporary Art, the three venues of The Music Center, the Colburn School, the Cathedral of Our Lady of the Angels and the Ramón C. Cortines School of Visual and Performing Arts, and now the Broad.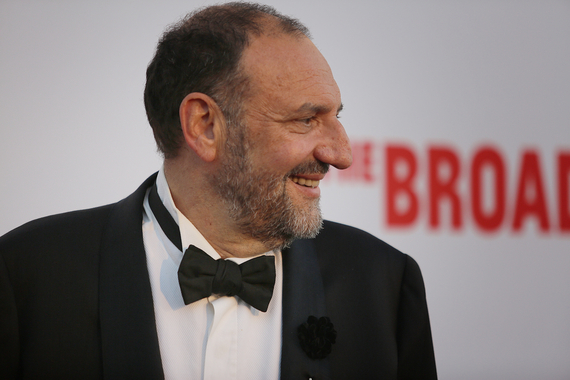 Film producer Joel Silver. Photo by EMS.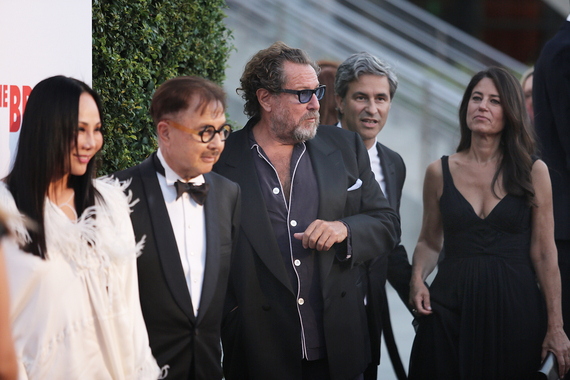 Eva and Michael Chow, Julian Schnabel, Michael Govan, Katherine Ross. Photo by EMS.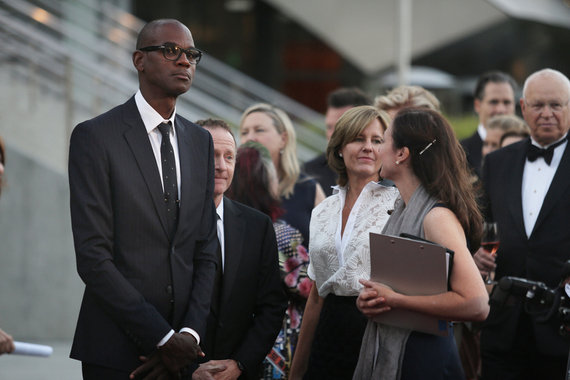 Mark Bradford. Photo by EMS.
Where, in many cities, you have only one cultural arts center to go to, Los Angeles has rich pockets of cultural centers in Pasadena, Wilshire's Museum row, mid-ctiy's La Brea and Highland corridor, Culver City, Pasadena, Santa Monica, Culver City and now downtown LA (DTLA).
Oh...did I even mention Hollywood...(or has it become an afterthought?)....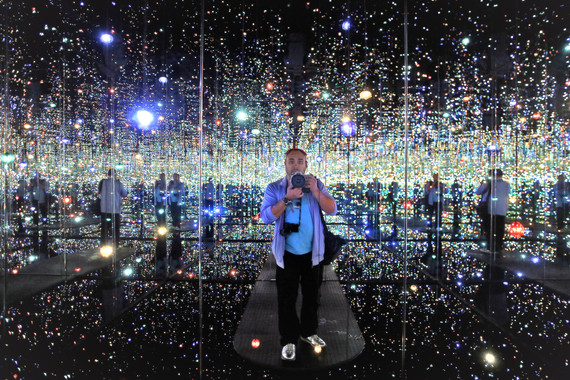 Self-portrait inside Yayoi Kusama's Infinity Mirrored Room. photo by EMS.
This article is part of an ongoing photojournalism survey of art exhibition openings titled EMS N(art)rative. Through my lens I document a photographic essay or visual "N(art)rative" that captures the happenings, personalities, collectors, gallerists, artists and the art itself; all elements that form the richly varied and textured fabric of the SoCal art world. This reconnaissance offers a unique view for serious art world players to obtain news and information on the current pulse of what's in the now, yet capturing timeless indelible images for posterity and legacy. Here is EMS N(art)rative Thirty-One.