When I was studying abroad in Rome during my university years, I dormed with a barely five-foot fire cracker named MariaGrace. Like me, she was Italian-American, and together we had enough cousins in and around Rome that we never had to worry about dinner nor finding something to do. When we weren't diligently studying, we were hanging out in Rome's piazzas with her cousins Paola and Daniele, who were closest to us in age, or we were having dinner with my three octogenarian great-aunts, akin to the three Fates, slicing homemade pasta instead of thread. During one of our last weekends in Italy, she brought me to her mother's hometown of Terracina and for the next fifteen years, I reminisced about salty air, a looming arcaded temple and a cow in the middle of the road.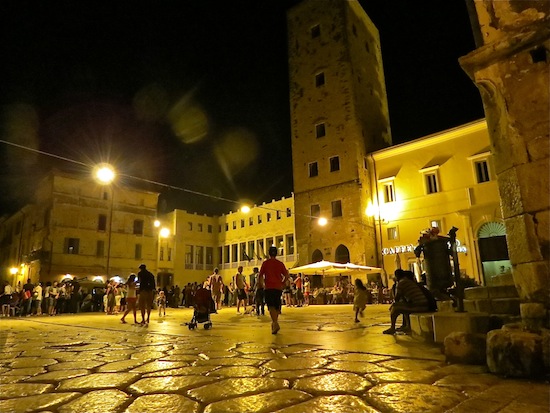 Less than a 90-minute train from Rome, Terracina is the perfect weekend getaway from Rome. A double city of ancient hill town and modern beach community, it is easy to fall in love with Terracina for its archaeology, salt water and unbridled reinvention. As early as the 6th century, Terracina was under Roman dominion and subsequently re-conquered throughout the 5th and 4th centuries. In 312 BC, the Via Appia was built to connect Rome to the Adriatic coast, conveniently passing through Terracina and giving the city easy access to the Empire's capital. The smooth stones of Via Appia still run through the hill town's first piazza.
Terracina waxed and waned with the rise of the Papal Dominion during the middle ages, and was pulled in a tug-of-war between the Papacy and the Kingdom of Naples until the 1870 Unification of Italy settled the ownership issue. The 20th century changed Terracina's personality from quiet to busy. Mussolini led a successful campaign to drain the Pontine marshes and rebuilt beach communities from Anzio to Terracina, creating popular and well-connected summer destinations. The 1943 arrival of Allied forces meant bombings to Terracina and several other cities throughout the nine-month German occupation, leaving the second half of the 20th century to rebuilding.
Today, hilltop Terracina quietly rests above the busy beach town where MariaGrace and I once hung out listening to Jovanotti rap, checking out Terracinese boys and eating thin-crust pizza. My perfect weekend means hours in Piazza del Municipio doing absolutely nothing. Built on the remains of the Foro Emilia, Piazza del Municipio has two cafés with preferred setting, whether a 14th century cathedral, 20th century fascist municipality building or the steps to a 1st century temple. Roman remnants, like arches, statues, temples and theatres, play hide and seek throughout the city. Just above the town is Monte San Francesco's where Terracina's ancient Temple of Giove Anxur, 2nd century BC, watches over the Terracinese coast.
Ten minutes downhill is modern Terracina with a grid layout that greets the beach in five minutes by foot. There are thirty-plus beach clubs, stabilmenti that rent umbrella and chaise daily, weekly or monthly, and are usually situated between beach side trattoria where we have spaghetti alle vongole for every lunch. My choice in beach club is simple, MariaGrace told me where she has been going since the 1980s and now our daughters meet at Sirenella in the summers to build sand castles and eat grattachecca, flavoured, shaved iced. Our nights bring us back to Piazza del Municipio for local music and dance performances, when we are not hanging out down the hill, listening to Selena Gomez, surreptitiously checking out boys and debating whether or not we should hop on Easy Rider.
Terracina is easy to reach via car, bus and train, a 13.80 euro roundtrip ticket on TreniItalia. For more information on Terracina, visit Comune di Terracina, Little Italy Tours, and Stabilmenti di Terracina.
PHOTO GALLERY
Weekend Getaway: Terracina