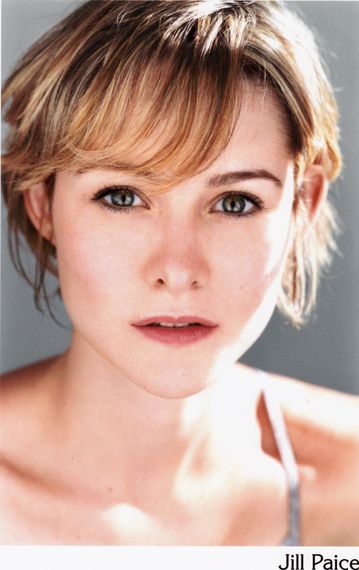 Broadway actress Jill Paice is having the time of her life playing the role of the rich American heiress Milo Davenport in An American in Paris on Broadway. I caught up with her before her Thursday night performance to talk about getting her heart broken, playing the character Milo in An American in Paris, her hobbies and more.
So I was just browsing your Etsy.com page before this interview. So cool that you do that! Have you always been craftsy?
Not always. Alot of it started a few years ago when I was in a show called Death Takes A Holiday. I needed something to do that didn't require me talking during the day. So I started doing that..
How did you come up with the shop name Apartment Number 8 - was it your apt?
YES! That used to be my apartment number on the Upper West Side.
Your show is based on the 1951 film by the same name. Had you seen the movie when you signed up for the role?
I hadn't seen the show, and I still haven't seen the show which is a conscious choice at this time. As Milo was being written, I started to draw more inspiration from Turner Classic films - other leading ladies from Hollywood from that era but not necessarily from An American in Paris itself.
Describe your character Milo in An American in Paris.
She's very much the leader. She drives the scenes that she is in. I always say that she is a rich heiress coming to Paris after the war. She is very modern. And I don't necessarily think she is looking for love but Jerry challenges her and she is drawn to him.
She's not looking for it but she does fall in love with him.
Yeah. And there was a change even from when we were performing in Paris. We added some lines in there to show that she was really in love with Jerry.
Jerry ultimately breaks her heart. What do you draw upon in your own life in playing this character?
I've faced rejection quite a lot. I have various experiences I can remember, especially my first boyfriend in college. Going thru that breakup really informed me about love and losing love. Even though I look back and feel like I was such a kid back then! In movies, though, it's a very romantic thing to be on the losing end of love. It's very dramatic and takes you through a range of emotions. It's a club that nobody wants to be in but we are all members.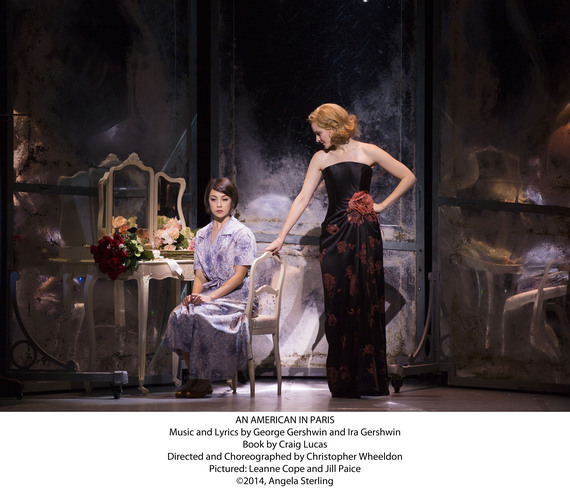 You are currently in previews. Do you get nervous before you go on-stage every night?
Well, the first time we do it in front of the audience is the peak of nerves. You don't know how its going to go and whether people will laugh.
You can't tell. I was there the first night of previews and you were incredible.
Thanks. The first night is an interesting performance to come see because the adrenaline is so high and we don't know how it's going to go. It's a cracking show to be a part of.
For sure - there was tons of energy and excitement in the air. Now, before Broadway, you were performing this show in Paris. What was Paris like?
I don't speak French so being out of your element and having to think - even when getting a coffee - is challenging. And at first it was lonely. Even though I would go to the theater at night and be around all people who do speak the language, I found it isolating. But Paris is such a beautiful city and I think eventually that isolation becomes romantic.
You were cast as the lead in the show Rebecca in 2012. That production lost funding right before it was set to come to Broadway. That must have been difficult.
It was heartbreaking. The timing of it in particular. There were delays in funding and first we were told that the guy that had the money to fund it had malaria. But it turns out the entire thing was a fraud and lies, all leading back to this middleman. He had invented four fake producers and he was supposed to be acting as middleman to get the money from them but of course never did. He is now in jail but it dragged on for months and months. And we got a call on a Sunday when the show was supposed to start rehearsals that next day and were told that it had been cancelled because of the lost funding but to please come in on Monday morning because they wanted to talk to us. So, on Monday, we were standing in the rehearsal room and its all set up for rehearsal to begin and you just expect someone to jump out and say "just kidding we have the money". You couldn't have even thought to write a script about something like this.
You could almost write a musical about making the musical!
You really could, and I'm surprised Smash didn't pick it up as a storyline because it was very dramatic and heartbreaking to be innocently swept up in this scandal. But it just never occurred to me that we would never make it to opening night. And I know that they are still hoping to get the production mounted at some point. On a personal level, it definitely left me with a loss of confidence.
How do you build that confidence back up?
You have to believe that that doesn't happen every time. You have to get your audition dress back out and you hit the boards again and try to book a gig. It took almost a year but I landed "Miss Honey" in Matilda.
Great role.
It was wonderful and I can't tell you how much it helped me build my confidence again and renew my faith in the process.
Before that, you were in curtains with David Hyde Pierce. He is directing It Shoulda Been You on Broadway right now. Do you keep in touch?
I do. In fact we were rehearsing in the same building - New 42 - and I ran downstairs and said hi. We used to live right around the corner from each other. He's one of my favorite people.
What's one thing we would be surprised to know about you?
Oh my gosh, let me think. Well, my dad was in the airforce. We moved to Crete in Greece when I was six years old and lived at the airforce base for a few years.
What's one thing you would like to tell your 15 year old self?
Wow, I couldn't have expected to lead the life that I have been afforded. I am so lucky to have been given so many opportunities. When I was 15 years old, I did an assignment for a creative writing class about 100 things I wanted to do in my life. And so many of them had to do with Broadway. I just had an unfounded belief that it would happen. And people try and tell you that it's going to be too hard, or why you? And I had no answer "why me". But I guess I would tell my 15 year old self that it's going to be ok and believe in yourself and trust that the things that you want are worth wanting.
To get tickets to see Jill Paice in Broadway's An American in Paris at the Palace Theater, head here.