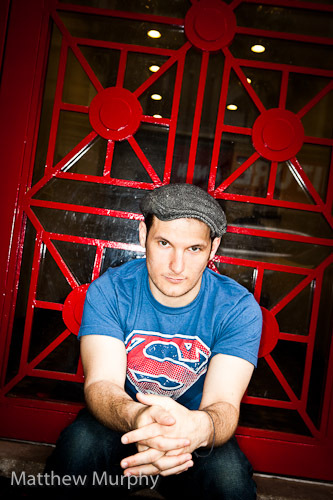 I waited for Drew Gasparini at a table in the back of a to-go deli on a Wednesday night in the middle of bustling Times Square; so bustling that we changed our meeting location a few times before deciding on the empty, though lackluster, locale for our interview.
When Drew arrived, he breezed in, dressed in a baseball cap (he's never without it), glasses and a grey t-shirt. Drew is just a ball of positive energy. He is smart and charming, with an intensity about him that's apparent as he looks you intently in the eyes. His energy is contagious and I immediately understand why he has such a loyal following, with fans who oftentimes give him sentimental gifts like a lyric book and sculptures of images related directly to his songs.
The fan-dom is well-deserved. Drew has talent. His high school music teacher Emily Gates (he refers to her with such reverence as Miss Gates) recognized his natural talent early on and was a big supporter of him. The admiration is mutual. Miss Gates was a mentor to him and he calls her "the best music teacher I've ever met". She taught him music theory and showed him how to hone his craft, and they continue to stay in touch to this day.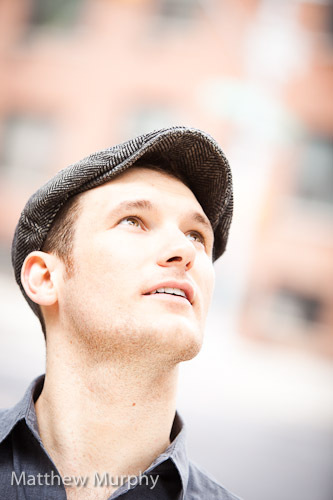 After graduating high school and leaving the tutelage of Miss Gates, he did a brief stint in college but dropped out after five months to focus on his music career. It wasn't an easy start. He once played a show to zero people, but took the attitude that it was just practice and an opportunity to figure out how to gather a following. Those struggles also helped define his music: "they made me a better songwriter because, when I was the most unsuccessful I've ever been, you can hear legit struggle in the songs and that makes it more grounded and that's what people start relating to."
And people certainly do relate to his songs. Since those early days, he has gone on to create well-received albums and musicals that he has composed (musically and lyrically) and in some cases provided the vocals on, as well. In discussing his successes, one very cool moment that stands out for him was when Warner Brothers reached out to work with him on an adaption of the film Night Shift. "It's the moment where you play it cool in the room ... and then you get in the elevator and break down crying and call your mom right away. I've had a couple of moments like this where all the shit that you go through in New York no longer matters."
As we continued discussing his musical works, I started to rattle off a list of his past work from his Wikipedia page and he quickly jumped in, exclaiming "wait - I have a Wikipedia page?" A quick review of it together led to discoveries of many inaccuracies. "This isn't true" he said indignantly with a laugh, "I never wrote a musical called 'His Bag On My Chin'. " We decided that someone had gone online and played around with his page, "maybe one of my friends" he surmised.
In terms of works that he actually has created, including the recent compilation album I Could Use A Drink, he generally writes alone which he says "can be the loneliest job in the world." The recent death of his cat has made it even lonelier since he would work through his songs by singing them to her. There are days of "trying to rhyme the word 'stool' for nine hours at a time" and the frustration sometimes results in him throwing the piano stool against the wall and "feeling like I'm losing my mind". He juggles sometimes as many as nine projects- "a plethora of projects"- at a time, and his creative mind is always running, even when he's talking with others. "I'm thinking about that one thought I had for a project while I'm talking to others and I feel like a social weirdo at times." But, in actuality, he is very social and has a strong group of friends that he collaborates with on projects that are affectionately referred to as "the (m)orons". "We are like the rat pack. It's awesome knowing that I have a group of guys that have my back. We have separate careers but can still get together and be a band of misfits."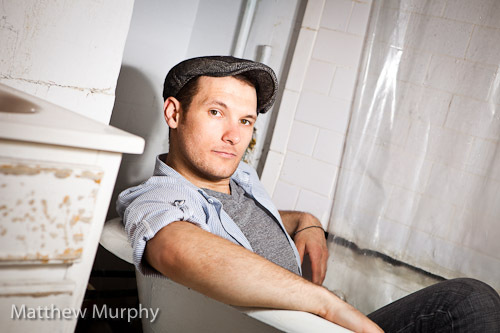 When he is at home alone writing, though, his favorite place to write is in the bathroom. He calls it his "office" and will go in there with a lyric book or even his guitar. "Either in the shower I'll be humming something and I keep humming it so I don't forget it or, you know, I'm sitting down [on the toilet]. I can honestly say that I've written my top five favorite songs on the toilet."
When he isn't writing in his bathroom, you may find him providing vocal coaching for aspiring musicians. His advice for aspiring songwriters and musicians is clear: "Listen to everything. Why would you hate a genre? You grow by everything that you listen to. And another thing -- you are going to be poor for a long time. You are going to get really good at being poor. This is not the time to save money. Whatever extra cash you have, go to concerts. Get inspired by their sound and use it as a reference point." In his early days living in New York City, Drew went to Joe's Pub every other night, absorbing the live music and the changes from show to show. "The way you get inspired is by seeing people perform," he offered up.
Now, he is in a position to inspire others. He's performed five concerts at Joe's Pub and over ten shows at 54Below, recorded four albums, composed six musicals and a song on NBC's Smash, and has several projects in the works, including the "I can't tell you too much about it" work on the film Night Shift. And, ultimately, he's just so grateful. "I get to do this for a living," he says, shaking his head. "It is such an honor and a privilege that I really can't complain." And with that, he walked out onto the swarming streets of Times Square, no longer just a face in the crowd.
You can find out more about Drew and purchase his music by heading here.