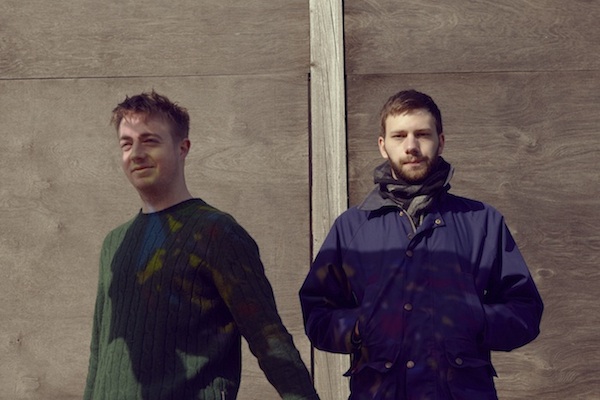 When I sat down with Kai Campos and Dominic Maker of UK electronic duo, Mount Kimbie, the first thing I noticed was the journal. Small, black-covered with an elastic band holding the pages shut, it sat between us for all of about five minutes before I had to pry. "It's lyrics and addresses," Kai told me. "I got my phone nicked so this is my phone now. I'm quite enjoying it actually. It doesn't run out of battery ever." Admittedly, I'm a snoop. If there's a diary in the room, I'll find it and read it. I wouldn't do so if I didn't keep one of my own. I think it's the closest we can get to being inside someone else's head. While I unfortunately didn't get to thumb through Kai's, most of what I'd likely find on those pages, a chronicle of the last two years, is in the group's sophomore album, Cold Spring Fault Less Youth.
Over the course of five EP's and their lauded debut record, 2010's Crooks and Lovers, Mount Kimbie has established a sound that is all their own. Difficult to categorize, their music has been termed post-dubstep, minimal, and ambient with equal frequency. The question of label seems to stump even them. "If my granddad asked me," Dom mused, "I'd say, 'Granddad, it's electronic music...' I don't know. It's very fragmented and there are so many styles that we incorporate into it." "We should start five different genre names," Kai joked, "cold, spring, fault, less, and youth."
Perhaps the best and least likely description of what they do comes from a man they met in Brussels whose name they can no longer remember. He dubbed their sound - a combination of drum machines, synthesizer, guitar and samplers - "modern folk music." "It just feels like where the songs are coming from and how we see them as being consumed fits more with folk music than it does with dance music," Kai said. "Sonically, it's very influenced by dance music, but the actual aims of it and the environments created aren't really designed for clubs at all." And he's right. While their instruments may be staples of dubstep and dance, their music is missing the bassline wobble, precipitous drops, and hyperactive beat usually associated with those genres. Strobe lights and sloshed drinks don't really suit them. "I guess [the music] is more like story telling in a sense," Kai concluded.
One of the biggest changes on this record and most tangible examples of Mount Kimbie's push toward story telling is their increased lyricism. On Crooks and Lovers and the previous EP's, their lyrics consisted of sped-up vocals that were chopped, looped and patterned for texture rather than narrative. On Cold Spring..., however, almost every track has vocals that are coherent and meant to be understood. In particular, their collaborated songs with King Krule - "You Took Your Time" and "Meter, Pale, Tone," - have a strong lyrical pull.
Now did you see me? / I killed a man. / They all stayed down, but he chose to stand... Spits Krule on the opening of "You Took Your Time." Paired with a slinky rhythm, it's an intriguing, sinister, and effective beginning that reels the listener in. "I like the way he writes," Dom said of Krule. "He was very involved with input for the actual songs themselves and how they were structured. It wasn't just an email thing."
King Krule isn't the only voice on the record, though. Writing was part of the reason for Kai's journal-turned-cell phone. "I had to start writing lyrics and I hadn't really done it before," he said. "It was interesting," While writing may have been an adjustment at first, the band explains that lyrics were the natural if unexpected next step for their music. "It wasn't a matter of forcing [lyrics] into a song," Kai said. "They were kind of born out of the song." But, as the band is discovering, sometimes more of yourself is visible in writing than you anticipate.
When asked whether this record, which features tracks entitled "Made to Stray," "Lie Near," and "Fall Out," was about a relationship, the band seemed a little caught off guard. "Life, you know?" Kai said and then paused. "Yeah, I think that's probably fair to say." "[The past two years] were quite an important time for both of us," Dom added. "There was a lot of change. It's become such a full-time thing being in the band. It naturally has strains on relationships or whatever."
This is Mount Kimbie's most personal and consequently important record to date. They are pushing the boundaries of electronic music. How often do Skrillex, Booka Shade, or Four Tet's tracks prompt questions about their personal lives? Rarely if ever. Electronic music has always been emotionally distant. It's fun, it's kinetic, but it is about the shape of the song rather than the story. Mount Kimbie's latest record reaches listeners in a way that club hits don't. "People's perception of the record and what your music is, can completely change the songs and that's a good thing," Kai said. "You own something that is completely different from what someone else owns. So, really, you don't own anything in particular." Their music is a collaborative experience between band and listener. It has room for whatever experiences their audience brings to the table. Explaining this shift in their music, Kai simply said, "At some point, you have to put a bit more on the line."
What the lyrics, collaboration, and move to a studio have all been suggesting is the duo's boldest move yet - becoming a band. This is a more impressive achievement than it sounds. Electronic musicians are usually termed "DJ's" or "producers." The word "band" isn't for every group that makes music. Instead, it's reserved for musicians who play traditional instruments like guitars, drums, horns, etc. Mount Kimbie is co-opting the term. "We always referred to ourselves as 'a band' or 'the band,'" Kai noted. "An Band," Dom laughed. "I don't know why," Kai continued, "but it was important to say to ourselves, 'It's a band.'"
With this record, Mount Kimbie is taking another step away from electronic music and towards their own niche. The work they've done so far is impressive and, as they let me know, they're not finished yet. "This next year is going to be devoted to making the live show as good as it can be," Dom said. No doubt it will be a challenge, but the band seems energized by it. "With the last record," Dom said, "we could sort of imagine what people would say, but with this one... that's part of the thrill."
Mount Kimbie's latest record Cold Spring Fault Less Youth is out May 28th on Warp. For more on the band, check out their website.