Thanksgiving is rapidly becoming my favorite holiday. Without the focus on religion and consumerism, all that is left is gratitude. Gratitude is a constant theme in my weekly yoga classes and has helped me connect to something bigger than myself. This grace has helped me to realize an important truth about my Thanksgiving feast: food is more than just food. Food has the power to show our love and demonstrate our acceptance.
Thanksgiving and I have a torrid past (most recently, I faced my fears of raw poultry); however, even reaching all the way back to childhood, I always hated the Thanksgiving desserts. I was embarrassed to admit that the mushy, warm apples in an apple pie made my stomach churn. There was no amount of Reddi-wip that could make me forget that pumpkin pie was a pie made out of a vegetable.
Instead of forcing me into an apple pie peg, I am grateful that my mom made me my favorite pie: coconut cream pie. Although coconut cream pie may seem as an untraditional choice for Thanksgiving dessert, my Thanksgiving would be incomplete without it. As a kid, the aroma of toasted coconut fresh from the oven is one of the most comforting, delicious scents I have ever known.

So as an adult responsible for contributing to the Thanksgiving feast, I now make the customary coconut cream pie. I follow the steps in the exact same way my mom did. I prepare the same Jell-O brand Cook-and-Serve Vanilla pudding not only because it tastes better than instant pudding, but I feel like I really made something complicated by standing over the stove and stirring the pudding mix with milk for 15 consecutive minutes. I carefully roll out the premade pie dough (I'm not above getting help with this step), and I lovingly pour the decadent pudding with bits of sweet, flaky coconut into the pastry shell. I then toast more coconut to put on top of the whipped cream. I feel the best parts of my childhood, the parts where I felt heard and valued, drifting back as the coconut is toasted to perfection.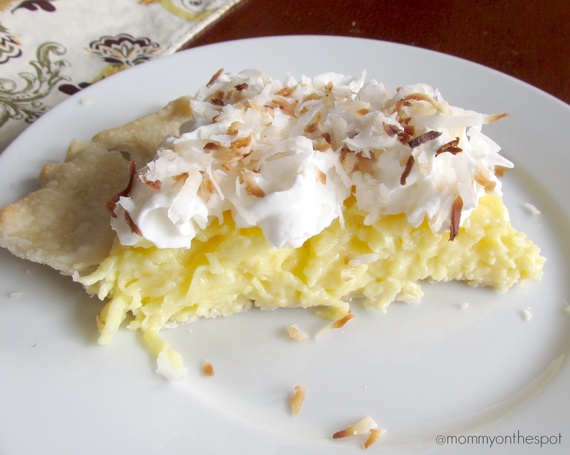 As the universe would have it, my kids are not pie people at all. In fact, if given a choice between pie for dessert or nothing at all, I believe they would choose nothing. I'm not going to lie, I was a little sad that they did not share my same love of coconut cream pie. I had visions of us hovering around our creamy dessert, eating in solidarity as everyone else ate the sad, squishy apple pie.
It was now my time to honor the family tradition of appreciating individuality. Instead of forcing my coconut pie dream, I make my kids chocolate chips cookies for their Thanksgiving dessert. Not just any chocolate chip cookies, a special recipe that I found on Pinterest. They are fluffy pillows of delicious dough studded with Ghirardelli dark chocolate chips. My kids light up when they see them on the dessert table, and I feel that all my other parenting mistakes melt away as I bask in the glory of their happy little faces smudged with chocolate.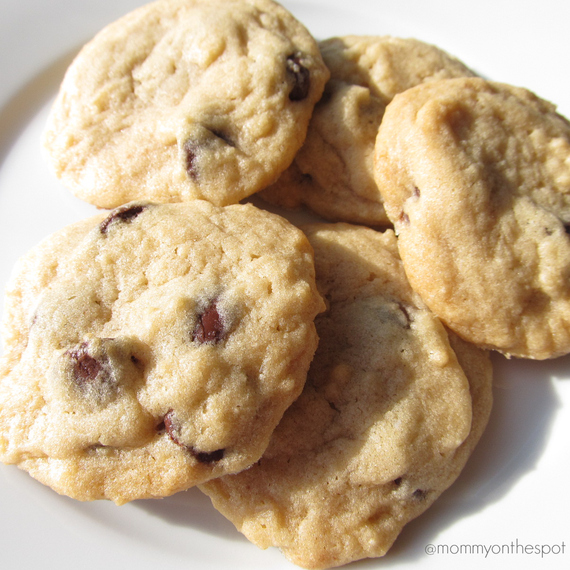 I am thankful that my mom validated my individuality by making me a coconut cream pie. There are a lot instances in my childhood that I was told that I was too picky or too sensitive. There were holidays in which I was required to eat sauerkraut and smoked sausage with a side of ham (which I still do not like, although I have seen the light on deliciously sweet and salty ham). I felt invisible and always fantasized of hiding a peanut butter and jelly sandwich in my Strawberry Shortcake purse to eat when everyone else was eating dinner.
Those childhood feelings of participating in mandatory traditions that did not feel right still sting during the holidays. I think that is why I am so passionate about making chocolate chip cookies for my kids at Thanksgiving. Baking those cookies is my way of saying, "I love you. I see you."
Is food more than just food to you? Is there a Thanksgiving dish that has special meaning for you?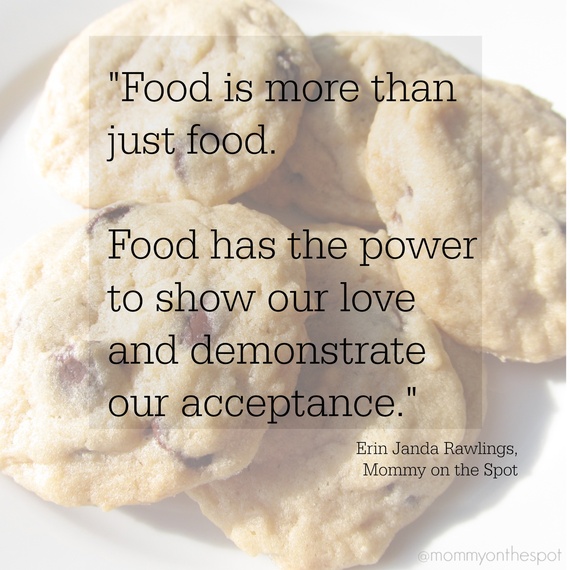 __________________________________________________
Erin Janda Rawlings is mom, a wife, and creator of the blog Mommy on the Spot. She is also a freelance writer and an adjunct professor at Walsh College where she teaches the course Social Media Strategy for Business. Erin also works for Hay There Social Media.