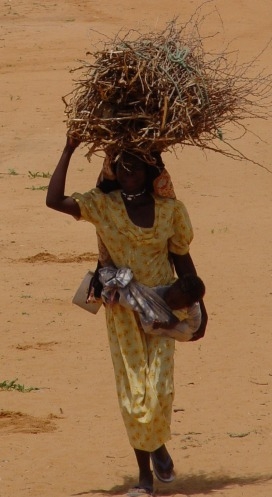 Cooking a meal for your family shouldn't put you at risk of rape or assault. Yet, collecting the wood or other cooking fuel essential for their survival, crisis-affected women and girls are forced to put their safety at risk on a daily basis.
While shelter, water, health care and food are provided in refugee camps, families almost never receive the fuel they need to cook that food. They must find it on their own, no matter the threat.
The longer a camp exists, the farther women and girls (and it is almost always women and girls) must go to collect cooking fuel. When they do, they risk attack, including rape and physical assault. With the average long-term refugee situation now lasting 17 years, this is clearly a huge problem.
But women don't have a choice. As a Somali refugee woman I met in Kenya during the famine in the Horn of Africa, told me, "When there's no money and your child is crying of hunger, you have no option but to go into the bush."
But there are things we can do to mitigate the problem.

Since 2005, the Women's Refugee Commission has played a key role in putting safe access to cooking fuel on the humanitarian agenda. Our Fuel and Firewood Initiative aims to reduce women's and children's vulnerability to the many harmful consequences associated with cooking fuel collection and use--including gender-based violence, environmental degradation and respiratory illnesses caused by burning solid fuels like firewood indoors. We co-led an international task force, working with the UN High Commissioner for Refugees and the World Food Program, that developed global guidance (a matrix and decision tree diagrams) to address the problems associated with cooking fuel. We also co-chair the Humanitarian Working Group of the Global Alliance for Clean Cookstoves. And we will soon launch a smartphone app that will help humanitarian workers ensure that displaced women have safe access to the right kind of cooking fuel.
Here are a few ways to protect women and girls when they cook:
• At the beginning of a humanitarian crisis, provide emergency rations of cooking fuel to ensure that women are not forced to risk their lives, health and safety to collect firewood.
• Reduce consumption of firewood: fuel-efficient stoves for households and institutions like schools, health clinics and feeding centers can significantly reduce the need for cooking fuel. When used properly, they can reduce the amount of firewood needed to cook a meal by 50 to 80 percent. These stoves can reduce the number of dangerous trips women must take to find firewood, and slow the pace of deforestation. Distribution of tight-fitting pot lids can further save fuel at very little cost.
• Develop and use safer, cleaner alternative fuels -- such as mesquite briquettes, biogas, ethanol, solar energy and even propane -- to reduce the use of firewood.
As part of our 16 Days, 16 Ways campaign during the 16 Days of Activism against Gender Violence, we are highlighting ways that humanitarian agencies, governments and donors can prevent violence against women and girls who have been displaced because of armed conflict or natural disaster. Providing safe access to cooking fuel is one way to protect refugee women and girls.
Watch Fuel & Firewood: Life & Death, our two-minute animated video to learn more about the risks and solutions.