The sign stopped me in my tracks: "Since 2004, six people have died falling from the cliffs on this route."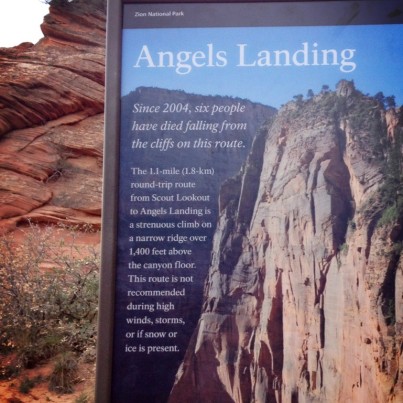 I promptly texted a photo of the warning to my mom back home in Maryland and continued along the trail.
Welcome to Angels Landing at Zion National Park, a spectacular, challenging hike that may include the scariest half-mile climb in America.
Truthfully, I'm not so much scared of heights as apprehensive of them. From crossing hanging bridges in Costa Rica to walking atop the 360-degree all-glass skywalk at Shanghai's Pearl Tower, I've never let a fear of heights hold me back but Angels Landing gave me pause. While my head understood that the trail was safe(-ish), my stomach didn't necessarily get the same message.
After all, deaths on the trail aren't just abstract numbers on a sign. In 2009, a 55-year-old California woman fell more than 1,000 feet to her death while hiking Angels Landing, leading one Los Angeles Times writer to declare, "Angels Landing Trail should be permit-only and have more extreme warnings."
Another close call left a California police officer with "nightmarish visions of what might have happened":
[I]n a mere instant, the girl was on her side and back, sliding headfirst toward the cliff edge as her father yelled her name, which [police sergeant Dave] Bavencoff later said sounded like "Anna."

Instinct kicked in. The girl's father dropped very quickly and grabbed his daughter's leg. Bavencoff did the same.

"I remember when I first tried to grab her above her left knee, she kept sliding and I couldn't get a grip on her leg," he said in a telephone interview. "I remember thinking we weren't going to be able to stop her and that she was going to go over."

Bavencoff regained his grasp just under the girl's left knee. With the help of the girl's father, Bavencoff pulled the girl to safety.
I was glad I hadn't read these stories before heading west.
The trip to Utah was the latest in a string of father-daughter national parks trips my dad and I have taken over the past few years. I didn't think anything could top last year's incredible 13-mile hike to the 14,114-foot summit of Pikes Peak in Colorado, but Angels Landing may take the crown (at least for now).
Named one of the "7 of the craziest, most dangerous, most dizzying hikes in the world" by Gadling, the Angels Landing trail starts as a gradual two-mile incline including 21 switchbacks known as Walter's Wiggles. Once you reach Scout Lookout, the real fun begins.
The final ascent to Angels Landing's 5,785-foot summit (a 1.1-mile roundtrip journey) is steep and narrow. On some turns, the path helpfully hugs the canyon wall, curving around the rock face and providing a solid structure on one side as the trail falls away on the other.
At other points, the trail is wide enough for just one person, with sheer drops of more than 1,000 feet on either side. In those moments, I looked neither left nor right, simply staring at my feet and willing them to move forward: Just put one foot in front of the other. (Later, my dad confessed that just watching me navigate the hike made him nervous.)
This video gives a small taste:
As my dad and I began our ascent, a family with two small children descended past us. The children -- perhaps ages 4 and 6 -- were belted to their parents' waists for safety on the gravelly trail.
"Why didn't you leash me to you?" I asked my dad, only half-joking.
"Because you'd probably take me over the side with you," he responded.
Thanks, Dad.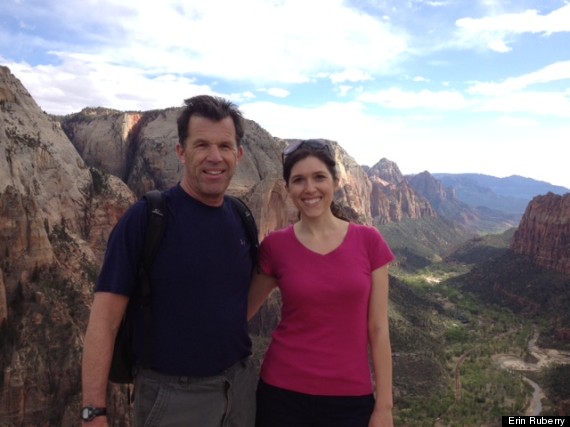 With my dad at the summit of Angels Landing
It may be a cliche to "white knuckle" your way through something, but my knuckles were nearly translucent after gripping for dear life to the chain rope up the final section of the cliff.
What kind of family hike needs a chain rope, you ask? This kind: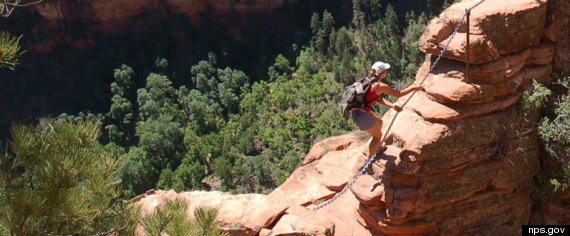 But once you get to the top, there's this view. And this? It's totally worth it.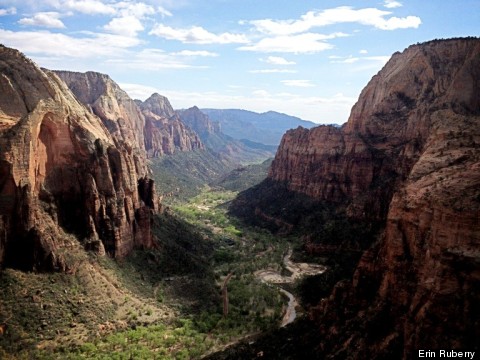 Standing at the summit, breathing in the fresh Utah air, watching a 10-year-old boy run around the peak rather than sit in front of video games (but seriously, parents, hold on to your children!) -- it was worth it. It was worth hands left bloodied by constant scrapes on rock; pants streaked with dirt from times I scooted across a narrow ledge, too scared to walk; and, yes, the dizzying head-rush from peeking nervously over the edge.
For a view like that, I'd do it all again. But maybe next time, my dad will leash me in.
Not ready to climb Angels Landing? Try the National Park Service's e-hike instead!
BEFORE YOU GO
PHOTO GALLERY
Best New Mountain Resorts