Now you can be fun, fearless and politically savvy.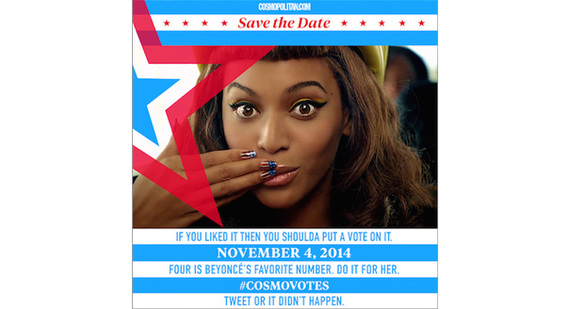 Something very exciting is happening at the number one women's glossy. For the first time Cosmopolitan is endorsing political candidates. Basically, the editors now have your back on what colors are in this fall and what names you should be checking in the voting booths next month.
#CosmoVotes, which launched yesterday, acknowledged that today's female voters have been labeled as "Beyoncé voters" and ran with it. Queen Bey herself is the first ***FLAWLESS face of the campaign. Complete with star-spangled nails, she tells women that "If you liked it then you should have put a vote one it."
Beyoncé puns and great manicures aside, the campaign is a pretty powerful one. This is the first time the magazine has thrown its opinion into the electoral races. To make sure these opinions are good ones, they are sticking to a strict criterion for where to put their hot pink stamp of approval. The campaign promises to identify candidates that stand for equal pay for women, livable wages, and access to contraception and abortion. They've narrowed down the issues relevant to today's woman by focusing on these three hot topics and have done the research on just who's up to par in the political game. Now, every Tuesday until Election Day, they will be name dropping their picks.
The Cosmopolitan Twitter, and accounts belonging to editors, certainly hint at the type of candidates they will be looking for. They want to see politicians that do not shy away from the hard topics and ones that have addressed women's rights in their platforms.
Women deserve equal pay and access to contraception/abortion. These are the candidates who will deliver: http://t.co/MYTcCr8Rrv #CosmoVotes

— Cosmopolitan (@Cosmopolitan) September 8, 2014
Should politicians have to talk about stigmatized, personal medical decisions? No. Is it brave when they do? Yes. http://t.co/yZ7lpfNUrx

— Jill Filipovic (@JillFilipovic) September 6, 2014
And already politicians are vying for the #CosmoVotes endorsement.
Help me get a 2014 #CosmoVotes @Cosmopolitan endorsement! RT and spread the word! pic.twitter.com/5a25gSaR6d

— James Woods (@Woods4Congress) September 9, 2014
This means a lot for the future of
Cosmopolitan
. Within the past year, the publication has upped their game by including more pieces on career and politics. #CosmoVotes is following this trend set by editor-in-chief Joana Coles, Cosmopolitan.com's editor Amy Odell and powerhouse senior political writer Jill Filipovic in a big way. The cosmopolitan woman is no longer just sophisticated and well-dressed she is also career-minded and politically aware.
For the female voters out there, this is a big deal as well. As the most read women's mag in the world, the audience is, simply put, huge. Cosmopolitan is the go-to authority for all things women. Everything they publish, whether in the print mag or on their newly-launched site, is highly read. When these endorsed candidates come out, their names will be read by a lot of women. A lot of voting women. Potentially making a big difference in the voting booths come November and people are taking notice, including "The Colbert Report."
Most importantly, the campaign is seeking to not only educate female voters on the issues relevant to them but also to simply get women to vote. Much like the "vote or die" campaign made popular by celebrities in T-shirts, #CosmoVotes is brining voting into the media scene, on an outlet that is set apart from CNN or the late-night political talk shows. Now, under a banner of cats and abs, are the names of the men and women, potentially in your home state, that can reshape politics in this country.
If voters show up to the precincts in Beyoncé tees, we'll know where they did their candidate research.