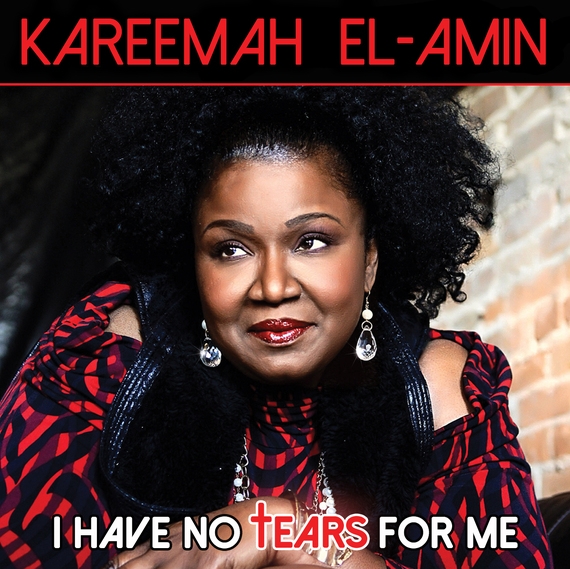 Her conversion was nothing short of a chance encounter between an open mind and a longing heart.

When Kareemah El-Amin became a Christian on November 17, 2010, she was not compelled to leave her devout Muslim roots from a dark and adverse place -- but from a quest to find peace within herself. In her remarkable debut album, I Have No Tears for Me, she proves that gospel music can be more than just a testimony from a troubled past. In fact, the album lends itself to be a celebration of new beginnings and spiritual compassion.
It was a long time coming for the Indiana native. A career that has been rich in song/playwriting, public service, filmmaking and radio, the 46-year-old social doyenne was finally ready to put her talents in the recording studio. "I was called... I was chosen," Kareemah said of her spiritual encounter to faith and music. "I remember hearing this statement from God to me: 'I prepared you for such a time as this'... and realized that this was the same thing he told Esther."
Following her strong faith and courage, she wrote all of her songs and even provided most of the accompanying background vocals to her tracks. A spiritual tour de force, the album covers themes that touch on conversion, reflection, sacrifice, love and exploring divine life on earth.
"I feel as though much of what people are listening to in gospel today is a blessing, but sends messages that suggest that one might die before getting happiness," Kareemah said on the inspiration behind her hit lead single "Walking In Heaven." "I believe when God said 'Thy will be done,' I was to expect nothing less than a purposeful that I can live right here on earth."
Perhaps what is even more astounding is the very heavy hand that Kareemah had in producing her music. As a proud independent recording artist, she took the lead in financing the project along with recruiting her "all-star team" to pull it altogether.
This is quite a rare feat for a female music artist in era where most are constrained by label executives and managers running the show. "I wanted everything done professionally, but done with my spiritual and personal touch," Kareemah said behind her motivation to take on such artistic responsibility.
For her "all-star" debut, she brought in the talents of Stellar Award-winning composer Matthew Brownie of Minstrel Productions (co-writer of the hit song, "Never Would Have Made It," by Gospel star Marvin Sapp). Kareemah collaborated with Billboard songwriter and Christian artist Carmen Calhoun in her international chart topping hit "Walking In Heaven." And with the engineering of Grammy Award winner Dave Carlock of 27 Sounds, I Have No Tears for Me gives listeners an innovative and unconventional gospel sound that is radio friendly as well as impactful.
What makes the album compelling is its ability to incorporate various cultural and genre influences through scripture into incredible lyricism and sound. Listeners might actually feel as though they are not listening to a gospel record given the more relevant upbeat bass and controlled vocal expressions that Kareemah effortlessly belts. But for this gifted songwriter who has also been a radio personality for several years knows what she is doing.
"I personally refuse to sound like the gospel artists of today because I have grown to develop my own style given my experience with faith," Kareemah says on the development of authenticity on her record. "I can sound like the norm, but that just isn't me."
With songs in album, such as the electrifying hymn driven "Adonai" (which is "The Lord God" in Hebrew), Kareemah's musical versatility is shown in her impressionable sense of profound love for her faith. The title tracks from the album reveals a more soulful and ballad inspired sound that was based from the miracles of a close friend of hers.
"She had kept the faith after several medical setbacks -- and despite all doubts around her -- she no longer hand any tears for Christ had died at Calvary for her... that was a powerful testimony," Kareemah says on what inspired her to develop the title track. Such powerful stories and moments like this are felt throughout the record in very sophisticated and eloquent ways.
The gospel revolutionary is not planning any time soon to stop spreading her message to fans across the country. Kareemah plans to go on a very non-traditional tour that is in venues that you would never expect to hear such faith-based messages. "I want to sing about God to the sick, folks in bars, and people in lounges... places where I can touch different communities," Kareemah said on her mission to influence lives with her music.
And with a devout spirit and poised grace for music and faith in a genre that is in need for voices, Kareemah El-Amin gives a different perspective for contemporary audiences. I Have No Tears for Me is an album that is not speaking to the choir, but instead trying to recruit more members to it. In a more timely matter, her conversion not only gives her the proper positioning to testify, but the actual conviction to enlighten.
For just like Esther, perhaps Kareemah's path is to also be a strong female leader of change through her music. At least we know there will be 'no tears' as she rises to the top.