Congratulations, Palos Heights, Illinois, you are not home to a "creepy" terrorist/rapist who would stalk, abduct, and rape a seventeen-year-old girl working a night shift at the sandwich shop down the street.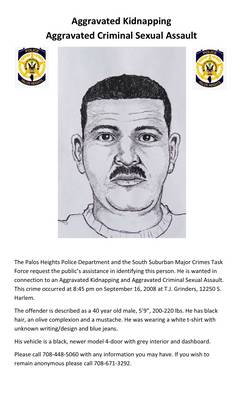 In case you hadn't heard, on September 16th, a five-foot tall, 100 pound young woman from South suburban Palos Heights reported she had been abducted from her job at a sandwich shop called T.J. Grinders by a "creepy" man she described as being "between the ages of 35 and 40, olive-skinned, with a mustache, jeans, and a white T-shirt," according to a statement by Palos Heights police Sgt. Dave Delaney.
She reported that this man had made her fearful early in the night and that at the end of her shift he grabbed her, forced her into his car at knifepoint, took her to a neighborhood she didn't recognize, and sexually assaulted her for three hours before dropping her off about a mile from her home.
The girl showed up at her house - again, according to initial police statements - bruised, partially clothed, and shoeless at about 12:30 am after horrifying her friends and family who had received her frightened text messages and subsequently found her discarded purse, cigarettes and phone lying near the sandwich shop.
Last Friday afternoon the girl admitted the whole thing was a hoax. All of it.
The part about being scared at her place of business - after the shop owner was skewered in the press for the perfectly legal act of letting an underage employee work a shift ending at 9 pm.
And the part about the frightening "olive-skinned man" - which stoked anti-Arab-American sentiments in a town that has been nervous about seeing its population change significantly in the last few decades.
The statement her lawyer released - after she copped to her lie in order to avoid being prosecuted for obstruction of justice when the physical evidence gathered after the alleged attack failed to substantiate her story - gave "deepest apologies" for the "unnecessary concern and time and effort from everyone involved." Which would presumably include the part where she terrified an entire community and cost the taxpayers and police an estimated $250,000 in investigation costs.
The statement did not mention anything about being sorry for making the lives of all the "olive-skinned" people in the Chicago area tougher than usual due to her lapse in judgment.
It also didn't speak to the irreparable harm that she's done to the perception of young women in trouble. Honestly, who among you can't imagine a naysayer speaking up next time a young girl actually does get assaulted by a rapist? Classic "little boy who cried wolf" but projected onto some other truly hurt woman.
The only ones who came out of this looking good are the residents of Palos Heights who, to their great credit, recognized this stunt for what it really was and didn't, as an angry mob, insist the girl be prosecuted and her parents charged for the costs incurred.
And what was this, really, then? This terrible, elaborate, and destructive ruse was a desperate cry for help. A cry that should be answered with the appropriate interventions but not one that can be let go without a community-wide discussion about not turning on our neighbors when struck by fear.
Surely most Palos Heights residents will hear about the ultimately positive conclusion to this bizarre case and know that the dark-skinned people who live and work in their community aren't to be mistrusted, but the damage has been done.
It may be difficult to understand why that is - unless you happen to have dark skin and dark features, of course. But it's not difficult for those of us who get the twice-over look wherever we go, the one that in a fraction of a second says, "Are you illegal? Are you a terrorist? Do you speak English?"
One misguided young woman who cried wolf just set us olive-skins back to somewhere around this time in 2001.