Saturday, I found myself standing on the corner of Wisconsin Avenue and Dumbarton Street in the Georgetown neighborhood of Washington D.C., chanting slogans such as "Bank of America, screw you! Banks don't need houses, people do!" and "Hey hey, ho ho, corporate greed has got to go."
My 10 friends and I, students from American University and George Washington University, were part of a citywide Occupy our Homes day of action against Bank of America, which is foreclosing upon Rev. Michael Vanzant, one of the founders of the Faith Temple, the first church for LGBT people of color in D.C. Two years ago, when Rev. Vanzant lost his job at WMATA and had to go on disability pay, he reached out to Bank of America, who had bought Countrywide, his original lender, to try and modify his loan in light of his new situation.
But Bank of America has refused to work with Rev. Vanzant, currently recovering from a minor stroke, whose home also doubles as a community center, AIDS hospice and homeless shelter. That's why on Saturday, small groups such as mine staged actions at 10 Bank of America locations across the city. Nine of these locations closed down for part or all of the day, out of their own choice. At my location, branch management posted a sign stating, "Due to protest activity we will delay opening." Saturday's actions follow a month of weekly actions against Bank of America in solidarity with Rev. Vanzant.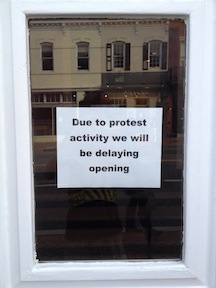 The problem of home foreclosures has plagued the nation in the wake of the financial crash of 2008. The intense corporate greed that fed the crisis also prompted many banks to give more and more aggressive, predatory, risky loans and sub-prime rates. But then, after the economic collapse at the end of the last decade, when personal wealth (especially among people of color) dipped down to record lows and unemployment soared, banks, who had intentionally made loans to potential homeowners they knew had less than perfect credit, decided it would be good for the economy to start foreclosing on thousands of properties and throw families, the sick and the elderly out on the street. Currently in the United States, there are roughly six vacant properties for every one homeless person, and yet there has been no resolution to this growing problem, from the banks or the government.
A few people on Saturday stopped me on the street and told me that I did not understand how the economy works, that I was naïve and idealistic. They told me that banks have to make money, and that maybe Rev. Vanzant should have been more responsible. In a way, they were right. I do not understand how the economy works because it doesn't. I understand that the economy functions in a way that promotes personal profit over the needs of others. I understand that we have a broken banking system that exploits those who have hit rock bottom in order to make more money for the super rich. I understand that while banks are within their legal rights to foreclose upon homeowners in default, when the very same banks caused the homeowners' economic troubles in the first place, we find ourselves with a very serious crisis of morality.
Rev. Vanzant is one of many homeowners and renters in the D.C. area and nationwide being forced out of their homes by big banks. The last year has seen citizens taking action in solidarity with Josephine Tolbert in San Francisco, with John Vinje in Minneapolis, and with Bernita Jones in D.C., among others. These actions have shown that there is only one way to fix the problems that we are currently facing in our society. We need to organize and take to the streets to make our voices heard! Students and renters, union workers and underwater homeowners - we are all being cheated by big business in order for a select few to make money. What do we want? Justice! When do we want it? NOW!